2012, our first travel to Hong Kong
2012-01-18China travel Guide
Honestly speaking, wage days are always kept on our mind every month, but sometimes there is more than salary to look forward to, for example, the annual year-end company travel. I'm not sure whether companies abroad will organize a tour for their staff at the end of the year, but it is indeed a tradition for Chinese travel agencies to take a short trip before the Spring Festival (Chinese Lunar New Year), which always falls in January or February. No exception happened and
Hong Kong
was decided to be our destination this year.
Day 1 (January 13): Guilin – Shenzhen
After the work in the morning and a simple lunch, our three buses departed at 13:30 from the Jiatianxia Square in front of
Guilin
International Conference and Exhibition Center. That Guilin is more than 700 km away from Shenzhen made us arrange our dinner in Wuzhou City after about four hours' drive on expressway. According to schedule, we would arrive in
Shenzhen
at about 23:30, however, the drizzle en route and an unexpected accident of other eight cars in a tunnel put our advance off and we finally arrived in Shenzhen at about 02:30 of 14th. Really a torture it is to sit still in a bus for 13 hours!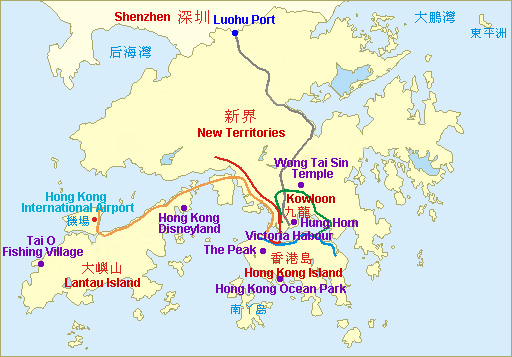 Day 2 (January 14): Shenzhen – Hong Kong – Shenzhen
Hong Kong is adjacent to Shenzhen and was leased by the U.K. for historical reasons since the middle of the 1900s. Under the reign of the U.K. for more than 100 years, the city was changed from an unmixed Chinese city into a combination of Chinese and western cultures. Today, Hong Kong has become an international metropolis famous for its economic prosperity and remarkable urban construction. After being handed back to China on July 1st of 1997, it is officially named Hong Kong Special Administrative Region (HKSAR), which maintains the capitalist economic and political systems. Due to its special administrative status, visitors from mainland China who want to come and go between the mainland and Hong Kong (or Macau, Taiwan) have to apply for a permit in the mainland first.
In consideration of the great number of visitors at Luohu Port (or Lo Hu Port, 罗湖口岸 or 羅湖口岸, opened from 06:30 to 24:00), one of China's busiest ports, we booked a hotel nearby beforehand and gathered early at the port in group for the earliest group inspection at 08:00. However, the approach of the Spring Festival made the port much busier than usual and it took us about one hour to complete the inspections in Shenzhen and Hong Kong. At the Customer Service Center, each one of our group spent HK$150 (including HK$50 cash pledge and HK$100 available balance) buying a Octopus Card (a rechargeable and returnable contactless stored value smart card used to transfer electronic payments in online or offline systems in Hong Kong) and departed from Luohu Port to Hung Hom (紅磡) in Tsim Sha Tsui (尖沙咀) by MTR (Mass Transit Railway). It took about 43 minutes and HK$33 to get to Hung Hom, where our Hong Kong local partner Tim and a driver waited for us with a tourist bus.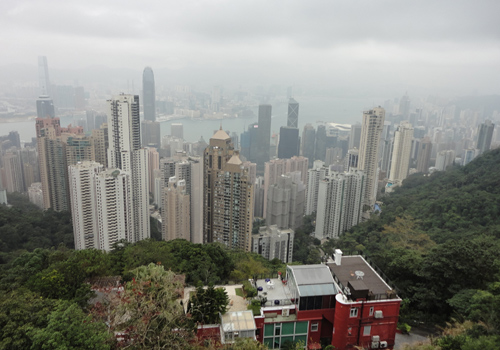 Tim is a warm-hearted male elder, who kept introducing everything that could be seen from the bus to us on our way to the Peak (山頂 or 太平山), our first destination as well as one of the best-known attractions in Hong Kong. According to Tim, we learnt that Hong Kong is so mountainous that only 7% of the area is suitable for building house, that's why such a small-size city is clustered with so many skyscrapers and why the housing price here is as sky-high as the height of the buildings.
Sitting in the bus, we felt it a little bit hard to get used to the left-hand traffic in Hong Kong and Tim's introduction to the 1.86-kilometer-long Cross Harbour Tunnel, which is the first underwater tunnel in Hong Kong connecting Tsim Sha Tsui (尖沙咀) and the Central (中環), was still going on. The traffic was busy and the driveways look narrow but all the drivers moved on with a wet finger, just like fish swimming in the water. But soon, I found our driver is much more skilled than we imagined - It was the feeling of being similar to drag racing (I guess) when our bus ran fast on the winding road on the Peak.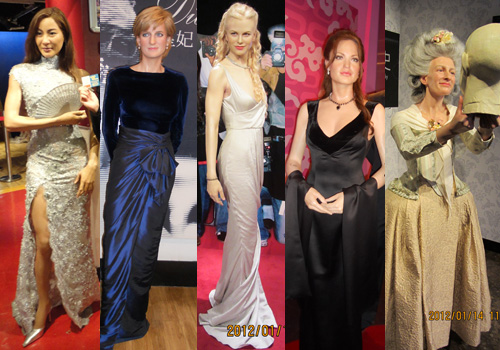 In spite of the cloudy day, the Peak still affords a hazy but wonderful view of the Victoria Harbour and its surrounding constructions, either from the Sky Terrace 428 (淩霄閣) or from other terraces. At the cafes and shopping plaza on the Peak, people were enjoying everything cosily. It's a good idea to attract tourists to the Peak and then to offer another attraction on the hillside - the Madame Tussauds Hong Kong (香港杜莎夫人蠟像館) opened since 2000, in which wax statues of approximately one hundred Chinese and foreign famous people in all fields are displayed, e.g. Bruce Lee, Jackie Chan, Audrey Hepburn, Marilyn Monroe, Lady Gaga, Chairman Mao Zedong, President Obama, Albert Einstein. Located underground, this wax work museum is made up of several chambers connected by zig-zag passages, giving visitors some time to guess who will welcome them in the next rooms. After the visit to the Madame Tussauds, we decided to go down the peak by the Peak Tram, which looks like a short train and has been running without any accidents since it's put into use in 1888.
It had been 15:00 when we ended the tour on the Peak and returned from the Central to Tsim Sha Tsui, where we said goodbye to Tim and searched for Hong Kong food on our own. Wandering around the strange streets, we had no idea at all which shops offer the most delicious. At last, a small seafood rice-noodle shop, or other the long queue in front of it, caught our sight tightly. The fact proved that Guilin people or anyone else fond of chilli will probably flip out if they have to live in Hong Kong for a long term, as the rice noodles with soup here looked and tasted so lite… Even I who am not a fan of hot pepper could not stand the over-delicate taste and added a spoon of chilli sauce and any seasonings I could find on the table to my soup.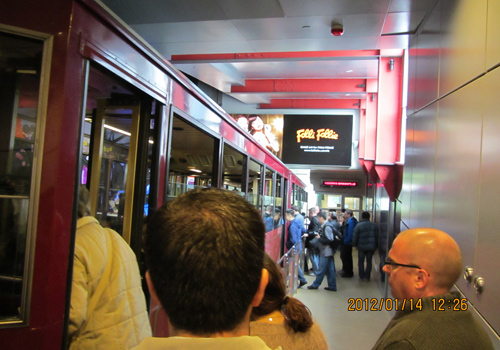 Having met the need of stomach, it's girls' crazy shopping time. In accordance with everyone's scheduled goal, we divided ourselves into three groups, with different destinations nearby. Harbour City, SOGO Department Store, DFS (Duty Free Store) and others I failed to remember the names… I have to admit that I was not a qualified member of our group, as I was entirely tired out after less than two hours' walking and had to apply for resting at some place with another girl. Other fashion and cosmetic enthusiasts went on their searching and it's already 19:00 when we assembled at a food square for dinner, with a heap of shopping "trophies", of course.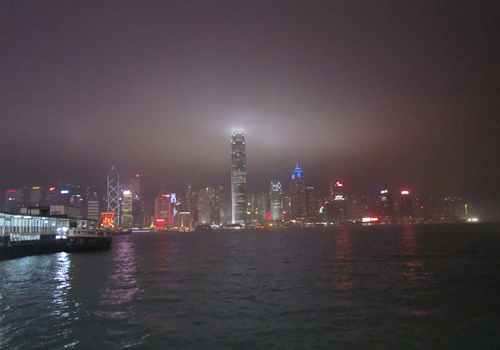 Our last destination today in Hong Kong was the Victoria Harbour and the Star Avenue on the bank. It was drizzling but it couldn't stop a crowd of tourists from all over the world wandering along the avenue to look for the palm prints of the stars they love. Standing by the harbor, no terrible fishlike smell at all but flashing night scene in a distance and gentle breeze blew on my face. Great feeling it was! But we couldn't kill too much time here, or else we would miss the last train and the last inspection time from Hong Kong to Shenzhen. See you, Victoria!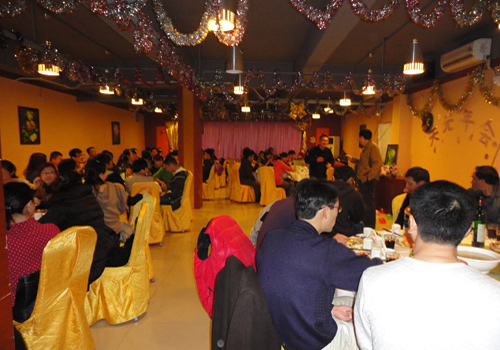 Day 3 (January 15): Shenzhen
The year-end dinner and party of our company was planned to be held at the multifunctional hall of the hotel and all people were required to be present on time. Due to such a schedule, most people chose to have a good rest at the hotel, but some, I mean, the fashionistas among us, still continued to seek in Shenzhen something trendy that had already been listed in their notebooks before our departure from Guilin. Inborn shopaholics…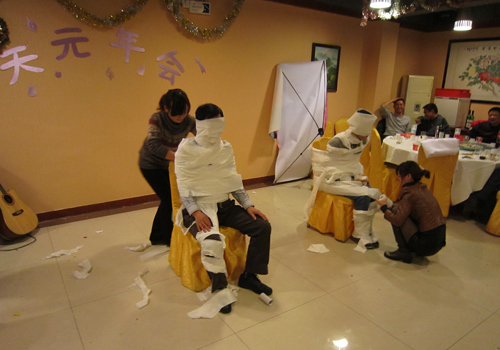 Our celebration started at 17:30 on time and that's time for vogues of girls. Before the dinner began formally, Mr. Huang and Mr. Yang, bosses of our company (Tianyuan International Travel Service co. Ltd., comprising Outbound Travel Department, Japanese Department, Russian Department, and we English Department known as VisitOurChina), made a speech to express their gratitude for all staff's hard working and their best wishes to all families. Then Mr. Huang's proposing a toast kicked off the dinner, during which singing, dancing, heart-catching lottery draws and funny games proceeded alternately. One of the highlights in the party was that an imitation show turned our serious bosses into hip-hop dancers. What VisitOurChina team presented was sign language, accompanied by "Love" sung by Xiao Hu Dui (小虎队, Little Tigers Team), a popular pop team widely known in Chinese world in 1990s. The carnival carried on for almost four hours and everyone reaped a souvenir at least (we performers got some extras as gifts, of course). Every department had their own midnight arrangement and the way we continued the joyousness was having an all-night chatting with snacks and we didn't go to bed until 04:00 when we felt too sleepy to speak.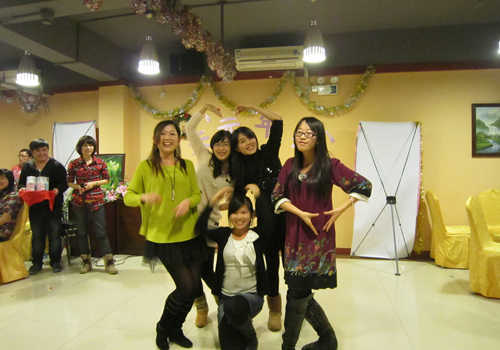 Day 4 (January 16): Shenzhen – Guilin
After a simple Cantonese breakfast at the hotel in the morning, we left for Guilin at 08:00. To tell the truth, two days is far from enough for having a all-sided visit to these two top Chinese cities, but the leaving didn't bring on too much regret, for the memorable party and the preliminary acquaintance with the city routes. We know we'll be back for a deeper exploration someday.
--- By Cindy (VisitOurChina)
Comments
Comment