VOC's Travel BLOG
Our Travel Blog is the place to share our real life, travel experiences in China with you. Besides, we will provide information related to Chinese culture and China travel guide. "A bosom friend afar brings a distant land near." Traveling makes us to be closer, let's discover China together!
Mulong Lake Park to open ASEAN Theme Zone in 2012
2012-01-12 | China travel Guide | Comments(0) Views(1129)
Known as a section of the scenic water system of "
two river and four lakes
" in
Guilin
, the Mulong Lake (木龙湖), literally Wooden Dragon Lake, is an artificial lake connecting the
Li River
in the east and channeling the water into the downtown area of the city. Leaning against the several hundreds old Song city wall and the Diecai Hill, the lake was named after the Mulong Hole on the upper part of the hill, and so is the 45-meter-high Mulong Tower and the Mulong Arch Bridge stretching over the Mulong Lake. On the other and of the bridge there are waterside pavilions where actresses in Chinese ancient dress perform classic Chinese music show in the evening.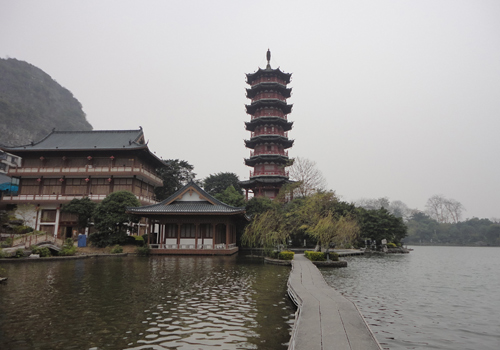 The site that is now the lake was once where the barracks of Song Dynasty located. Highlighting the harmonious combination of nature and culture, the Mulong models the architectural style on the "Riverside Scene at Qingming Festival", a famous panoramic painting by Zhang Zeduan (1085–1145), an artist of Song Dynasty (960-1279). Although it is the smallest one among the six water areas in downtown Guilin in size, Mulong Lake earns its fame by virtue of its unique natural endowment and exquisite arrangement.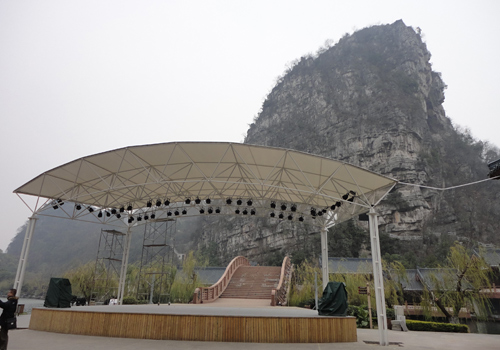 Aiming at creating the most worth expected tourist site of Guilin in 2012, the park is at present developing a brand new project – the ASEAN (short for Association of Southeast Asian Nations) Theme Zone. After the completion of the construction of the ASEAN zone, for the first time tourists will have a chance to try the ten countries' food, custom and culture presented to tourists in Guilin.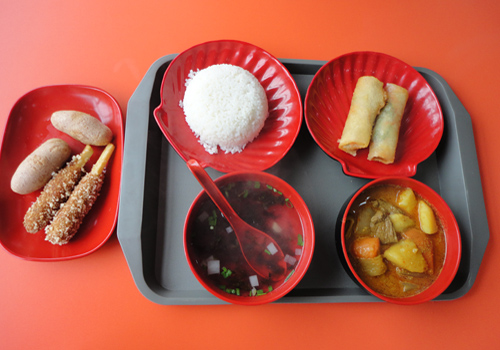 Mulong Lake Park Travel Information
1. The ASEAN food court: collecting various ASEAN popular food, e.g. Malaysian Nasi Lemak (rice with coconut juice), Singaporean mango rolls, Bruneian Nyonya, Lao roast chicken rice, Vietnamese sugarcane prawns, Thail Tom Yam Kung (sour and hot seafood soup).
2. The ASEAN cultural theatre: being set by the lovely Mulong Lake with large-scaled culture, custom, dress and personal adornment shows.
3. The ASEAN cultural and shopping area: every pavilion will be theme on a country so that tourist can learn the history and culture of the ten nations in deep.
4. Mulong Lake cruise: cruising along the ancient Dongzhen Gate and city wall, the former residence of Li Jishen (1886-1959, a military commander and statesman of the Republic of China), the Diecai Hill, the Song-style street, the Mulong Tower, the night scene of the park, etc.
Opening hour: 09:00-22:30
Recommended time for a visit: 90-120 minutes
--- By Cindy (Visit Our China)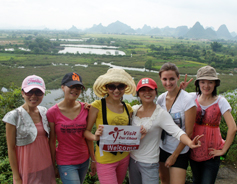 Calendar
Categories