VOC's Travel BLOG
Our Travel Blog is the place to share our real life, travel experiences in China with you. Besides, we will provide information related to Chinese culture and China travel guide. "A bosom friend afar brings a distant land near." Traveling makes us to be closer, let's discover China together!
My Trip to the Guilin Tea Institute
2011-10-24 | China travel Guide | Comments(0) Views(1172)
Last Friday I had the privilege of visiting the Tea Science and Research Institute of
Guilin
, Guangxi (广西桂林茶叶科学研究所). Through a friend of a friend, a couple of my buddies and I were able to spend a beautiful autumn afternoon on a special tour of the Tea Institute's facilities and fields. What's more, as a self-proclaimed tea enthusiast, I was
particularly excited for the outing and could not have thought of a better way to enjoy the local scenery and weather.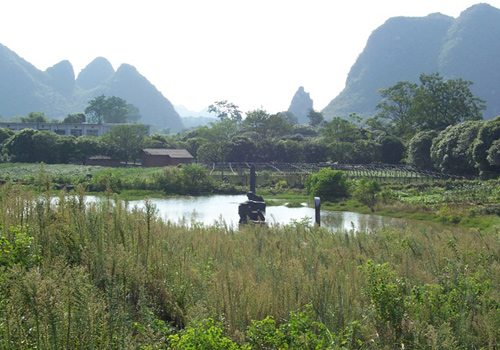 To my delight, the Tea Institute is tucked away in a farm village at the foot of the mighty
Yao Mountain
, the tallest mountain within the vicinity of Guilin City, which is only a short bus ride from my home at Guangxi Normal University (广西师范大学). Normally private tour buses take visitors to the site from the city center but on this occasion my friends and I had taken a public bus. In any case, when we arrived we were instantly filled with awe from the amazing view and natural fragrance of the countryside.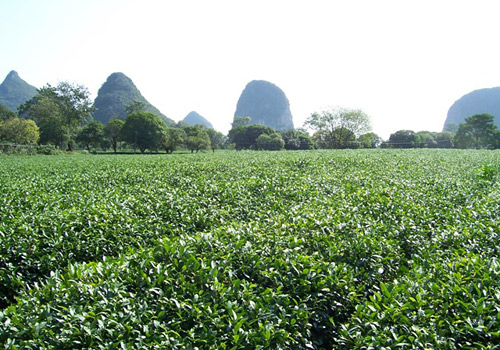 After meeting our host, we took a stroll to the welcoming center where we enjoyed several rounds of tea. The tearoom was outfitted with a traditional, natural root carving table; a fine tea set; and of course, an assortment of delicious tea! We chatted for a bit while sampling a few of the Chinese essentials (green tea, jasmine infused green tea, and red tea) and then set out on the tour.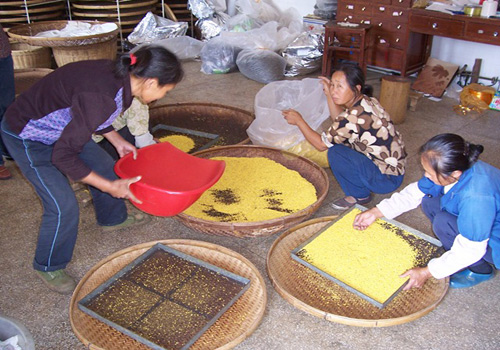 On the walk through the grounds we took a look at just a few of the institute's many fields of tea plants surrounded by Guilin's stunning landscape. We also observed their processing facilities where we saw some employees handling fresh Osmanthus flowers (桂花), the blossoms from the trees that the city is named after, and stopped by their well-stocked tea accessory shop. Along the way there was plenty to be learned.
Curiously enough, the Guilin Tea Institute does not grow any genetically modified plants, but does, however, use genetically engineered insects for their plants' benefit. We were further intrigued to hear that the institute's property is also home to a Ming Dynasty (1368-1644) king's burial ground with many statues surprisingly still intact.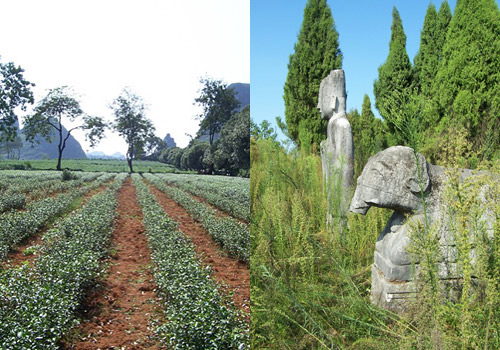 Upon leaving, our guide admitted she was quite happy to have shown us around as she does not often get personal visitors. My friends and I expressed the feeling was mutual and that we had already planned a return visit. What's more, we half jokingly told her that if ever given an opportunity we would very much like to work at, what seemed like to us, a tea lover's paradise. Even though we knew our suddenly imagined career paths were well out of reach, we agreed that our trip to the Guilin Tea Institute was a perfect way to spend a breathtaking fall day in Southern China.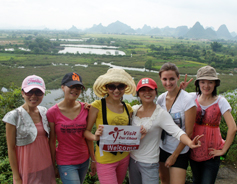 Calendar
Categories