Yulong Bridge Bamboo Rafting Scenic Spot, Yangshuo
2011-10-19China travel Guide
Around 11 km apart from the county seat of
Yangshuo
, the
Yulong Bridge Bamboo Rafting Scenic Spot
at Yulong Village of Baisha Town, the first and only tourism observation in China set up by the World Travel Organization on July 26, 2005, is also known as the highlight section for bamboo rafting in Yangshuo. Built in 1412, Yulong Bridge is the biggest single-arched bridge in Guangxi Zhuang Autonomous Region and the origin that the name of the picturesque Yulong River comes from.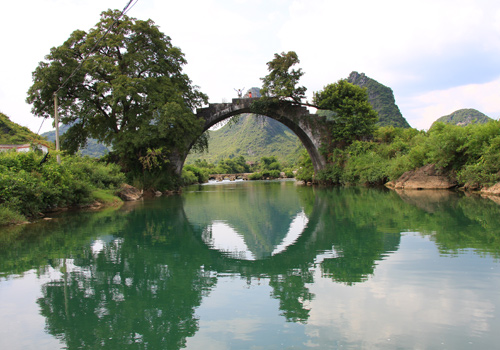 A famous old Chinese saying goes that "landscape in
Guilin
is second to none under the heaven (桂林山水甲天下)" , and the scenery in Yangshuo apparently shows it tops in Guilin. The landscape in Yangshuo is lovely itself, but Yulong River, a tributary of
Li River
(hailed as "mini Li River") and mother river of Yangshuo County, is undoubtedly the icing on the cake for the small county.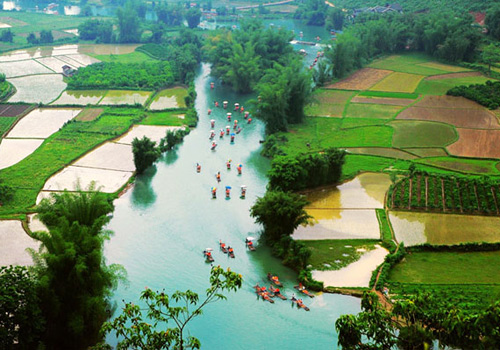 What makes the two rivers apparently distinguish from each other is not the size but the karst peaks along them to a great degree. Anyone who has ever visited the two rivers might notice that the peaks along Li River look imposing by and large, while that accompanying Yulong River are petite comparatively. Therefore, if we say Li River scenic spot is an elegant lady of an eminent family, then Yulong is a quiet younger girl from an ordinary one. And, with the continuous development of travel industry of Guilin, another difference between the two is coming up. That is, Li River has been being suffering from all kinds of damages from the sightseeing ships: noise, waste oil and knock waves that quicken the dissolving of the karst rocks. In this instance, the pristine Yulong, which still remains its 0.2-billion-year pureness, is increasingly valued without doubt.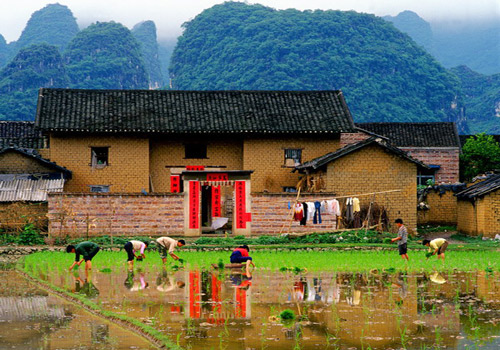 Different from its main stream Li River which used to be a water way for freighters until 1970s, Yulong River is a source for the local agricultural irrigation and bamboo raft is the only means of transport on it. At the very beginning, bamboo rafts were used for transporting neither passengers nor goods because of the tykes in the river, which kept it from the disturbing of outside world. Such an unknown Chinese painting was not revealed to the world until Dr. Carl from Harvard University shared that Yulong River and its surroundings are the most beautiful scenery he had in China. After that, this tranquil river is introduced and more and more foreign travel lovers come to Yangshuo to experience what surprised the Doctor, by bamboo raft. Gradually, rafting on a bamboo on Yulong River becomes a must-do in a
Yangshuo tour
.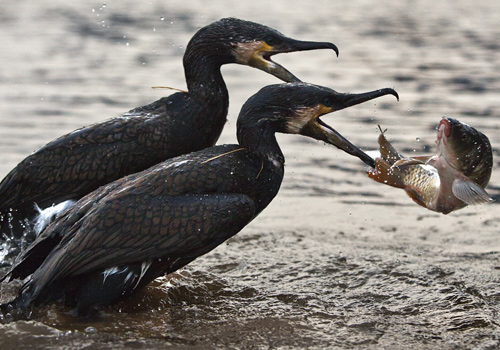 With an average depth of less than 2 meters, Yulong River offers a peaceful cruise with some small excitements now and then when a bamboo raft crawls over the dykes in the river. Normally it takes about 90 minutes to have a complete bamboo rafting on it. Throwing themselves in the bamboo chairs on the raft, people don't need to share the crowded deck with others or stand loudly engine noise but enjoy the lovely rafting time under a big sun umbrella, watching cormorants catching fish and maybe have a water fight against other bamboo rafts by a plastic "water gun" in summer.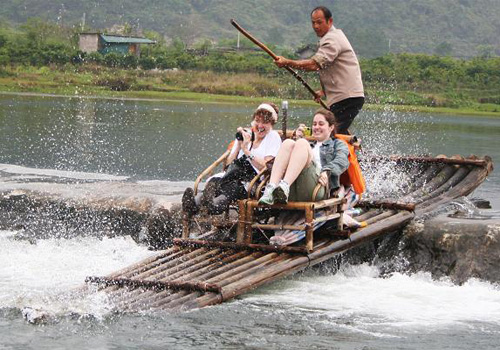 As a matter of fact, Yulong Bridge Scenic Spot has been being favored by many directors and used to be the shooting site of many Chinese and international movies and videos:
- "Liu Sanjie" (1961)
- "Kids from Shaolin" (1983)
- "Hero" (2002, by Zhang Yimou)
- "Romantic West Street"(2005)
- "Star Wars Episode III Revenge Of The Sith" (2005)
- "The Painted Veil" (2005)
- "Let the World Hear Our Voice" (2007, an advertisement by CCTV)
- "Kangmei Love" (2008, a MTV played on CCTV)
- one of desktops of Windows XP SP3
...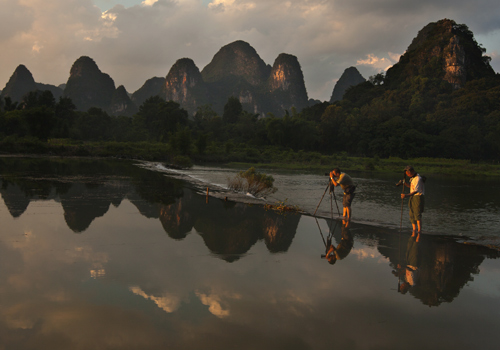 On the other hand, Yulong is also a paradise for shutterbugs and painters. Xv Beigong (徐悲鸿), a Chinese painting master good at painting horses, has ever spent one and half a year in Yangshuo to work in painting Li River and Yulong River. At the opening ceremony of 2008
Beijing
Olympic Games, a huge "picture" constituted by a group of actors and actresses actually originates from a picture of Yulong River by Zhang Wentao, a member of Guilin Photographers Association. What is more, more and more couples realize that Yulong River is a new perfect place for them to take their wedding dress pictures.
--- By Cindy (VisitOurChina)
Comments
Comment