Hiking and wild camping experience in China
2011-08-15Life in Guilin
Looking for a weekend that differentiates itself by its activities and highlights, I spent the last hours of a previous weekend in
Yangshuo
looking for some new attractions on August 6
th
, actually the last weekend I spent in China.
Yangshuo is definitely the place where foreigners and Chinese love hanging around for one can find everything he or she wants with the most beautiful landscape under the heaven nearby. I easily found a little shop renting some hiking and camping equipments for a day or so (Chinese and English notices). Having lived one year and a half in China, I could easily notice that everywhere (and this especially in
Guilin
area) shops for adventure, hiking, biking or camping equipments just pop up like that under the sun. This shop I am talking about is the only one I know in Yangshuo offering (not as a travel agency package) a night or more of hiking and camping insight with the mountains of Yangshuo and the
Li River
nearby. I couldn't help not taking the opportunity to experience this in China before leaving.
Having booked the weekend one week before, we arrived in Yangshuo at 2 p.m. after a one hour and a half public bus drive from Guilin Train Station (20 RMB). Directly heading to the shop, the owner started to prepare the backpacks with all the equipment needed for the night: tents (for 2 persons), moisture proof mat, sleeping bags, outdoor lighting, food (chicken, oil, beer, water, watermelon…), etc… At 4 p.m. we and our two Chinese guides (actually the owner and one of his friends) left the shop and head to the north of Yangshuo for an hour or so walk. We were so excited, we were actually on the point to do some camping in China, an activity that seems pretty original here. Our two comrades were really easy-going and curious about cultural exchanges, a condition for long discussions about our two countries. Just Chinese speaking for the two of them, although one had tried to express himself in English, this weekend was for me the possibility to improve once again my Chinese, a great feeling considering that I was coming back home just two days after that!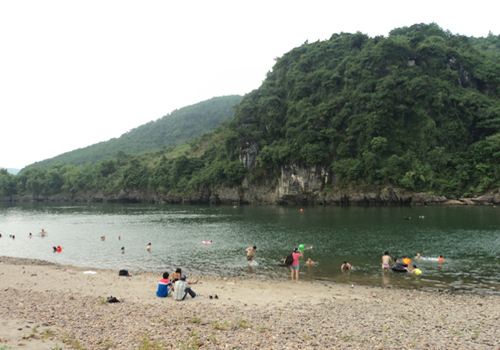 At about 6 p.m., we arrived to a place where locates Yangshuo's famous "Secret Beach" that is actually not that "secret" as everyone knows about it! The place is a perfect and calm area where taking some baths in the Li River, just a bit before entering Yangshuo. Many Chinese and western people were having fun there. With a 36 degrees temperature outside (August is so hot in Guilin, believe me), we couldn't help but having some fun in the river, swimming with pleasure in a water of about 27 degrees: China's so much fun! That was just when people started to go back to the city and leave this calm area that we started to look for a place where spending the night with our tents, the stars for single roof. Campsite ground found, we joyfully started to seek some wood and dry bamboo in order to make fire and have a great diner of fire roasted chicken and watermelon. We felt like in this Robinson Crusoe book, where nature is mastering everything and everyone: a way back to simple things when human is confronted to basic elements and needs. So cool right? That weekend was definitely nice! With the night we started to make our own cooking, the guides having made care about bringing some oil, grass and spicy stuffs for giving much more taste to our meal. In order to make the chicken roast, we prepared some natural bamboo fork! The greatest part of that camping session I think for me. There, using a bamboo we cut it for pricking the food and gently roasting it on our fire. What a great feeling we had really!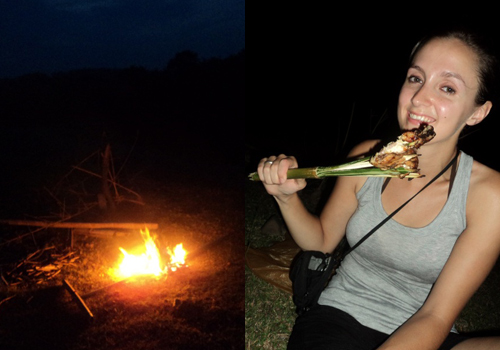 After a great diner, drink and some songs around the fire, we started to make up our tents using the outdoor lighting. We wisely made sure to bring some mosquito spray for the insects were just waiting to "eat" us literally. The time arrived to go to sleep. With the hot weather even at night, the sleeping bags were useless. The greatest feeling we had at that moment was hearing the sounds of nature, the nearby Li River and small animals starting there day at night. A moment I will never forget!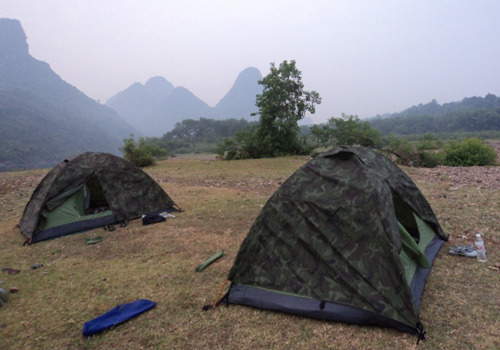 On the next morning, we woke up with the day light: at 6:30 a.m.! Yes, that was extremely early (for me I mean on a Sunday morning especially). All around, the atmosphere was magic. The Li River and the surrounding mountains were like plunged into a misty weather, with the sun trying to break through all of it. Some bamboo raft fishers were already working, the sight was amazing. There we sat, looking at this pure dreamlike vision on a Sunday morning, the last of my time in China before coming back to France. The morning shower time spent in the Li River, naturally! I will never forget that also! Who can say they ever take a morning bath (for washing I mean) in the Li River!?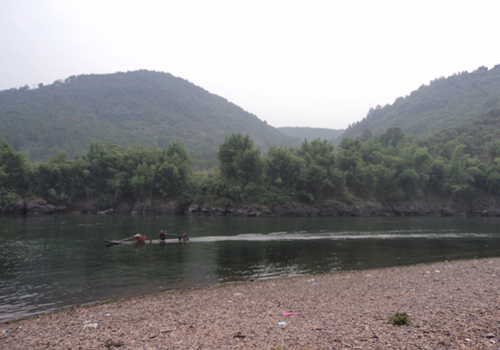 After a good breakfast made of juice and some sandwiches, we pilled everything up and head back to Yangshuo city for another hiking in the villages. Tired but happy, we felt like adventurers after such an experience. For those looking for such an experience I can hereby attest that THIS is something to do at least once in China and in Yangshuo. The guys were really cool and funny, making jokes all the time and of a good company. Precursors in Yangshuo, I believe that their business is going to be more and more popular with years, especially if they start to speak English a bit more. When you go in Yangshuo, don't miss the opportunity to do things you would maybe never do back in your country. I never did wild camping in France for many reasons (not allowed, etc…). That is way better than the regular camping that I know and practiced. Yangshuo is a world on its own, like China is for those daring to do things and meet people for sharing experiences. Enjoy your time in China or come and visit this country where nothing is impossible!
Comment