VOC's Travel BLOG
Our Travel Blog is the place to share our real life, travel experiences in China with you. Besides, we will provide information related to Chinese culture and China travel guide. "A bosom friend afar brings a distant land near." Traveling makes us to be closer, let's discover China together!
Sweet Potatoes and Taro: Company Trip to Lipu
2010-12-23 | Life in Guilin | Comments(2) Views(1423)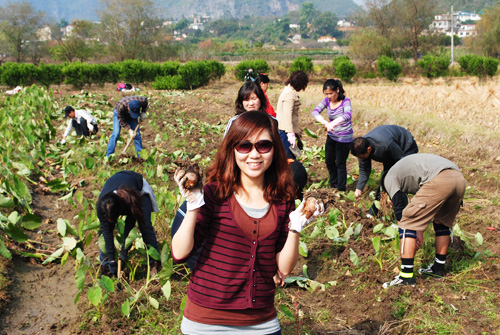 With the weather slowly cooling down as December approaches, our travel agency VisitOurChina organised a company trip to the small county of Lipu that is located to the south-west of Yangshuo, Guilin; Lipu is a county famed for its agriculture, in particular its Taro roots which are widely sought-after throughout Guangxi Province. As is so happened, the travel agency owned a large plot of land right at the heart of Lipu. We are another group of VisitOurChina to experience the rural life of Guilin this weekend. By virtue of the large network of highways that connect the province we were able to make good time in reaching our destination. Travelling in and around Guilin is always enjoyable, towering Kast peaks flank the roads while long carpets of rice-fields stretch beyond the horizon.
I honestly didn't know what to expect upon arriving at the field; how would we be farming? How hands on would it be, I had worn my most dispensable set of clothes in case I needed to get down and dirty. The field was set against the most amazing backdrop, sheer Kast peaks erupting from the group in all directions, towering over the fields, encircling around Lipu like a giant stone ring. The field was around 250 square meters, we would be tackling only two small plots; the first being a two rows of Taro; which despite growing underground grows a leafy stem which protrudes out of the ground, making the taro root easy to pry out. I wasn't afforded a till, or a shovel or a spade but rather a pair of gloves, which I would use to manually pull the Taro from underground; this was agriculture at its most primitive! We worked efficiently as a team to quickly harvest the two rows of taro, admittedly I wasn't grade-A farming material and was often too guilty of pulling too hard at the leafy head of the taro and thus ripping it off, much like ripping the hair off a cabbage patch kid, I felt secretly ashamed when I failed to extract the taro root, ending the life of a poor helpless vegetable.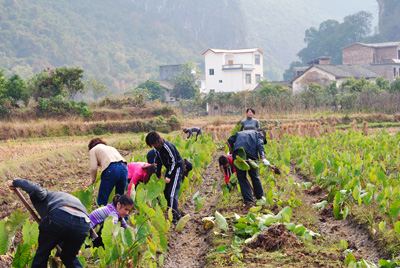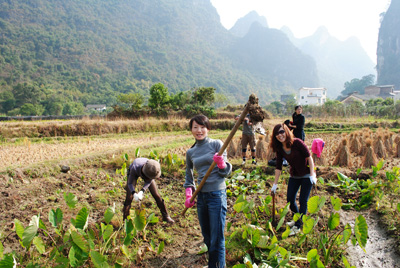 After collecting several heavy sacks worth of taro we moved on to the next plot. Sweet potato; it hides under the ground, no giving away its location; I couldn't help but feel that sweet-potato may be among the most anti-social of vegetables. A local farmer gave us a quick demo of how to harvest the potato and we quickly go to work, sweet potatoes come in all shapes and sizes; some no more a slither of a root, others the size of a grown rat; the technique for removing them involves ample tilling followed by painful trowel-ling and turning of the soil, after around 40mins of enjoyable labour, we extracted several sacks worth of these devious potatoes. However they wouldn't be suitable to eat for several days we were told, they still had too much moisture in them.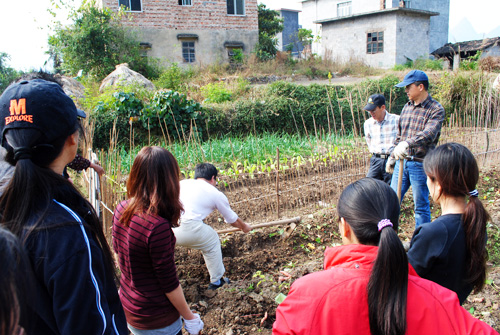 After our farming exploits we were covered head to toe in fertile Lipu soil, we washed off and headed to lunch, we would be able to savour the sweet taste of taro. It wasn't until we started eating our delicious taro lunch (prepared using the taro that we had picked earlier) that I realised that taro despite its mildly interesting purple colour was one of the blandest members of the vegetable kingdom, tucking into a slice of taro was akin to chewing on the corner of a cardboard box, it seemed the only way to 'sex up' taro was to covered it in honey and sugar, which made it managed to cover up its lack of flavour. With taro a culinary let-down would sweet-potato also fail to excite my taste buds? I would have to wait until after lunch when we were scheduled to engage in an old-fashioned baked sweet-potato cook-off.
Lunch did eventually end and we did eventually head to our sweet potato cooking-area, which was a large plot of dirt set amidst a very picturesque orchard which was rich is autumn reds and yellows. The novelty of cooking these sweet-potatoes was building a kind of 'mini-kiln' to bake them it; there was quite an art to constructing the kiln and the two company directors took to the task with a vim more characteristic of someone much younger, apparently age never dims one's love for sweet-potato. Admittedly the other kiln was better than our groups, but that didn't matter, because as soon as the inside was hot enough and had been stuffed with chestnuts and sweet-potato, the kiln were both promptly knocked down and beaten into the ground, leaving all the chestnuts and sweet-potatoes lying amidst super-heated rock and sand under-ground, baking them. The results were delicious, nothing beats the satisfying taste of achievement and the fact that we had picked these sweet-potatoes, built the structure to cook them in and then baked them made them the sweetest potatoes south of Guilin City.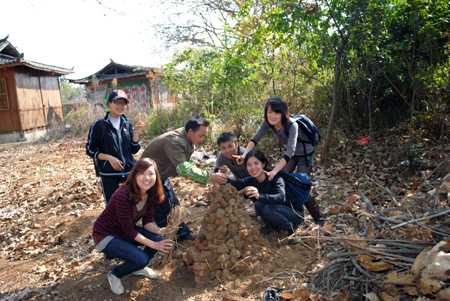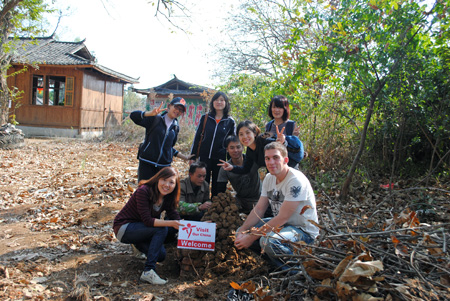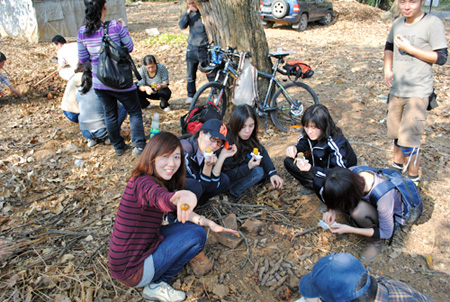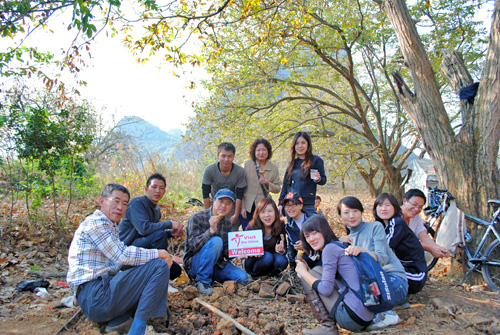 Sometimes you hesitate about giving up your weekend to do something that you've never done before, will it be fun? Will I get along with others? How late will we get back? However, since I began living in China I have discovered that these questions are always answered the same way; if someone presents you a chance to try something new, grab it with both hands. I had a great time in Lipu.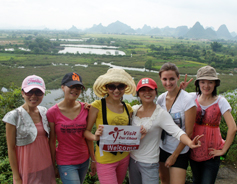 Calendar
Categories