Christmas Greetings from VisitOurChina!
2010-12-24Cultures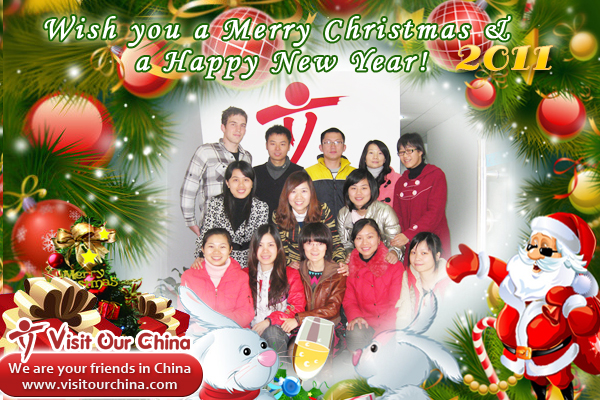 Dear friends,
How time flies, the wonderful 2010 is going to the end; we will have the Christmas Day and New Year. 2010 was an uncommon year, a year full of joys and memories. Maybe you have forgotten the enquiry and tours in China, but we will never forget your smiles and words; because of you, we had such special experience to share joys with our friends, because of you, we made great progress, because of you, VisitOurChina.com has been introduced to the world... Thank you so much!
We were so lucky to be with you in the past year, no words can express our appreciation to you, and our excellent moments will never be forgotten. We want to express our greatest thanks to all of you for your trusts and strong supports to us in inquiring, negotiating, and finally experiencing your tour in China. It was our honor to be your tour consultant in China; it was also a great pleasure for all of us to have such a chance to know each other and to be your friends. Honestly speaking, we were so lucky to be chosen by you, online websites for tour are everywhere, but it was you, who had given our chances. Every time when we read of your overviews about us, we smiles and every time when we hear something like ' We will definitely introduce you to my families and friends' or 'Next time when we come to China, we won't look for others', it moves us to tears.
With your help, VisitOurChina has an 80% increase in the past 2010. So thank you very much! We lowered our prices, we improved in every detail, we had wonderful time with you, and we got satisfaction when you smiled, our dear friends.
We promise that VisitOurChina will never let you down, and it is no doubt that new prices and more surprises will come out very soon in 2011. It is supper worthy to visit our China in 2011, and you will enjoy various tour packages with satisfying price. Warmly welcome back to our beautiful China again!
Wish you and your families a Merry Christmas and a Happy, Healthy and Prosperous 2011 New Year!
Best regards,
VisitOurChina Team
Comments
Comment