My Trip to Gansu Province: Dunhuang - a major stop on ancient Silk Road
2010-08-17China travel Guide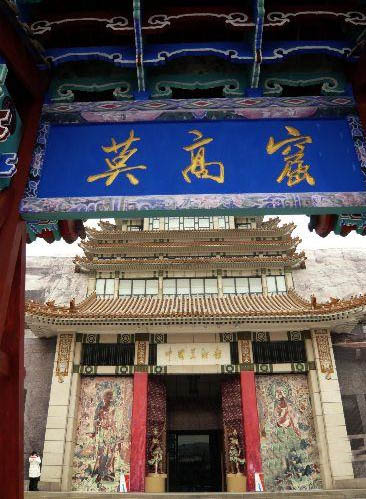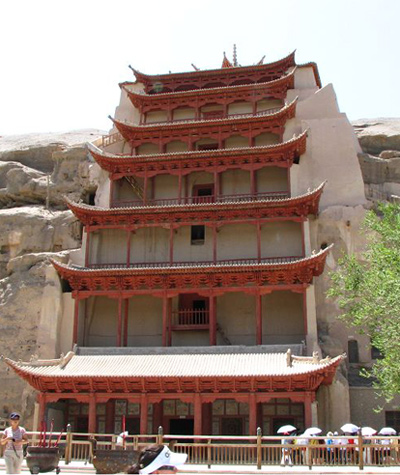 After about an eleven hour bus trip from Zhangye I finally arrived in Dunhuang. Going to Dunhuang is like sailing thru a vast desert. Along the way there is little to see, but an endless sea of sand. It's amazing how the roads are well-paved! Anyways, arriving there at 7:00 PM doesn't seem late as the sun was still far from touching the horizon. With that in mind, after checking-in, I immediately set out to see the city sites. I found a small local restaurant and tried some of the very hearty local noodles, complimented with skewers of large juicy, peppery lamb. The sun sets so late there and it was well past 8:00 PM before the sun finally sank behind the horizon.
OK, so what's with Dunhuang? Well, it's actually a main stop on the Silk Road serving as a hub of cultural interchange between China and the west during ancient times. It is located at the west end part of Gansu Province. There are so many places to go to, but we only got to go to the two most famous ones. The first thing that I checked out in Dunhuang was the sand dunes, the second time I have visited sand dunes after my experience in Sha Potou. The sand dunes were only about 200 meters high, but for every forward step you make, you always seem to take a step back. It took a while to reach the top drawing in deep breathes of the dry air. The view at the top of the dunes was once again amazing views over endless seas of golden sand dunes. Living in the green humid south seeing this dry arid landscape for the first time was truly amazing.
The dunes are called Mingsha Shan (Whistling Sand Dunes). There are several explanations for the sounds. One story goes that an army was defeated there and their corpses formed a huge pile; during the night a strong wind blew and their bodies were buried instantly; however, their drums and horns are still audible. Another story says that when two armies were fighting, a great wind arose and all the soldiers were buried alive by the shifting sand. The whistling is the sound of their continued fighting. Still, another legend has it that a village here was buried by the drifting sand during a Spring Festival when all the people were celebrating the new lunar year; so the whistling sound is said to be the music of their beating drums. Like Sha Potou in Ningxia the sand is extremely hot and a collared shirt, water-bottle, sunscreen, sunglasses are all essential.
Another spectacular place is the Cresent-Moon Spring just a few meters from the foot of the sand dune we just climbed. It's a never-drying spring in the shape of a half-moon, hence the name. It has very clear waters and the people even made a pagoda next to it along with a small restaurant for weary climbers to grab something to eat. Just like the desert tourist destination in Ningxia the sand dunes of Dunhuang are filled with camels, dune-buggies, sliding sand-boards and long boardwalks that help you avoid the sweltering sand.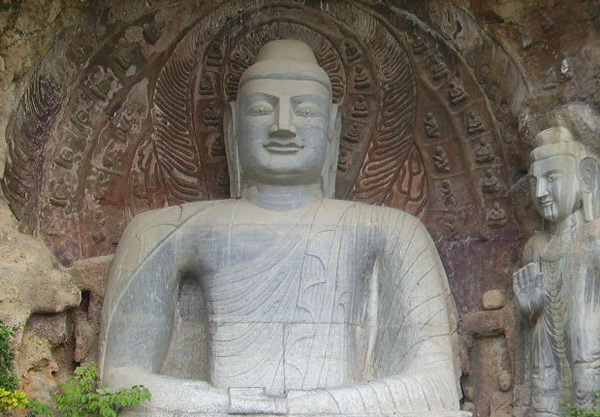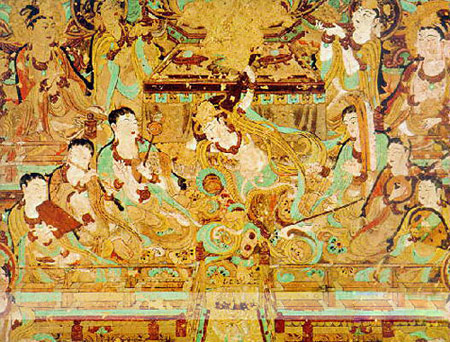 I also checked out Mogao Grottoes also known as the Thousand Buddha Cave. It is hewn out of a steep cliff 25 km southeast of the city. It is the largest one of its kind in China being the site of one of the most priceless collections of Buddhist art the world has ever known. According to a Tang inscription, the carvings began in 366 AD by a monk named Le Zun who was traveling past the area and saw a vision of a thousand golden Buddhas. He collected money from all around and was able to carve out the first grotto. The news spread fast and passing merchants and travelers all donated money for the construction of grottoes in hope of a safe journey. Over the next 1000 years, hundreds of caves were carved out of the steep sandstone cliff in a layered honeycomb pattern and connected together by wooden walkways and ladders. Having been included in the World Heritage List, the government made sure they were well protected. Each cave now has an identifying mark with number, date, and dynasty. The interiors of all the caves have been severely damaged by wind and water erosion and today only 492 grottoes are still standing.
Of the 492 caves, there were like only 20 open to the public when we went there. What's worse, a terrible sand storm swept over the place blowing sand everywhere. Sand storms often are whipped up around the caves making visiting them difficult. When I went there was a light breeze that whipped up what blew a light haze of sand into my face and eyes. The first cave I went to didn't look much like anything except polished stone. As I came closer and looked up, I was dumbstruck at the magnificence of the carving. It was a Buddha statue 45 meters high. From the outside, I guess all I saw was his huge belly. What's more amazing about these carvings is that on the ceiling are murals each with a story to tell.
Finally, Dunhuang is also known for its luminous cups or Moonlight Cups. These are cups made from a kind of jade-like rock bearing beautiful patterns of green and black shading. They are paper-thin and almost transparent. What's so amazing about them is that they can be magnetized and they make a glass-like sound if you gently hit two of them together. Don't ask about the price!
Dunhuang is the most accessible of all the places I visited along the Silk Road, it even has its own airport located around 15kms east of the town, it has a small town commercial hustle that is missing in both Zhangye and Xiahe making more comfortable, however, it loses some of that small town magic and sense of wonderment that exists in the small towns of Zhangye and Dunhuang. Travelling from Xiahe to Dunhuang is a special if not challenging route for those keen on exploring the Silk Road, Xiahe with its unrefined natural beauty and wonderment, Dunhuang a development township with amazing desert scenery and Zhangye, which sits in between and offers a little bit of both. It was truly an unforgettable summer holiday!

--- By Brett Hartley-Wilson (VisitOurChina)
Comment