VOC's Travel BLOG
Our Travel Blog is the place to share our real life, travel experiences in China with you. Besides, we will provide information related to Chinese culture and China travel guide. "A bosom friend afar brings a distant land near." Traveling makes us to be closer, let's discover China together!
My Trip to Gansu Province: Zhangye - amazing Danxia landform
2010-08-17 | China travel Guide | Comments(18) Views(3476)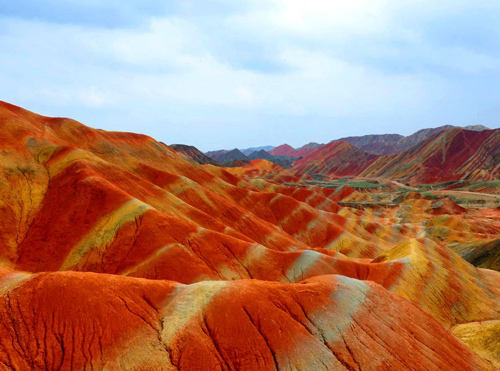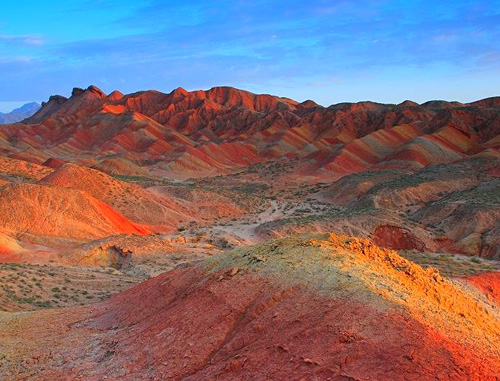 Zhangye is a popular travel route for those both domestic and international tourists who want to explore the Silk Road. It was once in ancient times known as Ganzhou and was a famous commercial port on the Silk Road. Merchants from the west kept coming here for trading. Irrigation from the Black and Shandan rivers makes lead to highly advanced irrigation systems. It gained a reputation as "lush southern-type fields in the desert". Today zhangye is again experiencing economic growth with tourism and manufacturing leading the way, its famous multi-coloured folding mountains that I saw in a Chinese movie are what first drew me to this oasis in the desert, I wanted to see with my own eyes what made this place to attractive to tourists.
The most astounding feature of Zhang Ye is the amazing Danxia landforms. These amazing multicoloured mountains look as though they have been taken to with an artist's brush that has intricately striped different seams of the rock, creating an absolutely unique viewing experience. The only problem was that I had seen pictures of these mountains so many times that when I saw them for real I lost the shock value, the dull hazy day also drew away from the brilliance of the mountains, my feeling is that if you managed to visit them on a good day then you may find yourself blown away with the sheer astounding nature of these landforms.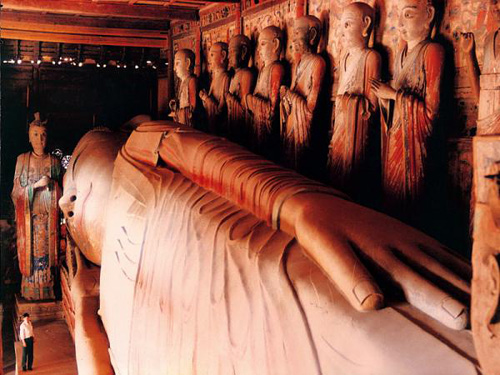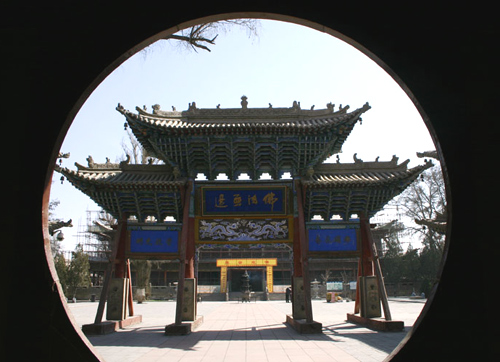 The Great Buddha is located in the southeast part of Zhangye City. It was built in 1098 in Xixia. Its original name is Jiayerulaipian Temple, which is the largest temple in Gansu Province. Now there are three great buildings tourists can visit. They are Great Buddhist Temple, Cangjing Hall and Tuta Tower. The great Buddhist Temple is 33 meters high. A Buddha which is made up of wood, soil and plastic lies in the temple. Its body is 34.5 meters long, the shoulder is 7.5 meters wide and its ears are over 2 meters long. This Buddha is said to be the largest lying Buddha in China. On both sides of the temple, there are 18 Buddhas called Luohan.
On each side of the gate of temple is carved a 6-square-meter-wide brick. The left brick writes "Heavens" and "Western St. Mirror" and the right writes "To Morocco". Some murals such as "Journey to the West" and "The Book of Mountains and Seas" are painted around the wall. Meanwhile, more than 6,000 volumes of Buddhist scriptures are kept well in it. Especially, the scriptures that were written by gold and silver powder are the most precious.
The Wooden Pagoda is located in the south street of county of Zhangye City. Now it is in the Zhangye Middle School. Its original name is Wanshou Temple. This pagoda was first built in the Northern Zhou Dynasty. After the reconstruction of Sui, Tang, Ming and Qing Dynasties, now the existing wooden pagoda was built in 1926. It has nine floors.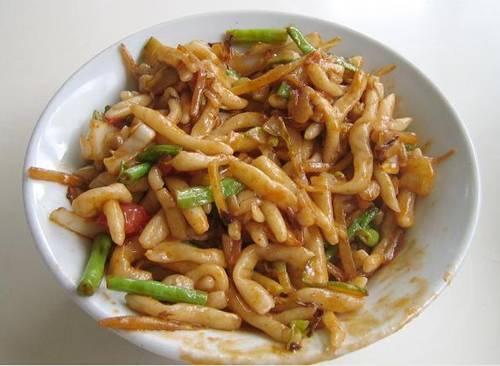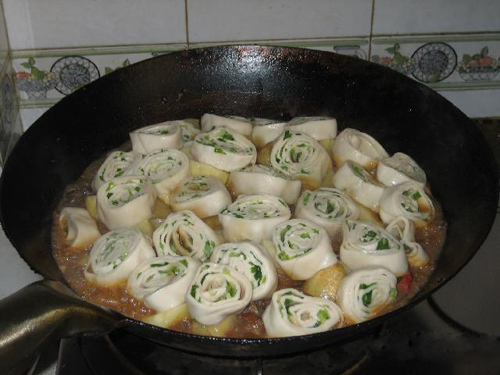 The local people of Zhangye have their characteristic in clothing. The public officials often put on the Chinese Zhongshanzhuang, while the farmers put on the single cotton and kapok hand-woven clothes. The gentries who are rich often wear the silk coat in summer and the fur long gown in winter; women wear the Chinese-style garment made of cotton and kapok in summer and winter. The farmers near the mountain area put on the worn-out fur clothes and jackets in winter and the brown upper garment in spring and autumn; men who herd the cattle and sheep put on the thick woolen clothing.
The delicious food of Zhangye is very popular. Its snacks have a long history and offer many varieties. Since the Ming and Qing Dynasty, the traditional snacks are mainly made by powders, such as saozi noodles, xiaofan (small rice), stewed pork, yougao, hupo, cuoyuzi, niangpizi and doufunao. All these snacks are both low-cost and delicious. Zhangye is the apparently the culinary capital of Gansu, if the food there does not appeal to tastes of most western travelers, fortunately cheap, standard western food is available to provide you with some salvation.
Around the Wooden Pagoda, tourists have a chance to taste some local food. Especially, the most famous street is "Hua-Yi snacks". This street is similar to a market-place. There are 30 – 40 small stores. You can taste various pasta, meat, and snacks.
In addition to the food, wine is also popular in Zhangye. There are mainly three types of wine: yellow wine, south liquor and rice liquor. Different wine has different functions. The yellow wine is used as sacrificial offerings or celebrating weddings; the south liquor can keep our stomachs healthy and has a little positive influence on women disease and rheumatism; the rice liquor to some extent can soften the arteries, so it's useful to the old.
Zhangye, a town far more developed than Xiahe but falls short of the metropolis of Lanzhou, is really a comfortable mix that is rich in natural beauty and culture.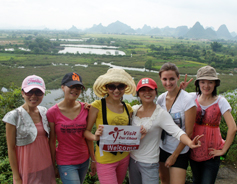 Calendar
Categories