Wolong Giant Panda Reserve Centre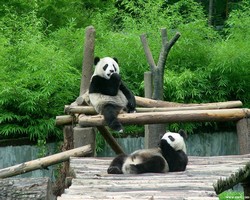 More Photos
Location: in Wolong Nature Reserve, in the southwest of Wenchuan County, Aba Tibetan and Qiang Autonomous Prefecture, Sichuan Province.
Opening time: 08:00-18:00
Best time for visit: in spring and summer
Recommended time for a visit: 2 hours

Wolong Giant Panda Reserve Center, or Wolong CCRCGP (China Conservation and Research Center for Giant Panda), is the earliest constructed as well as the largest conservation area for Chinese giant pandas.
Nestled inside Wolong Nature Reserve, which lie on the transition area from the Qinghai and Tibet Plateau to the Sichuan Basin, and endowed with advantageous climate and favorable conditions, Wolong Giant Panda Center is perfect for preservation and reproduction of Chinese pandas, as well as a number of other living beings.
Before 2008, the conservation center was home to about 100 wild giant pandas (accounts for about 10% of the total number in China) and more than 40 captive ones (accounts for 30% of the total number). It adopted strong measures to protect this rare species, and further, successfully researched panda's artificial breeding. From 1991 to 2000, the panda center artificially produced giant pandas 34 times, and 33 survive among all the 50 produced ones.
However, the violent earthquake happened on May 12, 2008 (with its epicenter in Wenchuan County), severely influenced the survival environment of giant pandas. To ensure a better conservation for those national treasures, Wolong Giant Panda Center had a branch build in Bi Feng Xia Scenic Spot, Ya'an County, and had a majority of the pandas move there. Now,
Bi Feng Xia Panda Base
is the best site to watch Chinese panda.
Quick Questions
Our team is waiting for your questions. Please feel free to ask us any questions you might have about our China package tours, Chinese culture, or the sites available. We will gladly help you with any special needs you might have and all questions, like our trip designing is completely free of charge.