5 Days Ethnic Minorities Hiking & Festival Experience Tour
Destination:Guiyang
Tour Code: EFT05
Tour Duration: 5 Days
Tour overview:

This hiking tour will provide you a chance to visit the minority attractions and festivals of Guizhou "down to the earth". The interesting Sister's Meal Festival will surely give you an astonishing experience!
Tour Summary
Day by Day Itinerary
Reviews
B=Breakfast,L=Lunch,D=Dinner
| Tour Dates | Destinations | Services Provided | Meals Included |
| --- | --- | --- | --- |
| Day 1 | Guiyang/Kaili | Arrive in Guiyang. Drive to Kaili. | |
| Day 2 | Kaili | Visit Kaili Ethnic Minorities Museum, Then drive to Qingman village, hike from Qingman to Shiqiao Miao Village (2.5-3h), in Shiqiao you can see traditional papermaking. | |
| Day 3 | Kaili/Shidong/Zhenyuan | Drive to Zhenyuan via Shidong. There is Sister's Meal Festival of Miao in Shidong in April or May every year. | |
| Day 4 | Zhenyuan | Visit Wuyang river and go to visit Black Dragon Cave, an old building which is combined with Confucianism, Buddhism and Taoism religions. | |
| Day 5 | Zhenyuan/Guiyang | Drive to Guiyang, on the way visit Feiyun Temple, leave Guiyang. | |
-NOTE:
1. Normally hotels allow a maximum of 3 adults per room with an extra bed, at extra charge. Some hotels will allow three adults and a small child.
2. Tour price is indicative only, please enquire for a detailed quotation.
3. More people more discounts. Please enquire for more details.
Price Includes
A. Entrance fees:To scenic spots as listed above in the itinerary.
B. Meals: All meals as specified in the itinerary.
C. Private Transfers: Among airports, hotels and scenic spots while sightseeing in the above cities by the private air conditioned vehicle.
D. Guide and Driver: As outlined in the itinerary, a well selected English-speaking guide and driver will accompany you throughout the entire tour in that city. They do not fly with you from one city to another.
E. Hotels: Hotel Based on two persons sharing one room with twin beds. All hotels as listed in the above itinerary serve daily western or Chinese breakfast. All rooms are air-conditioned with private facilities unless specified.
F. Luggage Transfers: Between airports and hotels.
G. Service Charge & Government Taxes.
H. Travel insurance in mainland China during the above travel period.
I. Arrangements: The tour cost includes planning, handling, operational and communication charges.
B=Breakfast,L=Lunch,D=Dinner
Day 1
Arrive in Guiyang/Kaili
Transfer via: Flight on your own arrangement (we can arrange it for you as per your requests)

When you arrive in Guiyang, you will be greeted by your local guide and then be driven to Kaili directly (around 2.5 hours).

Check in your hotel in Kaili.
Day 2
Kaili (B, L)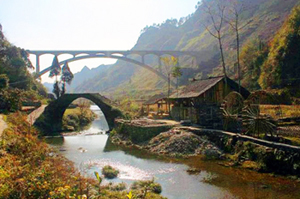 Sightseeing: Kaili Ethnic Minorities Museum, Qingman Miao village, Shiqiao Miao village

We will visit Kaili Ethnic Minorities Museum. Kaili Museum is actually an Ethnic Minorities Museum, which displays some buildings, food and drink, costumes, festivals, production, recreation, etiquette, morals and beliefs etc. created by Miao People. It provides a broad, comprehensive introduction to the history of the various ethnic minorities that make up the multi-cultural patchwork that is the southeastern part of present-day Guizhou Province. The Kaili museum will have 12 exhibition halls when it is completed. Currently there are only 4 exhibition halls open to the public, of which the Minority Customs Hall and the Dragon Boat Hall are the most noteworthy.

Then drive to Qingman Miao village, hike from Qingman to Shiqiao Miao village (2.5-3h).

Qingman Miao Village. Located about 14 miles to the southwest of Kaili, Qingman Miao Village is built along the mountain contours. Surrounded by green mountains and rivers, it is the sweet home to over 300 households and 1,600 Miao people. The unique wooden stilt houses put up range upon range are indeed a splendid scene to see! During your visit here, you'll experience many traditional ceremonies and performance, which are absolutely attractive. Shiqiao Miao village, where Miao people make special paper by tree bark. For thousands of year Shiqiao village offer the paper for Miao people in this region. Till nowadays you can see almost every village make different types of paper for decoration house, lantern.
Day 3
Kaili/Shidong/Zhenyuan (B, L)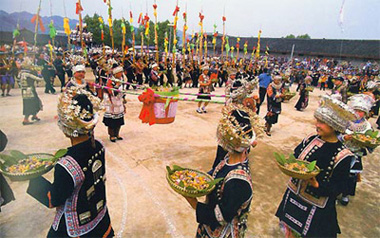 Transfer via: Private Vehicle on our arrangement
Sightseeing: Sister's Meal Festival of Miao People

Drive to Zhenyuan via Shidong. There is a famous festival of Miao in Shidong in April or May every year. Morning 1 hour's drive to Shidong to attend the annually traditional Sister's Meal Festival of Miao people which is well known as the Oriental Valentine's Day. It means eating lover's rice which has been died into different colors. It offers opportunities for youth to find their marriage partners. Full day to explore festival's activities: bull-fighting, dragon-boat race, wooden-drum dance and local market. You will be deeply impressed by their fantastic silver ornaments.

Arrive in Zhenyuan ancient town, check in your hotel. Located on eastern part of Guizhou Province, Zhenyuan has long been an ancient town of the Miao people. Its long history endows the town with many rich and generous cultural relics, making it much like a historic garden. The town covers only an area of 3.1 square kilometers (about 1.2 square miles) but greets you with more than 160 scenic spots including caves, palaces, pavilions, temples and rivers with their unique architecture, exquisite engravings and marvelous natural landscape.
Day 4
Zhenyuan (B, L)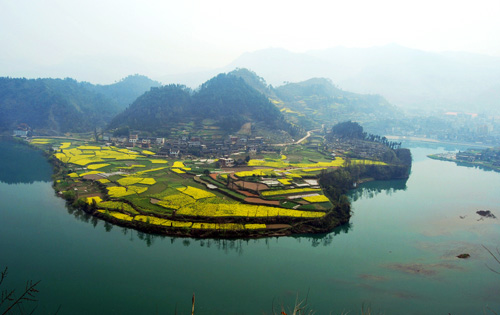 Sightseeing: Wuyang River, Black Dragon Cave

Today we will visit Wuyang River. Flowing through the Miaoling Mountains, the charming and lively Wuyang River runs 95 km from Huangping to Zhenyuan, finally join into Yuanjiang in Hunan Province. Its scenic spots in Zhenyuan, Shibing and Huangping compose the National Wuyang Scenic Area. The river is geographically divided into Upper Wuyang between Huangping and Shibing and Down Wuyang from Shibing to Zhenyuan. Within these two sections, the most sightworthy and impressive scenery could be enjoyed in a cruise at Zhenyuan. Wuyang Three Gorges, a 35km-waterway, is the most beautiful section of the whole scenic area. It consists of Dragon King Gorge, East (Zhu Ge) Gorge and West Gorge. Secluded caves, gurgling springs, rugged rocks, dangerous passes and spectacular waterfalls interspersed on the mountains of both banks along the three gorges endow the Wuyang River, along with the dangers of Yangtze River, Three Gorges and the elegance of Li River in Guilin.

We also will see Black Dragon Cave. Located on Zhonghe Mountain in the east of Zhenyuan, the Black Dragon Cave was built during the Ming Dynasty (1368-1644), it's the largest ancient architecture remnants of Guizhou, incl. single and multi-storied pavilions, temples, shrines, palaces etc. The complex was constructed according to the natural features of Zhonghe Mountain which is precipitous. The architectural sculptures and adornments are simple and unsophisticated, yet quietly elegant. The way in which the Confucianist, Taoist and Buddhist temples were put together embodies a combination of the 3 beliefs. Against the green backdrop, the Black Dragon Cave seems to cling to the mountainside in an orderly tiered way due to the precipitous cliff, which makes it blend the characteristics of a garden with the style of a temple.
Day 5
Zhenyuan/Guiyang (B, L)
Transfer via: Flight on your own arrangement

After breakfast, we will drive back to Guiyang. On the way, visit Feiyun Temple. You will be transferred to Guiyang airport to take flight leave.
Quick Questions
Our team is waiting for your questions. Please feel free to ask us any questions you might have about our China package tours, Chinese culture, or the sites available. We will gladly help you with any special needs you might have and all questions, like our trip designing is completely free of charge.