Nanshan Temple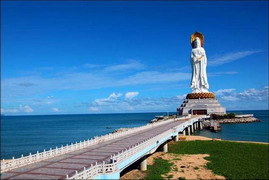 More Photos

Chinese name: 南山寺 (Nan Shan Si).
Location: at Nanshan Cultural Tourism Zone, about 40 km west of Sanya City, Hainan Island (aka. Haian Province).
Ticket: CNY150.
How to get there: take the tourist bus to Nanshan (南山) at downtown Sanya or take the Xin Guo Xian double-decker tourist bus (新国线双层观光巴士).
Travel tips:
1. Buy a nonexpondable transfer ticket (CNY20), with which you can take the tourist bus inside the scenic area at will;
2. The tourist buses run around the scenic area (7 km, 25 minutes).
3. The vegetarian meal of Nanshan Temple is very famous and buffet lunch is offered at noon. The Yuanqilou vegetarian Restaurant provides approximately 20 dishes every day, all of which are made from vegetables and bean products.
Recommended visiting route: The Dharma-Door of Nonduality – Gold and Jade Satue of Avalokitesvara – Sandi Bridge – Longevity Valley – Leisure Center – Sculptures of Elephants – Yuanqilou Building – Jixiang Ruyi Garden – Nanshan Temple –Wenbao Courtyard of Nanshan – tree houses – Samadhi – Avalokitesvara of South Sea – The Dharma-Door of Nonduality.
About Nanshan
Located in Sanya, capital of Hainan Province and the most beautiful coast city of China, Nanshan, or South Mountain, is the southmost mountain throughout the country. According to Buddhism sutra, Avalokitesvara had ever made twelve wished, the second of which is living in the South Sea. Therefore, Nanshan, which locates by the sea, has been being seen to be a holy land of Buddhism as well as "mountain of luminosity". Jianzhen (688-763), a renowned Buddhist Mater of Tang Dynasty, once tried five sea-voyages eastward with the wish of propagating Buddhism to Japan. Unexpectedly, the fifth try still did not send him to Japan but Nanshan of Sanya, in which he lived one and half a year and presided over the construction of Buddhist temples. After the preach in Nanshan, his sixth try brought him to his destination finally. Miraculously, Kukai (774-835), the first master of Buddhism of Japan sent to China, also arrived in China by landing at Nanshan. All of these make Nanshan and the Nanshan Temple in it a holy land of Buddhism.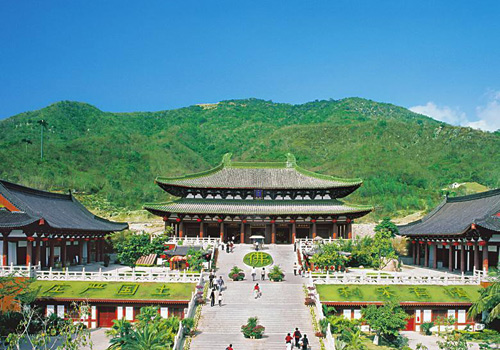 Introduction to Nanshan Temple
Completed in 1998 with an area of some 266,667 square meters in Tang style, Nanshan Temple is made up of a series of Buddhist structures, e.g. Renwang Hall, Mahavira Hall, Eastern and Western side halls, drum tower and bell tower, Avalokitesvara Courtyard, which creat a well-proportioned layout in Nanshan Mountain. The atmosphere of solemnity and reverence here makes visitor feel being at the ashram of Avalokitesvara.
Some Famous Landscapes of Nanshan Temple Scenic Area
- The Dharma-Door of Nonduality: It is said that there are 84,000 Buddhist gates to get approach to Buddhism and among all it is the highest level. One gets through this gate is believed to correspond to the holy land of Buddhism. Distinctive from most structures of the temple, it is constructed modeling the architectural style of the Southern and Northern Dynasty (420-589).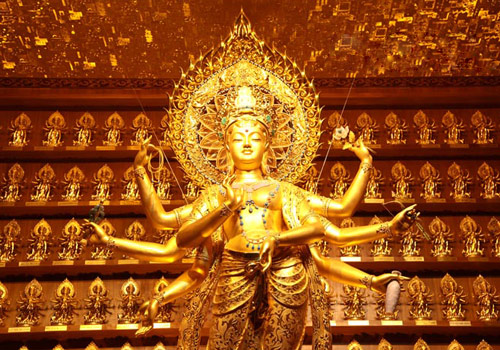 - Gold and Jade Satue of Avalokitesvara: This statue of Avalokitesvara is enshrined and worshiped at a resplendent hall. This 3.8-meter-high statue is famous for making of over 100 kg gold, over 120 g South African diamond and over 1000 grains of rubies, sapphires, emeralds, pearls, jades… And what brings it to the front in the Buddhist sense is the Sharipus of Sakyamuni (founder of Buddhism) inlayed in the statue. In 1998 it was con firmed to be the biggest satue of Buddha made of gold and gems in the world and entered the Guinness World Records of 1999.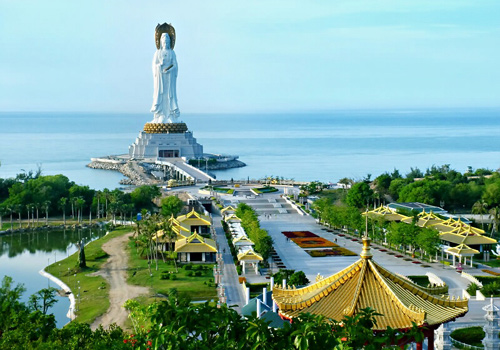 - Statue of On-sea Avalokitesvara: This huge statue was started to be built on the sea in 1999 and it took six years to finish the project. Standing on a big lotus throne, this three-sided Avalokitesvara is 108 meters in height and is linked with the Avalokitesvara Square and the theme park on the bank by the 280-meter-long Puji Bridge. Taking advantage of hight-tech methods, this site also offers beautiful night scene when darkness fall.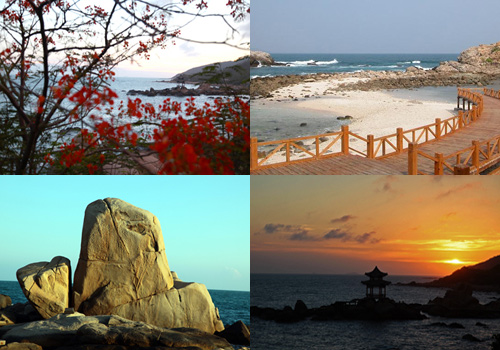 - Longevity Valley: Legend goes it that Avalokitesvara found Nanshan a blessed spot when she traveled to the coast of the South Sea by a huge soft-shelled turtle. It is interesting that the vertical view of Nanshan Mountain looks like a turtle, so the mountain is considered to be the incarnation of the one of Avalokitesvara and the stream flowing from the mountain is believed to be beneficial for longevity, hence the name. On the square and the gallery of longevity culture, traditional Chinese expression and annotation of "寿 (longevity) " are displayed in literature, calligraphy, seal cutting, and so on.
- Tree Houses: The 7-kilometer-long seaside sandbank of Nanshan features the tamarindus indica forest, which grows in a pristine condition; and what highlights this rare forest is the small wooden houses constructed on the trees. At present these tree houses have become an attraction of Nanshan, but please note that the houses do not provide accommodation any more.
Quick Questions
Our team is waiting for you questions. Please feel free to ask us any questions you might have about our China package tours, Chinese culture, or the sites available. We will gladly help you with any special needs you might have and all questions, like our trip designing is completely free of charge.