Monkey Island

More Photos

Chinese name: 南湾猴岛 (Nan Wan Hou Dao).
Location: at Xincun Town, Lingshui County, Hainan Island (aka. Hainan Province).
Ticket: CNY163.
Opening time: 08:00-16:50.
How to get there: The buses from Sanya (三亚) to Lingshui (陵水) depart every 20 minutes (60 km, CNY19/person). Arriving at the county seat of Lingshui, take the bus to Xincun (新村) and get off at the terminus, walk for 300 meters to the cableway of Monkey Island.
Travel Tips:
1. Do NOT tantalize the moneys with food or something else, or else they probably get angry and attack you;
2. Do NOT stare at a monkey for a long time, or else it might consider you are hostile and attack you;
3. Do NOT carry plastic bags or something like that in hand, or else the monkeys might consider them to be food and come up to snatch.
Introduction to Nanwan Monkey Island
Located on the Nanwan Peninsula that is 14 km south of Lingshui County, the Nanwan Monkey Island is the only tropical island natural reserves of macaque in the world. Covering some 10 square km with an average altitude of 150 meters, Monkey Island has 95% of the area be covered with forest, in which more than 3000 local people andover 1500 monkeys live together.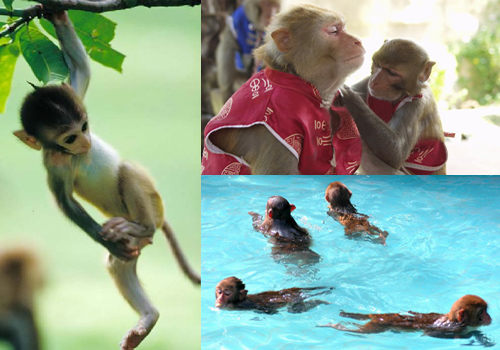 According to a resources survey in 1995, there are 15 kinds of mammals (such as leopard cats, pangolins, otters), 57 kinds of birds (such as Hainan partridges, hoopoes), 17 kinds of amphibious reptiles (such as boas, lizards), 388 kinds of plants including coconut trees, leechee trees, jackfruit trees, carambola trees, and many other species.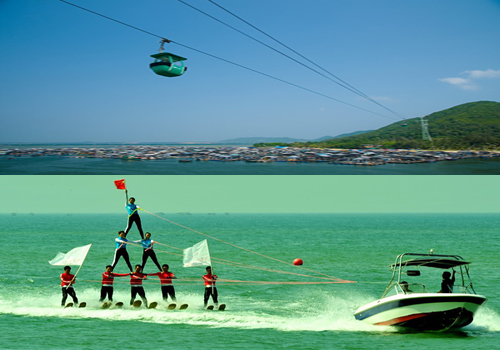 Over the years, the local government has been being attached series of measures to peotect the Nanwan Monkey Island. Having been well trained, most of the moneys on the island seldom attack people and other animals or destroy crops; when hearing whistles, they will rush from trees or swings, for food. In addition to the feeding scene bustling of with noise and excitement, visitors can also have fun by the comical circus shows by the monkeys or by joining the exciting on-sea sports of Nanwan Monkey Island.
Quick Questions
Our team is waiting for your questions. Please feel free to ask us any questions you might have about our China package tours, Chinese culture, or the sites available. We will gladly help you with any special needs you might have and all questions, like our trip designing is completely free of charge.