Binglang Valley
Chinese name: 三亚槟榔谷(Sanya Binglang Gu)
Location: Binglanggu, Sandao Town, Baoting Li & Miao Autonomous County, Hainan Province, China
Opening time: 8:00-17:30
Best time for visit: all year round
Recommended time for a visit: 4-5 hours
How to get there:
- By bus: Buses run from the Sanya bus terminal to Baoting or Wuzhishan, passing the main gate of Binglanggu.
- By taxi: Taxis are available from the Sanya area directly to Binglanggu (28kms).
- By car: From Sanya, take the Eastern Expressway in the direction of Haikou, passing the town of Tiandu. Exit the Expressway at the Middle Route Highway interchange and drive in the direction of Wuzhishan. It is 10 kilometers to Binglanggu.
- By tour bus: see the following timetable for more information

Route A:
| | |
| --- | --- |
| From | To |
| Yalong Bay Railway Station entrance(亚龙湾火车站路口) | Binglanggu Valley(槟榔谷) |
| 08:05 | 08:30 |
| 10:35 | 11:00 |
| 14:35 | 15:00 |

Route B:
| | | |
| --- | --- | --- |
| From | | To |
| Summer Department Store(夏日百货) | Yalong Bay Railway Station entrance(亚龙湾火车站路口) | Binglanggu Valley(槟榔谷) |
| 08:50 | 09:10 | 09:30 |
| 11:15 | 11:35 | 12:00 |
| 15:15 | 15:35 | 16:00 |

Route C:
From
To
Yalong Bay Center Plaza(亚龙湾中心广场)
Binglanggu Valley(槟榔谷)

07:45

08:55

10:15
Return Trip
Binglanggu Valley(槟榔谷)
Dadonghai(大东海)
Mingzhu Plaza(明珠广场)

08:30

09:30

12:30

13:30

16:00

17:30

Introduction to Binglang Valley
Located
on the border of Sanya city and Baoting county, approximately 28 kilometers
from Sanya, The Li and Miao Ecological Cultural Tourism Area of Ganza Ridge
Areca Valley (Binglang
Valley for short) covers
a total area of 339.3 square kilometers. Built
in 1998, this valley is now a national 5A tourism destination.
Binglang means Areca, a tropical plant, the reserve is named Binglang Valley because it is formed by a valley
which is several kilometers long and covered with thousands of areca palms and
lush greenery on both slopes.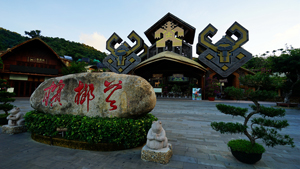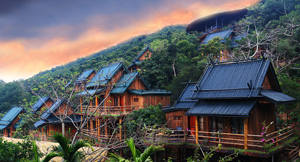 Hainan province is home to many ethnic groups, with the Li and Miao people particularly prominent on the island. The Li were the earliest settlers of Hainan, with their first-recorded appearance on the island traced back 3,000 years ago.
Binglang Valley is the only tourist area themed by primitive and ecological Li & Miao culture and has made great contribution to exploring, saving and promoting local culture of Hainan Island. Also there are several Hainan national intangible cultural heritage items exhibited in Binglang Valley, making it the best exhibition window of ethnic minority culture of Hainan island.
Constructed around the original Li and Miao village, the now large-scale, popular tourist destination offers visitors a window into every aspect of the local people's traditions, from the boat-shaped houses they live in, to the history of making fire by rubbing sticks, to the way they make quilts and clothes from tree bark. Visitors may indulge in nature of enchanting beauty, appreciating folk customs, ethnic melody, enjoying ethnic foods, Li and Miao styled lodging and cultural art.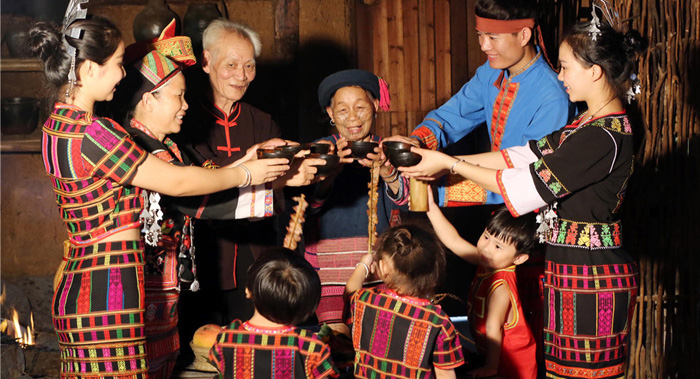 What to see in Binglang Valley
Binglanggu is a combination of local village and artificial development. You will get known about the Miao & Li culture from the shows, food, real houses, exhibitions and handicrafts. There is a magnificent show of the local li & miao life, most dancers are the local villagers, even old grandmas over 70 years old.
The reserve consists of three main sections: the primitive Li Minority village (原甘什黎村), the ecological Miao Minority village (原生态苗寨) and tropical jungle (原神秘雨林). It is one of the most important tourist attractions in Hainan and is among its top ten scenic spots.
A number of cultural experiences await you in these traditional villages, you can get a feel for the day to day lives of the indigenous people who live here, and learn a little of the Li and Miao culture. You can also enjoy the special treat of seeing the incredible "Fire and Knife" performance of the Miao people.