Asian Dragon Bay (Yalong Wan)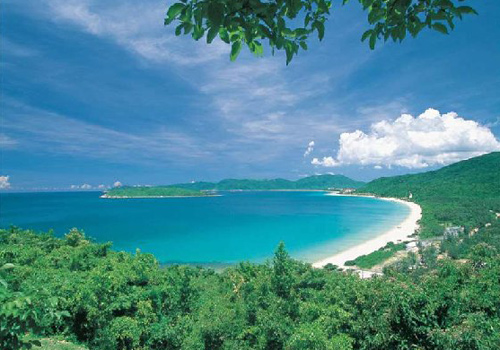 More Photos

Chinese name: 亚龙湾 (Ya Long Wan).
Location: near Liupan Road, Tiandu Town, Sanya City, Hainan Island (aka, Hainan Province).
Tickets:
- Center Square + Shell Exhibition Hall: CNY53;
- Butterfly Valley: CNY33.
Opening time: 07:30-18:00.
How to get there:
- By bus No.15 in downtown Sanya;
- By the double-deck tourist bus (route: Yalong Bay – Da Dong Hai – Sanya Bay – Xi Dao (West Island) – Tian Ya Hai Jiao). The first departure every day is at 07:15 and the followings leave every 10 minutes; the last bus leaves from Tian Ya Hai Jiao at 19:00. The ticket price is CNY8/person and it needs about 70 minutes to finish a single trip.
Best time for visit: September-April of next year.
Yalong Bay National Resort
Located 28 km southeastern of Sanya, Yalong Bay is a half-moon-shaped bay, with its soft sandbeach stretching for 7.5 km. The bay is not only well-known as one of Hainan Island's most famous attractions but also as China's only national-level holiday resort featured tropical ambiance, with seaside park, deluxe villas, conference center, high star-level hotels, holiday village, semi-submerged sightseeing, marine sport center, golf course, yacht club, etc. On October 23 of 2005, Yalong Bay ranked on the top of the selection of "Eight Most Beautiful Beaches of China" sponsored by Chinese National Geography.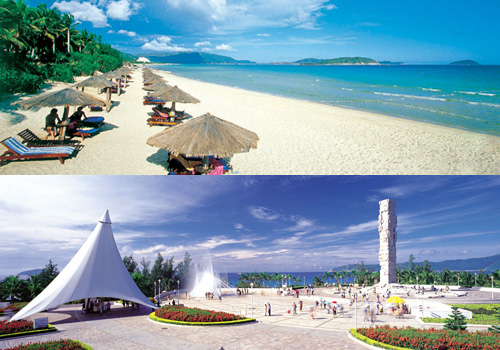 Being of typical tropical marine climate, Yalong Bay has an annual average temperature of 25.5 degree Celsius, which allow its visitors to take marine sports all year round, and its bay area of 66 square km can host 100,000 people have fun in the sea at a time.
Featuring sea, sandbeach, sunshine, green and fresh air, Yalong Bay is a commendable outdoor bathing place and a god-given diving site. The seawater of it has very good visibility, as deep as 7-9 meters, and under the sea live various tropical fishes with vivid colors and the coral reefs of it are under national protection.
Center Square
The Center Square of Yalong Bay is dotted with four huge white sail-shaped pinnacled tents, with a 26.8-meter-high totem pole as the highlight. The pole is made of an aluminium alloy pillar and more than 200 granites and is carved with images relevant to traditional Chinese myths such as dragon, phoenixes, sunbird, and gods of wind, rain, thunder, lightning.
Shell Exhibition Hall
It sits on the Center Square with an area of 3000 square meters. Being the first Chinese exhibition hall themed on shells, the hall has over 300 species of shells from all over the world show at its five zones.
Butterfly Valley
The Butterfly Valley locates at the north of Yalong Bay National Resort. It displays various species of butterflies including many rare ones of China, e.g. Golden Kaiserihind, Bhutanitis lidderdalii Atkinson, Teinopalpus imperialis.
Quick Questions
Our team is waiting for your questions. Please feel free to ask us any questions you might have about our China package tours, Chinese culture, or the sites available. We will gladly help you with any special needs you might have and all questions, like our trip designing is completely free of charge.