The Adventurous Palate
created: 2010-07-05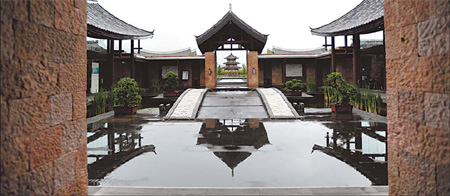 Holidays are usually a good time to experiment with more unfamiliar flavors. Pauline D Loh has the taste test at the resorts of Lijiang.
One of the most delicious dishes I had on our recent sojourn to the delightful twin towns of Shuhe and Dayan in Lijiang was served in a teapot. It came in a purple clay teapot, burnished with a glowing patina and gently steaming on a piece of slate.
The waiter at the Banyan Tree's Bai Yun Restaurant warned us of the heat as he delicately poured a clear consomm into a little teacup. The savory fragrance wafted into the steam, hitting our noses and our palates.
It was a clear soup made by double-boiling a local water bird, the teal, and had the faint aroma of ginseng and Solomon's seal, herbs which are abundantly found locally.
The soup was warm and soothing, especially as we had braved a cold and persistent shower all day as we explored the ancient towns. In fact, it literally did "warm the cockles of our heart".
It was not a soup which we would have normally drunk - waterfowl being less accessible to cooks in our native urban hubs of Beijing, Shanghai, Hong Kong or Singapore. It was part of the exotic atmosphere of being far away from home, holidaying in a celebrated resort on the foothills of the snow mountains of Lijiang.
Similarly, the black mountain goat that appeared on the menu was not everyday fare. It was a dense, rich stew with dark bits of chewy skin among the tender meat - a testimony, my fellow diner noted, to the pedigree and color of the animal. It was also heavily scented with Chinese angelica, a "feminine" tonic that the chef thoughtfully included for our hen party.
It was good to be pampered.
While we unanimously enjoyed every sip of the soup, the strong flavors of the goat stew took some getting used to. However, we appreciated the consideration that went into the dish, and we were enjoying every second of our two-day retreat at the Banyan Tree's decadently luxurious resort.
Besides all that spoiling with long soaks in the Jacuzzi and jet pool, two-hour massages and grooming at the spa, the sipping of Yunnan Hong wines in our comfortable private lounge, the ambience was also perfect, the service very attentive and we were more than prepped to be adventurous with any food placed before us.
To keep ourselves grounded to reality, we had also booked a night at a traditional inn in Dayan, at a little hostelry with the delightful translated name of Celestial Being Sword Destiny or Xianjian Yuan.
Here, Mistress Zhang and her husband have their own story to tell. They were originally from Hubei province, had visited Lijiang on holiday and decided to prolong their stay. They leased a little traditional Naxi-style inn, and in the short months they had started business, managed to collect enough testimonials to plaster one side of the reception wall.
The lady inn-keeper is very warm-hearted and cannot seem to do enough for her guests, which she treats like favored visiting relatives. She personally attended to our every whim and insisted we stay in for the evening meal because it was drizzling pretty hard.
Dinner at the inn was an informal affair, a far cry from the elegant dining rooms of the Banyan Tree. Yet there was a certain rustic charm in squatting on low stools around a square marble table placed along the common corridor, sharing the meal with two other complete strangers, if fellow guests.
On the table was "common folk" food - a plate of soya-braised cucumbers, a platter of broad beans and sweetcorn, a big brown bowl of red-cooked pork-ribs, plates of slightly bitter local mustard greens and a carp, deep-fried and then braised. Most of the vegetables were just coming into season, and reflected what the Lijiang people ate behind doors closed to tourist eyes.
If we had been counting food miles, probably all the food we ate at that meal came from within 10 km of the inn. Our lady inn-keeper was an excellent cook and her home flavors kept us happy that night.
And so in-between admiring the world heritage sites of Lijiang, we were also getting a culinary education on how other folks ate. There was no need to label it Slow Food. It was all sustainable, it was all cooked with love and respect for the land, and it was all good for our bodies and souls.
In the midst of all our daily urban frenzy, a holiday means you can take time off to truly relax, enjoy a different scenery and experiment with unfamiliar flavors. And at the end of it, there are always interesting recipes to take home as epicurean souvenirs.
Here are two recipes from our little Lijiang adventure - a double-boiled herbal consomm we first tasted at the Banyan Tree Lijiang, and a red-cooked pork rib that may or may not reflect our lady inn-keeper's Hubei origins.
Recommended China Guide: