Beijing International Tourism Expo generates multiple deals
created: 2010-07-02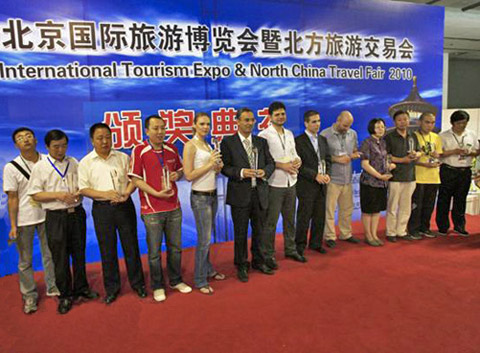 On June 27th, the Beijing International Tourism Expo (BITE) concluded at the China International Exhibition Center in Beijing. Around 800 exhibitors from 82 countries and more than 130,000 visitors were attracted by this 3-day event.
Business contracts worth up to 2,900 million yuan were signed during BITE. Travel agencies from countries including the United States, Mexico and Russia all staged multimedia exhibitions and live performances to promote their tourism resources.
This year's BITE was augmented by the North China Travel Fair which opened within the event. Tourism officials and traders from nine provinces and autonomous regions of northern China all brought their tourism products to the fair.
Gu Xiaoyuan, deputy director of the Beijing Tourism Administration, and host of BITE, said in her speech at the closing ceremony that the Expo is very efficient in setting up close business ties between people in the international and domestic tourism industries, and is also an opportunity for individual travelers to know about the destinations they plan to travel to.
Recommended China Guide: