Moonwalking in Macao
created: 2010-07-01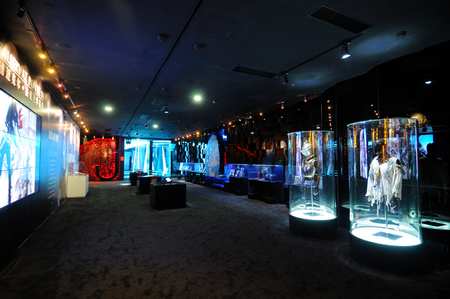 As Asia's answer to Las Vegas, hotels are numerous in Macao, and each of them has a gimmick to lure in tourists. Wynn has a dancing fountain, the Venetian it's false-skied indoor mall and canal, and MGM Grand its Fiori di Paradiso Ceiling, designed by blown-glass artist Dale Chihuly.
Sofitel Ponte 16 already had an edge with its unique location as the only resort hotel in the inner harbor of Macao, surrounded by distinctive Portuguese government buildings and local Macanese residences. This past February, it left all others in the pop-culture dust when it opened its exclusive Michael Jackson Gallery.
"During the days when it was just opened, this place was crowded with tourists from all over the world," gallery tour guide Cheng Xiao told Lifestyle proudly, seemingly unfazed by the fact that her employer requires all female employees in the gallery to dress in a cowboy hat, white shirt, black tapered trousers and mid-rise black leather boots, because like American cowboys, Michael Jackson is an American idol.
Cheng herself is a major MJ fan, spouting an impressive amount of knowledge of the man and his music. Often times, she could not help but dance as his music played throughout the gallery, looking curiously intoxicated.
Love of kids
More than 40 items are on display, including MJ's album awards, including a signed RIAA (Recording Industry Association of America) platinum record award for 1987's "Bad," costumes he wore on the stage and even a pair of his hand-bedazzled Swarovski crystal-studded socks. Cheng pointed out another Jackson favorite, the black fedora worn in the "Smooth Criminal" video. Looking for a reminder of Jackson's charitable outreach work? There's a wall for that, painted with a "We are the World" mural.
And who can forget Jackson's youthful spirit and love of children? For a nice reminder, find the section displaying artworks, both by Michael himself - a drawing he made of Charlie Chaplin when young - and a drawing of MJ by one of his young fans, a girl named Trudy. Michael liked the drawing so much he sent her a thank-you letter, which is also displayed.
Smell the glove
Otherwise, it's the usual stuff one might expect in this sort of museum - a zombie suit (seen in picture) which was worn in the "Thriller" music video, Michael's autobiography, pictures from his life and a collection of MJ's distinctive autographs, including one version featuring a handwritten arrow and two rings.
Based on the number of publicity photos provided to Lifestyle showing grinning hotel execs surrounding a glass case, it comes as no surprise that the proudest possession in the gallery is Jackson's iconic rhinestone glove from his Billie Jean days. When not monopolized by suits, the glove draws the kinds of fans that only MJ could attract.
"There was once a visitor who was standing by this display window, staring at the glove for over an hour. He had me quite puzzled," Cheng said. "I approached him finally, and he asked me, 'Do you know how many rhinestones it has?' I shook my head honestly. 'Six hundred and thirty-two in total,' he told me proudly, like a happy child."
If you desperately require such a glove for your own wearing, the gift shop sells them for 628 Macao Patacas (MOP), though they were out of stock during our visit. "One hundred gloves were released on the opening day and were quickly sold out," Cheng said, before name-dropping, "Mainlander male pop star Cai Guoqing bought this glove and wore it on the CCTV Spring Gala."
Step into the curved "time tunnel" for an innovative audio-visual showcase of Jackson's lifelong musical vocation. Entering from one side, you walk through to the opening beats of the Jackson Five's I Want You Back, and on into Thriller (1982), Bad (1987), Dangerous (1991), HIStory (1995), Invincible (2001) and the final scene of Jackson's 2009 concert.
A stone statue of Jackson, modeled after the well-known cover of the HIStory album, is surrounded by a group of young people posing for a photo, while on the right side of the gallery, people are learning the moonwalk from MJ gallery staff. From watching them, we were reminded that while MJ may be gone, his legacy remains eternal, and the MJ gallery is a fitting tribute.
Recommended China Guide: