The 2014 Ice Lantern Festival in Longqingxia Valley is about to open
created: 2014-01-10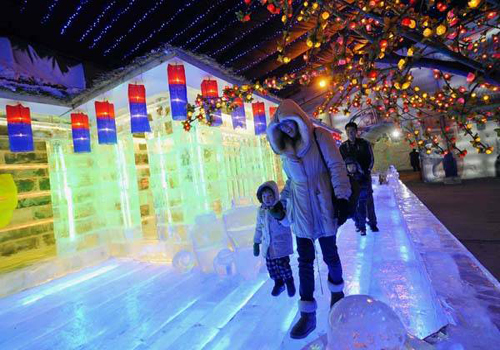 The Longqingxia Valley is located in the Gucheng Village, Yanqing County,
Beijing
. The festival will be officially open in January 15 and lasts until the end of February. There will be 300 flower lanterns, 1000 tree lanterns, 350 ice lanterns, 200 ice sculptures, 100 snow sculptures, and the 10 000 meters long Great Wall Lantern.
Every year, the Ice Lantern Festival in Longqingxia Valley attracts many tourist from all over the world. At present, the temperature there has dropped to 19 degrees below zero, which makes the ice strong and stable. Besides, Longqingxia Valley has very rich plants in no pollution. The ices there are perfect for ice lantern making.
It is truly a grand feast of various lanterns in the beautiful ice and snow world.
Recommended China Guide: