Transport System to Be Fully Stretched for "Chunyun"
created: 2014-01-16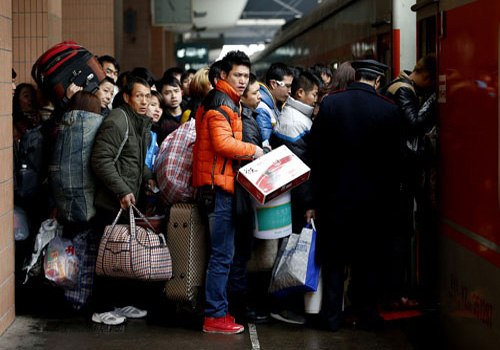 China's transport system will be put to the test during "Chunyun", the 40-day travel period around the Chinese New Year, or Spring Festival, which falls on Jan. 31.
Chunyun literally means Spring Festival Transport.
Billions of trips will be made during the holiday season, the most important festival for family reunions in the country, placing a tremendous strain on trains, planes and automobiles, and leaving train tickets in scarce supply.
About 3.62 billion passenger trips will be made during the travel period starting Thursday, an official said Tuesday.
The figure is about 200 million more than last year, said Lian Weiliang, deputy head of the National Development and Reform Commission (NDRC), at a press conference.
The peak of the travel season will strain the country's transport system and passengers may have difficulties in getting tickets in some regions, Lian warned.
Most of the trips, about 3.2 billion, are expected to be made by road, including long-distance coaches, charted buses and tour coaches, said Liang Xiao'an, Ministry of Transport spokesman, at the press conference.
The figure, up 5.8 percent from the same period last year, means 80 million road trips will be made each day, according to Liang.
Airlines will also be stretched, with about 42 million flights expected to be made, up 10 percent from last year, said Xia Xinghua, deputy head of the Civil Aviation Administration of China, at the press conference.
The administration will increase the number of flights by 12,000 each week from 50,000, according to Xia.
However, passengers choosing to take trains, the most popular method of transport for migrant workers and college students, will find it difficult to get tickets.
About 258 million train trips will be made during Chunyun, up 7.9 percent year on year, said Hu Yadong, deputy general manager of the China Railway Corporation (CRC).
"There is a big gap between railway transportation capacity and demand," Hu told reporters at the press conference.
Latest company figures showed that about 154.62 million train tickets were sold from Dec. 23 to Jan. 12.
The problem of train ticket shortages has been exacerbated by rampant scalping, a typical problem during the holiday travel period.
To curb scalping, Chinese authorities deployed a ticketing system where ID cards have to be used for purchases. However, scalpers have used fake ID cards to obtain train tickets.
To make ticketing easier, authorities also set up online ticket-booking website, www.12306.cn. However, the system has regularly crashed because of demand, and online scalping has emerged and prospered.
Hu said the CRC was testing a program which would integrate a national identification system for ID cards and the online ticketing system. It is expected to be in use "soon."
- News from Xinhua

Recommended China Guide: