Zhangjiajie to Have International Airport
created: 2013-11-22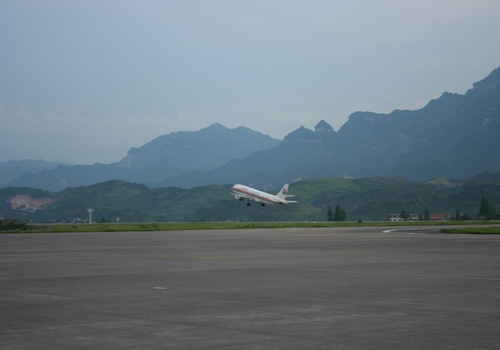 Construction of an international airport has started in Zhangjiajie City, which is famous for its world natural heritage site Wulingyuan, announced the Hunan Airport Group on Nov. 20, 2013.
Expected to open in 2015, after the Changsha Huanghua International Airport, the Lotus International Airport in Zhangjiajie will be the second international airport in the central China's Hunan province.
Located in the mountainous western part of Hunan, Zhangjiajie is home to the Zhangjiajie National Forest Park, recognized as China's first national forest park in 1982.
The floating pillar-like formations and dense foliage in Zhangjiajie appeared in Hollywood blockbuster "Avatar" in 2010, which has further boosted its reputation as an international tourist destination.
To cater to the tourist boom, the new airport has been designed to handle 5 million tourists a year, in addition to 19,000 tons of cargoes and mails.
The current Lotus Airport built in 1994 only handles domestic flights. By 2015 and after a planned investment of 535 million yuan (87 million U.S. dollars), the new airport will cover a total area of 59,532 square meters, and be able to handle 45,000 flights a year.
-News from Xinhua

Recommended China Guide: