Shenyu Art Treasures Exhibition Opens in Beijing
created: 2013-01-16
China Daily, January 15, 2013
Shenyu Art Treasures Exhibition is held in
Beijing
at Shenyu Museum beginning from January 8. The first month is open to the public for free.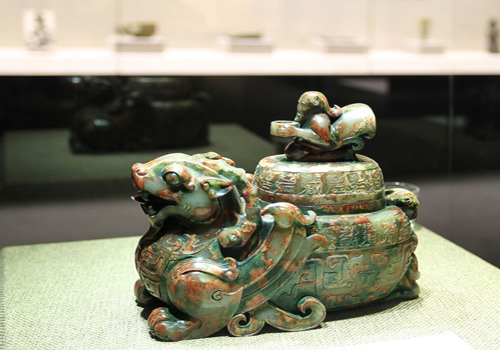 (Shenyu Art Treasures Exhibition is held in Beijing at Shenyu Museum starting from January 8. [Photo by Shenyu Museum /chinadaily.com.cn ])
The exhibition will show more than three hundred of precious jade collection items from different dynasties. "The highest level of the art collections is a kind of cultural spirit. When you come to the museum, you will draw an inspiration and excitation from these collections," said Wang Weibin, curator of Shenyu Museum.
Beijing Shenyu Art Center, as one part of Shenyu Museum's cultural business, also starts business from January, Wang said. The center plans to build ten branches in different province or cities this year.
Shenyu Museum will launch China Shenyu Exhibition in 2013 to spread jade culture throughout the country, said Wang.
Address: No 3, Beisanhuan (North Third Ring Road) Zhonglu, West Anhuaqiao, Xicheng District, Beijing
Tel: 400-890-8388

Recommended China Guide: