An Exotic Experience
updated: 2012-08-27
China Daily, August 24, 2012
Harbin
's Volga Manor epitomizes all things Russian, the city's own Russian heritage included, which, in real life, has mostly vanished.
Volga is widely viewed as Russia's national river, with many of the country's largest cities situated in its drainage basin. It may also be the single Russian word that, in the minds of many Chinese, conjures up the beauty of Russian culture.
The river that flows through Volga Manor in Harbin's suburb is totally separate from the real Volga, but it is a reminder of the rich heritage the northeastern Chinese city of Harbin has absorbed and embodied in its short history.
Volga Manor is a theme park just 30 minutes' drive from downtown Harbin, capital of Heilongjiang province. The 60 hectares of land and water do not look like similar parks elsewhere in China that feature miniature buildings or Disneyfied surroundings. It maintains a natural setting with man-made structures subtly complimenting the environment rather than dominating it.
And most of these structures do not simply cry out Russian. They are historical buildings that used to exist in Harbin, built by migrants from Russia who came to China in the turmoil of war or revolution. In that sense, the park can also be seen as a museum that celebrates the glory of the city's past.
The completion of the Chinese Eastern Railway in 1898 opened the floodgate for European immigrants, most of whom were Russians. By the end of 1900, St. Nicholas Church was built, the largest Orthodox church in the Far East and, for many decades, the best-known landmark in Harbin.
The first thrust of the "cultural revolution" (1966-76) in 1966 sent hordes of Red Guards marching to the wooden structure. It was torn down piece by piece. Now photos of the mindless demolition are displayed in the exact recreation that stands in suburban Harbin rather than in the busy cross-section of downtown.
The rebuilding was helped by the discovery of the blueprint of the original in Russia. All original specifications were rigorously followed. But everything is so new and the structure itself not as imposing as one might imagine. It is fittingly called a "gallery", which is technically its name and function.
The Miniature Restaurant used to sit on Sun Island, a favorite hangout for both locals and tourists. It looked like a big steamboat ready to set sail down the Songhua River. Unfortunately, a fire in 1997 destroyed this famous architecture, originally completed in 1926. Now, the new one brings back the gilded age of the early 20th century. And by the way, "miniature" in Russian means a delicate piece of art.
Salon Pushkin is a dacha-sized house with brown-red walls and a bright blue roof. A statue of Russia's most beloved poet stands by the brick walkway that leads to the door. Inside are rotating exhibits of photography and paintings that celebrate Russia landscape, arts and culture.
The Visitors' Center is a round structure with wood beams stacked horizontally. It looks like something that has popped out of a fairytale. The woodcarvings atop the roof and the chandelier inside would be wonderful in a pop-up book. Adults may find tourist information here, but kids can experience it as if it were a giant tree house.
The Pavlov Castle was originally built near the end of the 18th century - in Russia, that is. It went through a tumultuous 200-plus-year history. The Gothic building was for some time used as a prison. Nowadays, newlyweds swarm to the same-size new building for shooting sessions of wedding photos. They may have come for the crimson brick walls and the turrets, but they may not have realized the metaphor that a satiric novelist used to compare the institution of marriage to a castle and, by extension, a prison.
But that is beside the point. The 30-some buildings in Volga Manor are all steeped in history, yet are brand-new and extremely pragmatic in their current functions. They offer an abundance of Russian entertainment, Russian food and Russian-style accommodation.
It may not replace a trip to Russia, but it's a perfect weekend escape for both a change into exotica and a walk back into history.
Recommended China Guide:
About Our Company
China Travel Resources
What Our Customers Say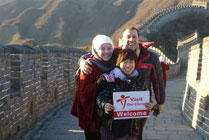 I hope this letter finds you well. We finally arrived home from our trip last Thursday the 17th. As promised I am writing to you about our experience in China and we thank you very much for your organizing. On the whole we had a wonderful time and were very well looked after...
Read more testimonials...