Nanjing Presidential Mansion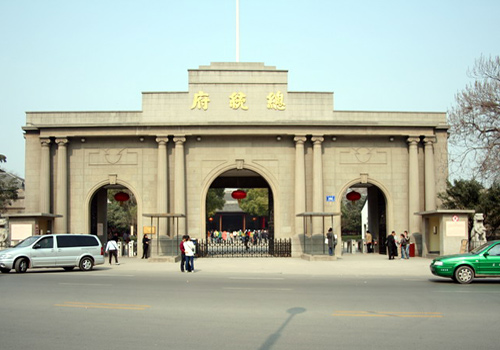 More Photos

Nanjing Presidential mansion (Chinese:南京总统府), lies on the No.292, Changjiang Road of Nanjing City, Jiangsu Province; it is the largest modern history museum in China. Presidential Mansion was originally a prince dwelling and government office in Qing Dynasty, most of the architectures with a history of more than 600 years. Later, it became a vital place in Chinese modern history after the First Opium War in1840. It was the office as well as a residential area of some main leaders in Chinese modern history and had witness important history events. These famous leaders in Chinese modern history including the great national hero Lin Zexu of Qing Dynasty, the peasant leader Hong Xiuquan of the Taiping Heavenly Kingdom, the provisional president of the Republic of China Sun Yat-sen and the president of Nationalist Party Chiang Kai-shek, etc.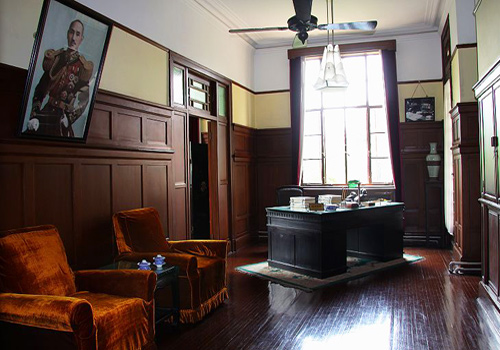 After the foundation of the People's Republic of China in 1949, Nanjing Presidential Mansion functioned as a government office of Jiangsu Province, and has gradually transformed as the history museum in 1990s with well-preserved architectures in different styles as well as precious historical relics and documents.
Distributions and Architectures in Nanjing Presidential Mansion
Opening to the public in 2003, and cover an area of 90 000 square meters, the museum can be divided into three parts, the central part, western part and eastern part, with a series exhibitions and historical documents exhibited in each part.
Central Part – It is the main part of the museum, and once used as the National Government, Presidential Office and relevant organizations. The architectures include a Gate Building (the mark of the Presidential Mansion), a Grand Hall (the body building), Eastern Hall, Western Hall, Reception Hall, auditorium, air-raid shelter, garage, swimming pool, etc.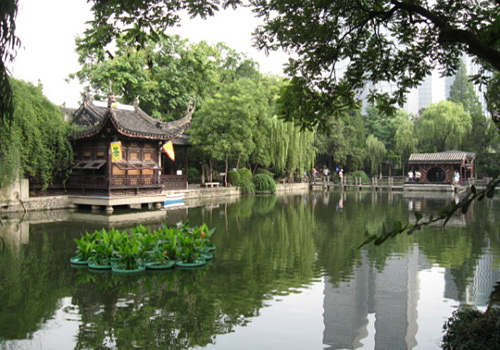 Western Part – It was once the office, dwelling and secretariat of the provisional president of the Republic of China Sun Yat-sen with a Western Garden and the General Staff Office. Stone steles inscribed with poems, traditional Chinese architectures built in Qing Dynasty and a typical southern garden with pavilions and an artificial lake are also the components in this Part.
Eastern Part – It was the former site of the Executive Department of the National Government; a Stable, an Eastern Garden, Stone steles, an ancient well and a southern garden are also included in the part.
Exhibitions in Nanjing Presidential Mansion
There are eight series of exhibits and a collection of precious treasures exhibited in Nanjing Presidential Mansion.
Life Exhibition of Sun Yat-sen – Exhibits about Mr. Sun's revolutionary life with precious relevant historical documents.
Historical Relics Exhibition of Hong Xiuquan and the Heavenly Dynasty Palace – Photos and documents as well as imitated architectures with furniture of the Heavenly Dynasty to be showed here have reflected the peasant leader Hong Xiuquan and the changes of his Dynasty.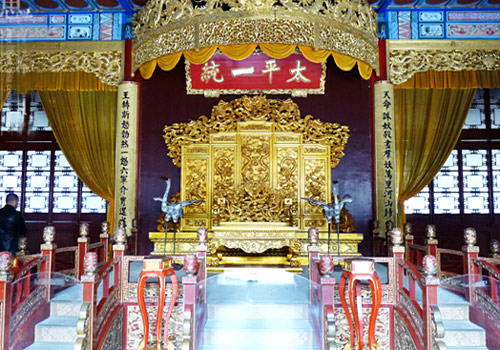 Ancestral Halls of Tao Shu and Lin Zexu – Exhibits of the stories, achievements and works of these two officers and national heroes in Qing Dynasty.
Historical Relics Exhibition of Liangjiang Governors – Liangjiang, or two rivers in Chinese(Chinese:两江), refers to today's Jiangsu, Jiangxi, Anhui Provinces and Shanghai City. This series are the achievements and stories of more than 80 Liangjiang Governors in Qing Dynasty.
Exhibitions of Later Qing Dynasty and the Republic of China – Documents are displayed of these two eras in politics, economy, society, education, science and culture.
Historical and Cultural Relics of the Presidential Office – Important historical and cultural relics, including some precious donations from several main officers of the Republic of China, are important recordings of the history of the presidential office from 1912 to 1949.
Historical and Cultural Relics of the Five Departments of the Republic of China – The five departments are Executive Department, Legislative Department, Judiciary Department, Examination Department and Inspection Department.
Recovery Display of the Executive Department – All the offices of Executive Department are recovered as it used to be in every detail.
A collection of Treasures – It is an exhibition of kinds of medals and swords from the Republic of China.
Quick Questions
Our team is waiting for your questions. Please feel free to ask us any questions you might have about our China package tours, Chinese culture, or the sites available. We will gladly help you with any special needs you might have and all questions, like our trip designing is completely free of charge.