Nanjing Museum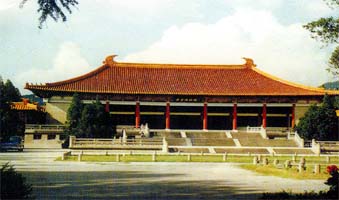 More Photos

Chinese name: 南京博物院 (Nanjing BoWuyuan).
Location: No. 321, East Zhongshan Road, Nanjing City, Jiangsu Province.
Opening time: 09:00-16:30.
Entrance fee: 4,000 tickets are distributed for free every day; ID card is needed).
How to get there:
- Take bus No.5, 9, 29, 36, 51 or 55, get off at the station of Zhong Shan Men (中山门, Zhongshan Gate);
- Take tourist bus No.1, 2 or 5, get off at the station of Zhongshan Gate.
Best time for visit: spring and autumn.
Nanjing Museum travel tips:
1. The Museum offers 2,500 tickets every morning and 1,500 tickets every afternoon.
2. Water and food are not allowed to bring into the exhibition halls.
3. Flash lamp is prohibited to use inside the museum.
4. No smoking.
5. No pets.
Introduction to NanJing Museum
Covering an area of more than 70,000 square meters, Nanjing Museum is the first large-size national comprehensive museum, proposed by Mr. Cai Yuanpei (1868-1940), who was a modern democratic revolutionary and educationist. There are two major exhibition halls in the style of the East and West at NanJing Museum, which collects 400,000 objects ranging from the Paleolithic Age to present age, including stone vessels, potteries, jades, bronzes, porcelains, paintings, calligraphies, ancient books and so on. Among these collections, 1062 are listed as first-class relics of China, and some 10 collections are considered as national treasures.
Nanjing Museum has been regarded as one of the most advanced and popular among museums of its class in China and an important educational base for students. Advanced science and technology have been well applied at the Nanjing Museum. Not only is there a multimedia guide system to let visitors have a better understanding of the museum and its rich treasures but also the multifunctional lecture hall provides automatic interpretation, which offers an excellent environment for scholars to hold academic discussions.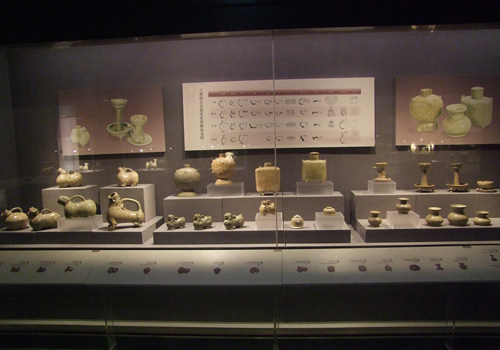 Permanent Exhibitions
The two-storey Basic Hall is a building in the style of an ancient palace of Liao (916-1125), mainly for the display of historical items, which are classified to be three special exhibition sections:
1. The Five-thousand-year Civilization Panorama of the Lower Reaches of Yangtze River (《长江下游五千年文明展》);
2. The Display of Chinese History, Nationalities and Culture (《我们的昨天——祖国的历史、民族和文化展》);
3. The Exhibition of Jiangsu Archaeological Achievements (《江苏考古陈列》).
Specifically, there are some special exhibitions listed as the permanent exhibitions of Nanjing Museum:
1. Porcelains Exhibition of the Ming Dynasty (1368-1644) and Qing Dynasty (1616-1911):
The majority of porcelains collected at Nanjing Museum were made from the official kilns of the Ming and Qing dynasties. More than 600 various porcelains are selected here to display their beauty and elegance to the visitors. Among these porcelains, some are even rare in China, including the precious little bowl made of colorful enamelware.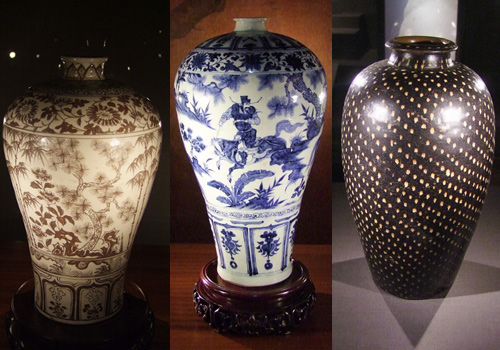 2. Bronze Exhibitions:
With the characteristics of exquisiteness and daintiness, the exhibited bronze wares are unearthed from the southern areas of Yangtze River, which are quite different from those unearthed from North China. These bronze wares, which range from the late Shang Dynasty (about 16th century BC – 11th century BC) to the East Han Dynasty (25-220), can be divided into several parts by function: food and drink vessels, instruments, military music instruments and washing vessels.
3. Potteries Exhibition:
This exhibition is next to Porcelains Exhibition, located in the first floor of the Art Exhibition Hall. The exhibition displays nearly 100 potteries which could be dated back to the Neolithic Period to the Ming Dynasty (1368-1644), including some potteries used in people's daily life in the ancient time, such as pig-shape pottery, pottery beans.
4. The Exhibition of Brocades in South Areas of Yangtze River:
As one of the specialties in Nanjing, "Yunjin Brocades"(云锦) means that this kind of brocades are as beautiful as colorful clouds. Together with Songjin Brocades of Suzhou city and Sichuan Brocades, Yunjin Brocade is one of the most famous brocades in China. In this exhibition, more than 100 brocades are displayed to the visitors and a large loom is also exhibited to show the sophisticated weaving technology.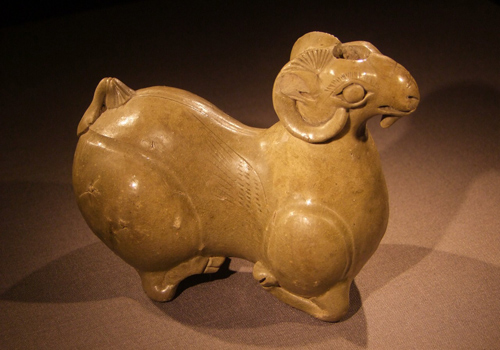 5. Lacquers Exhibition:
In Yuyao (余姚) area of Zhejiang Province, the earliest lacquer wares were discovered in the Hemudu Cultural Site which was more than 7000 years old. Among the lacquers exhibited in Nanjing museum, there is a lot of exquisite lacquer wares, especially a box made in Qing Dynasty used as food container. The surface of this lacquer ware is covered with about one or two hundred layers lacquer. Besides, this lacquer ware was carved about 100 pavilions, terraces and towers through which hundreds of persons are walking. It took nearly three years to complete this lacquer ware.
6. The Greatest Treasures Exhibitions:
Located in the first floor, the Greatest Treasures Exhibitions is the top exhibition of Nanjing Museum. The exhibitions displayed are first-class relics and national treasures of China. One of these relics is a bull-shaped oil lamp made in Eastern Han Dynasty, which is seen as a masterpiece not only for its exquisite appearance but also for its environment-friendly function. Such lamps were not invented in the West until the middle of the 15th century.
7. The Exhibition of Folk Custom Arts:
This exhibition can be divided into several sections according to the different functions such as clothes, household goods, tools, entertainment goods, sacrificial vessels, and so on. The exhibitions like clay figurine and paper-cut show a vivid scene of people's daily life in the areas south of the Yangtze River.
Quick Questions
Our team is waiting for your questions. Please feel free to ask us any questions you might have about our China package tours, Chinese culture, or the sites available. We will gladly help you with any special needs you might have and all questions, like our trip designing is completely free of charge.