Nanjing City Wall

More Photos

Nanjing City Wall (Chinese:南京城墙), the largest ancient city wall in the world, was built in Ming Dynasty by the first Ming Emperor Zhu Yuanzhang from 1366 to 1386. It was listed as an important heritage site in 1988 by State Council of China. With an original length of 34 kilometers and a height from 14 to 21 meters, Nanjing City Wall is grand with a 14-meter foundation, 13616 crenels, 200 shacks and 13 city gates. Nowadays, a section about 19 kilometers was well- preserved for visiting.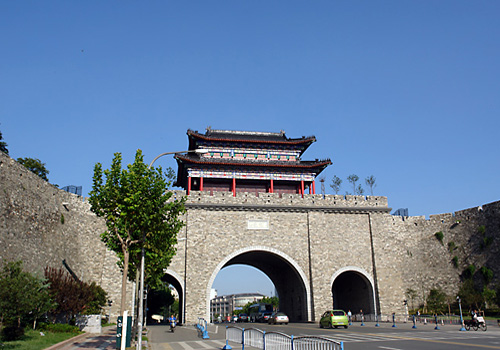 The Nanjing City Wall was built according to the geographic locations for military defenses; its functions of waterproof and dewatering were also designed scientifically with great practicality. Many city walls of other dynasties in other cities were destroyed in wars and times, but Nanjing Ming City Wall has splendidly stood there for more than 600 years, it is a historical monument of Ming people for its structure, the originality of Wengcheng (Chinese: 瓮城, a special designed castle with great strategic advantages for military defense) and the design of city moat and bridges.
The Nannjing City Wall is made up of four parts from outside to inside: outer city wall, inner city wall, imperial city wall and palace city wall. The only retained part that can be visited today is the inner city wall, which is also the key military defensive part. There were originally 13 city gates and 13 Wengcheng, but only 4 of them exist today, namely, Jubao City Gate, Shicheng City Gate, Shence City Gate and Qingliang City Gate. Jubao City Gate, also called Zhonghua Gate, is the largest scale gate castle with a length of 128 meters from north to south and 118.57 meters from east to west.
The Interesting Culture on Bricks of Nanjing City Wall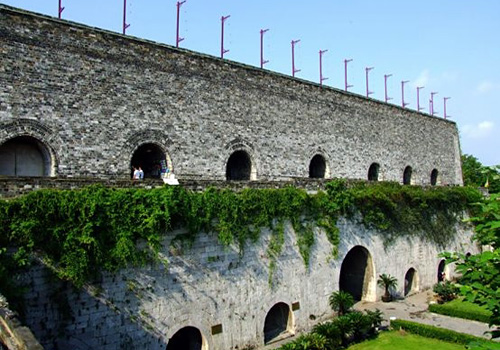 A rough estimate suggests that about 400 million bricks that composed this city wall. The size of each brick is 40-50 centimeters in length, 20 centimeters in width and 10-12 centimeters in height. Those bricks were produced from all parts of the country using different materials but all in high quality. Almost every brick was inscribed with words from a simple mark to a paragraph of more than 70 words. These inscriptions can be divided into two forms: one is the simple mark or word by the craftsmen who could not write and just could engrave their name or their hometown; the other form is in neat style with elegant writings by scholars or officials to record some information. These two forms are both the precious valuable materials for researching the calligraphy styles, the engraving art, the history of the production area, the Chinese Surname Culture and the development and changes of the Nanjing City Wall.
Quick Questions
Our team is waiting for your questions. Please feel free to ask us any questions you might have about our China package tours, Chinese culture, or the sites available. We will gladly help you with any special needs you might have and all questions, like our trip designing is completely free of charge.