Hunan Road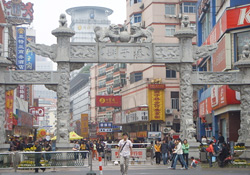 More Photos

Chinese name: 湖南路 (Hunan Lu)
Location: It starts in the west from the Civil Square of Shanxi Road, and ends at Zhongyang Road in the east, Gulou (Drum Tower) District, the northwest of Nanjing City, Jiangsu Province.
Ticket: free.
Opening time: all day long.
How to get there: take buses No.8, 22, 47, 74, 95, 114, 303, 318, and get off at the station of Hunan Lu (Hunan Road).
Introduction to Hunan Road of Nanjing
With a length of 1100 meters and a width of 30 meters, the Hunan Road is a famous business street in Nanjing city, which is a lifestyle center for shopping, catering, banking, entertainment and leisure. Covering 87 000 square meters, it houses about 238 shops selling diversified commodities, and 83% of the shops are famous brands, boutiques and exclusive shops. As a little known lane in the past, for decades' development, the Hunan Road has became one of the most bustling streets in this ancient city of Nanjing with crowds of people in the day time and colorful lights in the evening.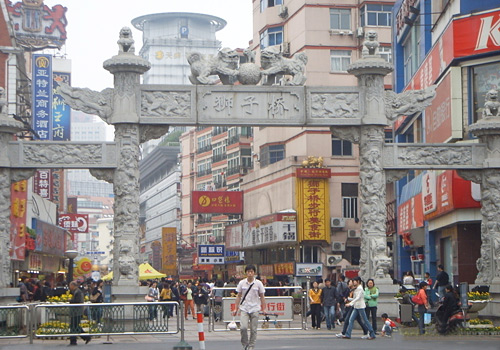 In 1927, the Nanjing government (at that time, Nanjing was the capital the Republic of China, 1912-1949) has expanded some streets in the city and named them after provinces according to the geographic orientation. And Hunan Road is one of them. During rein of Nanjing government, Hunan Road, the offices location of the senate of Provisional Government of the Republic of China and the party headquarters of the Kuomintang (KMT), was the most eyecatching place due to some world-shaking events. The founding of the provisional government of the Republic of China, the election for the Sun Yat-sun to be the provisional president, the Sun Fengming assassinated Wang Chingwei, and the suicide of Chen Bulei were all happened in the Nanjing Road.
Quick Questions
Our team is waiting for your questions. Please feel free to ask us any questions you might have about our China package tours, Chinese culture, or the sites available. We will gladly help you with any special needs you might have and all questions, like our trip designing is completely free of charge.