Tengwang Pavilion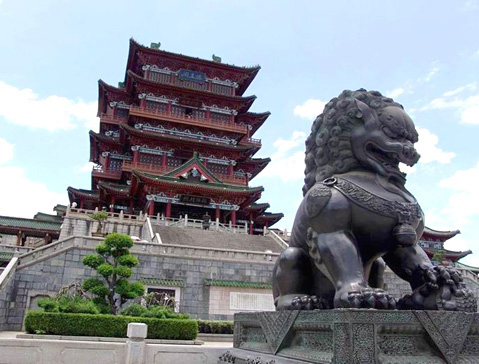 More Photos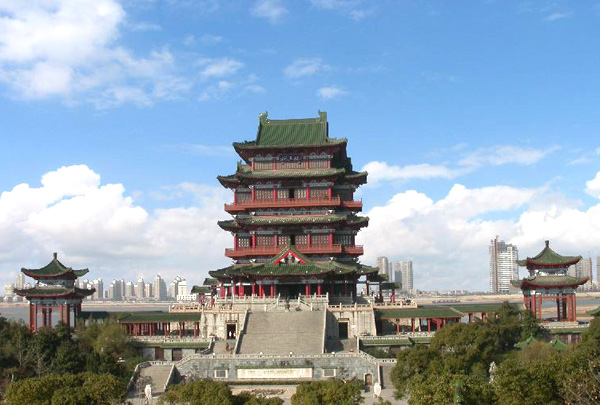 Known as the "first building" along the Xi River, the Tengwang Pavilion in Jiangxi Province has been hailed as one of the great works of the Tang Dynasty, a dynasty renowned for its dedication to culture and arts and this reputation for incredible architectural design continues to this day. For those visiting Nanchang the Tengwang Pavilion is a must-see.
The pavilion reaches a height of around 60 meters with a floor space of 13,000 square meters, the main pavilion aside there are two separate pavilions that flank either side of the central pavilion; much of the structure is carved out of wood with tiled walls painted green in typical Song Dynasty style. It was planned by the local governor who was a prince and was constructed in 653 AD. The prince whose name was Li Yuanying himself had crowning achievement in art, so all the highly regarded local architects as well as all the best technology available at the time were utilized to build the pavilion. Later it became the private headquarter of the prince and was frequently the location for large official banquets and events. The prince was once granted the title of Tengwang by the emperor, therefore got famous as Tengwang Pavilion gradually.
The Tengwang Pavilion followed a long tradition in feudal China of a large official palace being constructed at the center of every township; The Tengwang Pavilion was by far the most grand in the Yangtze River region, for this reason to this day the locals are still endeared to the prince for creating what was the start of large and thriving community.
Indeed one of the more unique facts about the Tengwang Pavilion is that even though it was constructed during the Tang Dynasty it became what later reflected typical architectural design in the Song Dynasty; many scholars argue that this pavilion was the catalyst for class Song construction. The pavilion was not significantly affected by upheavals in China during the 20th century sustaining only minor damage, it was then placed under heritage by the Chinese Government and further restored and was re-opened to the public in 1989, it has become a symbol of Nanchang and locals are fiercely proud of it, as it represents the origins of what is now the capital of Jiangxi.
Quick Questions
Our team is waiting for your questions. Please feel free to ask us any questions you might have about our China package tours, Chinese culture, or the sites available. We will gladly help you with any special needs you might have and all questions, like our trip designing is completely free of charge.