Shengjin Pagoda / Rope and Gold Pagoda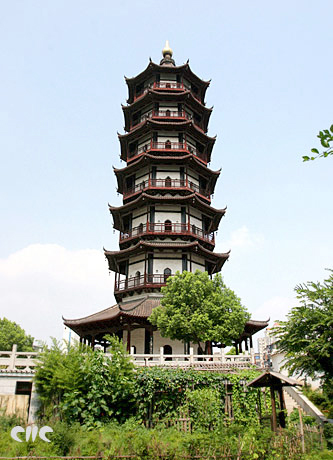 More Photos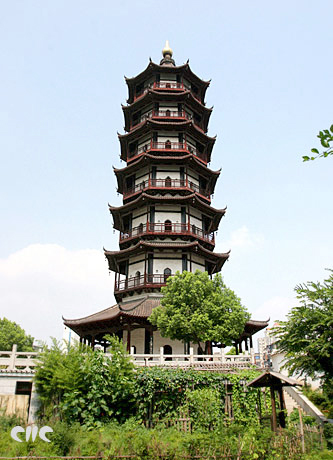 The Shengjin Pagoda (or Rope and Gold Pagoda) constructed in the Tang Dynasty is located on Shengjinta Street of Nanchang. It is the citie's most wondrous ancient construction. With a height of 58.7 meters and a base circumference of 33.8 meters it really represents a work of ground art. It is said that inside the pagoda once laid several precious artifacts including 4 turns of gold ropes, 3 ancient swords and over 300 Buddhist relics, thus the pagoda was named Shengjin Pagoda (Rope and Gold Pagoda).
According to historical records, the Shengjin Pagoda has suffered from destroy and was rebuilt for several times. It was first rebuilt in the Hong Wu period (1386) of the Ming Dynasty after a war between the Ming and Yuan Dynasties. It was then destroyed later and needed to be rebuilt by the Kangxi emperor in the Qing Dynasty in 1713, this reconstruction was unsuccessful with the imperial court claiming that there "was not a single tile to spare". Then it experienced repair for many times and was eventually restored until it was hit by lightning in 1886 and burnt down. It took 100 years and the coordination of the provincial and national heritage trusts for the pagoda to finally be rebuilt in 1985, the parts of the Pagoda that were not burnt down remained in considerable disrepair suffering from mould and water damage, the whole structure need to be rebuilt. In the year 2000, the metropolitan administration began constructing a tourist precinct around the pagoda based on the confusions pagoda in Nanjing. It is believed that the new pagoda can be compared favorably with the Town God's Temple in Shanghai and the Confucius Temple in Nanjing.
The Shengjin Pagoda as it stands today is constructed in classic Yangtze Delta style, standing over 50 meters tall has 7 storey and 8 faces, mostly using wood and adorned with red railings and grey tiles in a rich array of religiously significant colors and well as having bronze bell hanging in the every storey with 7 tonalities. Despite the pagoda has a long, somewhat disjointed history it sounds today for people from China and abroad to come and admire it durability and significance to the local population.
The Shengjin itself is a main artifact that visitors come to say, with the top in a length of 3 meters and patterned with 2-3 mm gold-plating copper sheet, it complements what is an amazing pagoda and has been restored to even greater beauty, the expert and accessible design can be witnessed by any tourist visiting the precinct.
Quick Questions
Our team is waiting for your questions. Please feel free to ask us any questions you might have about our China package tours, Chinese culture, or the sites available. We will gladly help you with any special needs you might have and all questions, like our trip designing is completely free of charge.