Spruce Meadow

Chinese name: 云杉坪
Location: On the east side of the Yulong Snow Mountain, Lijiang City, Yunnan Province
Opening time: 07:00-18:00
Best time for visit: from September to December
Recommended time for a visit: 1-2 hours
Introduction to the Spruce Meadow
Spruce Meadow is a huge lawn hidden in the original spruce forest, with an elevation of 3,240 meters. Legend has it that the Meadow is the first place for the Naxi people to die for love, thus the Naxi language called it "You Wu Ge", that is, "land of love and death." Spruce Meadow is located at the lower right of the main peak of Yulong Snow Mountain (Jade Dragon Snow Mountain), with attractions such as the Spruce Meadow cableway.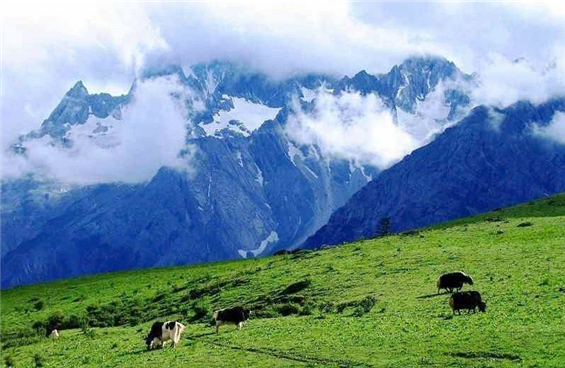 What to do at the Spruce Meadow
Watch the beautiful scenery: the first is the lawn under the feet, rolls gently and stretches for kilometers. The colors of the lawn change in four seasons --it is full of green grasses and colorful mountain flowers in the spring and summer, becomes yellow while in the autumn, and is a silver world in the winter time. Followed by is a forest on the edge of the meadow, forming a natural barrier between it and the snow-capped mountain, like a shepherd who silently watches the meadow. Finally, the Yulong Snow Mountain, looks like a huge figure from the sky, and embraces the meadow like a gentle mother.
Enjoy folk dances: around the Spruce Meadow, you will see some girls dressed in bright ethnic clothing, they dance on the meadows and in the forests. Those wear sheepskin capes are Naxi girls, while the ones wear hats made of colored threads are Dai girls.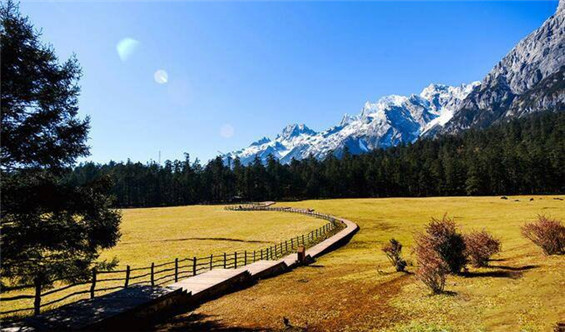 Travel Tips
1. Because the altitude of Spruce Meadow is 3,240 meters, belongs to plateau climate, travel here may occur altitude sickness, to be prepared before travelling.
2. It takes about 15 minutes walking through the original forest to reach Spruce Meadow from the cableway upper station, so battery car is suggested if the physical strength is not very good.
3. There are often yaks and sheep in the scenic area. Do not be too close, especially yaks, to avoid accidental injury.