Jade Peak Temple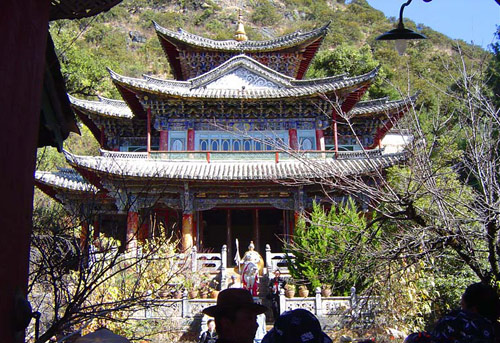 More Photos

Located at the south foot of the snow mountain which is15 kilometers north of Lijiang ancient City, the Jade Peak Temple (or Yufeng Temple) parallels with Fuguo Temple, Puji Temple, Wenfeng Temple and Zhiyun Temple as the "Five Lamaseries of suburban Lijiang". Constructed in 1700 during the Qing Dynasty in a mixed architectural style of Han, Bai and Tibetan, Jade Peak Temple comprised as many as nine courtyards at its maximum area, but only the main hall and two courtyards exist today. Inside the temple plant several famous and precious flowers and trees (e.g. camellia, oriental cherry, wild rose, Magnolia delavayi), with evergreen pines and cypresses, crystal spring and pool dotting around the temple. Together with the Beiyue Temple and the Beisha Mural, Jade Peak Temple has become an important part of Lijiang tourist destinations.
The "ten-thousands-flower camellia" in Jade Peak Temple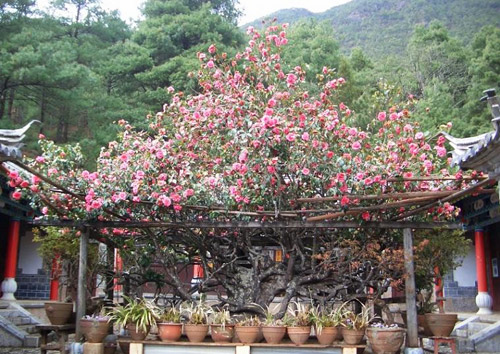 Comparing with many lamaseries in China, Jade Peak Temple is smaller and less imposing, but it is an old camellia tree that makes the temple so renowned. Grafted from single-lobe red-flower camellia and multi-lobe Shizitou camellia, for hundreds of years this tree has been growing with luxuriant foliage and blossom in season due to the careful cultivation of the lamas of the temple. Up to today it has been braided into an amazing pergola in less than 3 meters so that visitors can watch it in a close distance. From the beginning of spring to the beginning of summer, this magic camellia can blossom over 20 times, with more than 1000 flowers each time and more than 20, 000 in total every year! That's why it is hailed as "ten-thousands-flower camellia". According to garden experts of Yunnan Province, this camellia tree has a history of over 300 years, almost the same with the temple itself.
Best time to visit Jade Peak Temple and the "ten-thousands-flower camellia"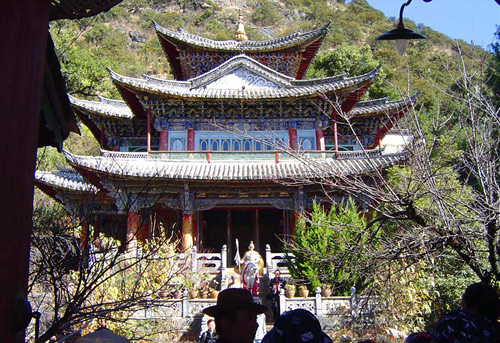 Generally, the marvelous full-blossom time (in March) of the camellia is considered as a must-see in Jade Peak Temple, so the best time to visit the temple and the camellia is March.
Opening time of Jade Peak Temple
08:30 – 18:00 daily.
How to get to Jade Peak Temple?
The temple can be accessed by taking No.7 bus at the new street of Lijiang (Lijiang Xin Da Jie).
Ticket of Jade Peak Temple
1. Ticket of Jade Peak Temple: RMB 25 per person
2. Ticket of Greater Jade Dragon Scenic Region (including Jade Dragon Snow Mountain, Jade Water Village, Dongba Valley, Yuzhuqingtian Scenic Spot, Dongba Million God Garden, Dongba Kingdom, and Jade Peak Temple): RMB 190 per person
Quick Questions
Our team is waiting for your questions. Please feel free to ask us any questions you might have about our China package tours, Chinese culture, or the sites available. We will gladly help you with any special needs you might have and all questions, like our trip designing is completely free of charge.