Double Dragon Bridge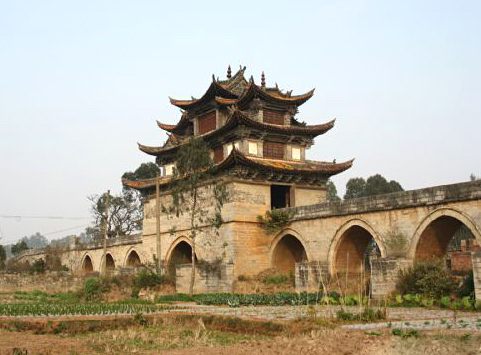 More Photos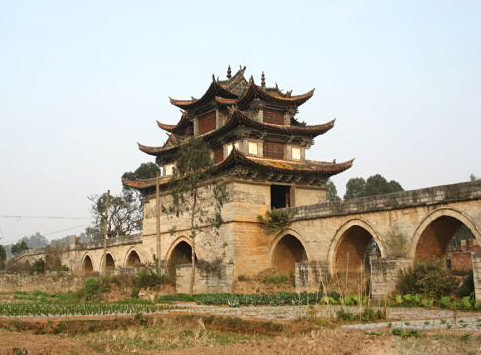 The Double Dragon Bridge is located to the west of Jian Shui County, the 17-arch stone bridge spans on the joint of the Nanpan River and the Tachong River, which zigzag like two dragons, therefore it was named Double Dragon Bridge.
The bridge was constructed with only three arches in 1800s during the Qing Dynasty and took many years to complete with only a few sections able to be completed every year. It was made up of ten of thousands of bluestones with 148 meters in length and 3-5 meters in width. On this flat bridge there three unconventional-sculpted and appropriate-arranged traditional Chinese pavilions, from which tens of thousands of acres of farmland can be viewed while the wild southern landscape rises and falls.
The Double Dragon Bridge to this day is still hailed as a masterpiece of traditional Chinese bridge-making and incorporates all the classic components of an ancient Chinese bridge construction. It is evidence of the technological development in ancient China and the fact that it still stands today is a testament to its durability. In 1965 it was listed as one of the existing large-scale ancient stone bridges in China and today it is under the protection of the Yunnan Provincial Heritage Trust.
Quick Questions
Our team is waiting for your questions. Please feel free to ask us any questions you might have about our China package tours, Chinese culture, or the sites available. We will gladly help you with any special needs you might have and all questions, like our trip designing is completely free of charge.