Yimin River

More Photos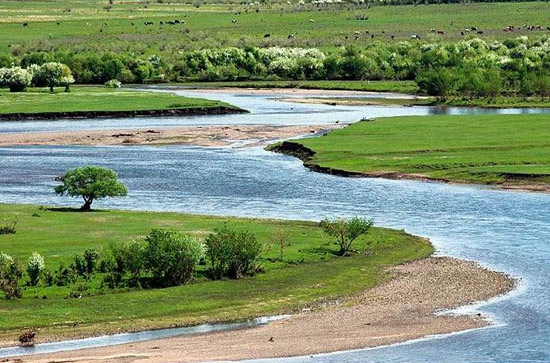 Yimin River starts its life from north foot of the Greater Khingan Mountains. It runs from south to north through the Ewinki Autonomous Banner and empties into Hailar River. The river is the source of life in many forests along upper stream and keeps the lands downstream fertile and arable. The 80 meter wide flow also makes the region much more beautiful, especially in the summer months. On the bank there is a tourist destination for getting a close touch with the local life.
Best time to visit Yimin River
May to September
How to get to Yimin River?
Transport is available within the city.
Cuisines in Yimin River
The lamb used in the food is fed with China's most pure and un-polluted grass-land and water making it especially succulent and moist, it is somewhat ironically known as "the lamb of the gods". The local have created many innovative ways to severe lamb all of it top grade and healthy.
Shopping in Yimin River
Small-scale stores and markets exist throughout the area selling handmade souvenirs, leather goods are of especially good quality, statues and totems are also available, all the locals are experts in handcrafts, making souvenirs worth buying.
Quick Questions
Our team is waiting for your questions. Please feel free to ask us any questions you might have about our China package tours, Chinese culture, or the sites available. We will gladly help you with any special needs you might have and all questions, like our trip designing is completely free of charge.