Baerhu Grassland

More Photos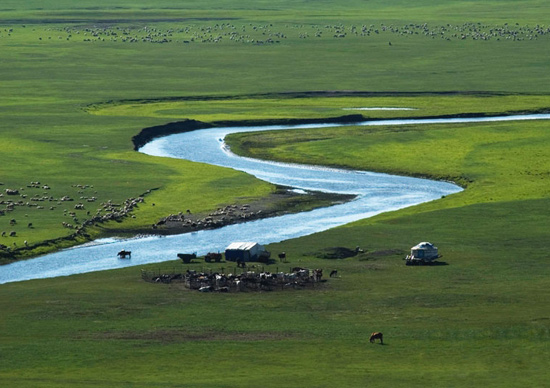 Bordering the People's Republic of Mongolia and Russia, the Baerhu Grassland lies the Evenki Planes, one of the most important animal breeding centers in China. The Baerhu Grassland was bought to fame by an old nomadic tribe named Baerhu Mongolian, which is the oldest Mongolian tribe that used to live and herd on the plain. The grassland is also famous for its being an important battleground, on which Genghis Khan defeated the Yuan Empire and unify the ancient China.
The Baerhu grassland contains a large-winding river valley called Moergele, which helps to form the lush grassland and decorates the expensive green like a silver belt. It is also is home of the Zhanghan Tribe, like the Baerhu people the Zhanghan are a race of nomadic herders who have been living prosperously off Inner-Mongolia's most lush and fertile grazing land for many centuries and have created unique customs and developed a culture that revolves around raising animals as a livelihood.
In the summer their caravans adorned with colorful flags can be seen wheeling across the landscape and in the winter their tents covered in ice can be seen dotted into little communities.
Quick Questions
Our team is waiting for your questions. Please feel free to ask us any questions you might have about our China package tours, Chinese culture, or the sites available. We will gladly help you with any special needs you might have and all questions, like our trip designing is completely free of charge.