Guilin Rivers

Guilin is famous over the world for its "best landscapes under the heaven"- the unique and elegant karst hills and rivers. Guilin's hills and rivers are inseparable with each other; Guilin rivers are derived from Guilin hills while beautify the hills in return. No wonder people often compare the elegant Guilin hills to the city's skeleton, and the beautiful Guilin rivers the city's blood. It seems that any attractions in Guilin without any water are with no interests and delights.
Li River & Li River Cruise
Li River, generally refers to the 83 km-long water path from Guilin to Yangshuo, is the world's largest karst landscape sightseeing district endowed with the most graceful sceneries. Just like a green silk ribbon winding among verdant hills, Li River is a fairyland on earth offering tourists a poetic experience with green hills, amazing caves, blue water, cormorant fishermen, idyllic countryside sceneries…to sum up, a typical Chinese ink watercolor painting in real.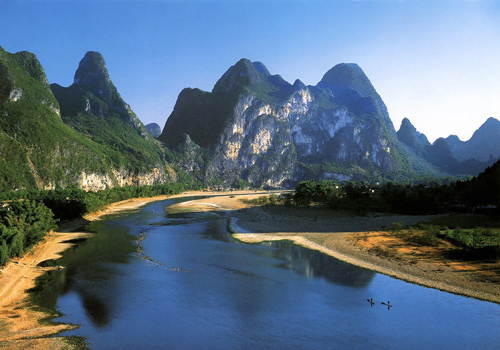 Taking on board for a Li River cruise from Guilin to Yangshuo is the centerpiece of any Guilin trip. No matter what the weather goes on by the time you are doing the cruise, sun, mist or rain all lead to beautiful sceneries that will give you impressive photo shots. The best months for experiencing a Li River Cruise are March and April; the one to enjoy a clear weather and water- July, August and September. In autumn (October, November), the sun and white clouds together with the delicate osmanthus flower fragrance spread everywhere give a special insight to the cruise.
For a different experience of Li River Cruise, it is possible to arrange a single bamboo raft cruise for some of the best sections of the Li River.
Two Rivers and Four Lakes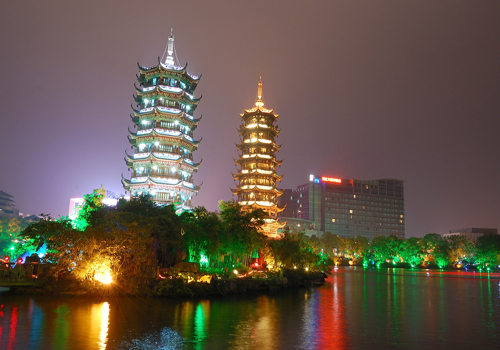 Two Rivers and Four Lakes of Guilin, refers to Peach Blossom River and Li River, Mulong Lake, China Fir Lake, Banyan Lake and Osmanthus Lake. It is a river system that is on a par with Venice in Italy. The water system, covers 7.33km-long and 380,000㎡-area, recreate a graceful scenery belt around the Guilin which offers afforestation, architecture, flora, Chinese celebrities' old houses and sculptures.
Taking a boat is chosen by most travelers to enjoy the beauty of Two Rivers and Four Lakes, and sightseeing attractions include Ancient Banyan Tree, Ancient South City Gate, Double Bridges under old banyan tree, Huxin Island, Music Fountain, Yang Bridge, Sun and Moon Pagodas, Rongxi Bridge, Laoren Hill, Mulong Bridge, Folded Brocade Hill, Wave-subduing Hill, Zhiyin Tai, Pavilion of Huang Tingjian Mooring the Boat, stone tablet with poems, Lotus Pavilion, Glass Bridge, Statue of Tang Jingsong, Liberation Bridge, and so on.
Yulong River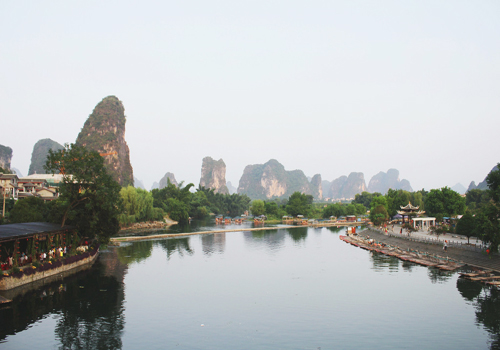 Yulong River, a tributary of Li River and the mother river of Yangshuo County, is the section from Shangri-la to Gongnong Bridge in Baisha Town. Reputed as "mini Li River", Yulong River is a 12km-long watercourse providing with slowly flowing green water, shoreside undulating hills, charming grass, fields and villages. It serves as a popular bamboo rafting water path that travelers will try to get a close contact to the pristine water. Along the peaceful rafting, people can successively enjoy the famous tourist scenes Yulong Bridge, the Hill of Rhinoceros Watching the Moon, the ancient village of Chuanshan, the Site of Former Guiyi County, Five Fingers Hill, Double Flows Mouth, and so on.
Longjing River Rafting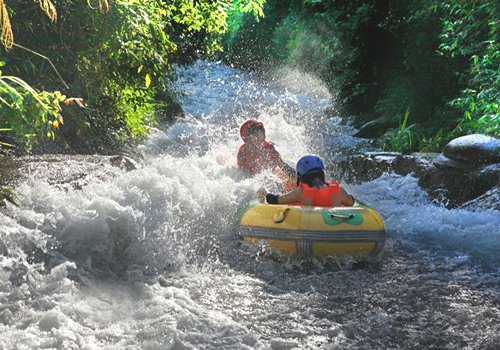 Longjing River Rafting Resort is located in Dayuan Forestry Center, Xingping Town, Yangshuo County, only 5km from Li River and 30km from county seat. Two kinds of drifting are for choice, a longer one and a shorter one. The whole journey of the longer one is 6 kilometers which takes about 2 hours; the shorter one travels 4 kilometers and takes about 1.5 hours. With the largest difference of water level being about 220 meters, the Longjing River Drifting is of less dangerous but an adventure experience with rising peaks and luxuriant forests on banks, criss-cross ravines and gullies.
The best months for the rifting are from April to October. To take the adventure, please wear convenient clothing and shoes, prepare for cold-proof or sun block at different weather, take great care of your valuables, especially water-funk ones such as camera, cell phone… do not make dangerous actions during the rafting, and please note that babies and little children are forbidden to take the drifting.
Zijiang River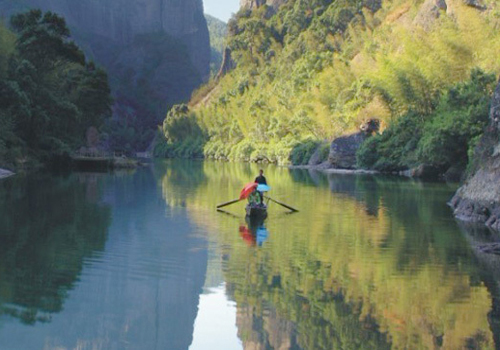 Zijiang River, derives from Mao'er Mountain as Li River but infuses into Yangtze River system at last, is the largest river in Ziyuan County. Zijiang boasts relatively stable flow quantity and rate, well-preserved vegetation on both banks. Featuring the same grace and pretty of Li River, Zijiang River is additionally endowed with magnificent and precipitous mountain scenes. To appreciate the lovely scenes of Zijiang River, take a drifting boat is the best way. The 22.5 kilometers-long drifting takes about 3 hours will pass through 45 shoals, 31 turnings, and take people into a long fantastic landscape gallery.