Comment on our service from
Mrs. Cheryl Ann Matchett, Australia
I thought your guides were lovely young people who had passion and insight into themselves and China. We have had a great time.
Thanks for the opportunity to email you with this. Happy to answer any other questions.
I thought your guides were lovely young people who had passion and insight into themselves and China.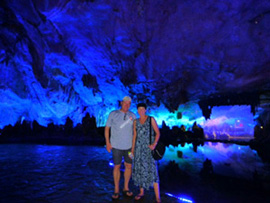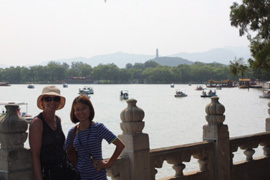 Tony in Shanghai - was the sweetest person who was very helpful and made some great suggestions for us to see and places to eat. He was very polite and we enjoyed talking to him about his life and family. Great employee for you.
Tina in Guilin was probably the guide we least liked. Not because of her personality but because she was very hard sell when she took us to shops. She would question us as to why we were not spending more money and we felt like that's all she was interested in. I liked her but her attitude to getting money made our time in Guilin not as nice as the other cities.
Jackie in Xian was a great guide and he has a great personality. His insight into China and his chosen city kept us interested and laughing all the time. We really enjoyed his company. We also like talking to him about his life in Xian and his hopes for his and China's future. He is also a great asset for your company.
Louise in Beijing was such a lovely young person. She was so lovely and worried about us and the fact that she would like us to have the best impression of China to take home. It was challenging at times with the huge crowds of people and horrible traffic in Beijing but we always felt she was in control. She is very educated and intelligent person who we loved spending time with. She made some great suggestions for our free day and encouraged us to try the Metro which we did. We probably liked her the most as she was so caring of us. Mark really liked her as well.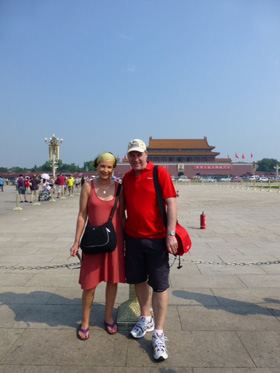 Generally all the drivers were polite and punctual. The drivers in Guilin and Xian were very slow which is not normally something which would be problem but it meant our journeys took longer in the car than was necessary. Really a lot of cars overtook us on the roads at these places. I would rather have free time than sitting in a car.
Mr Lee in Beijing was the best driver. He was a lovely person and very helpful and was trying to speak English to us to improve his knowledge. He also drove at the correct pace.
Generally the hotels were pretty good. The poorest would have to be The Bund Riverside in Shanghai. The beds were rock hard, the staff were quite rude and were also rude to Tony our guide. The breakfast was very poor. In fact we ate out Breakfast after the first morning. They also regularly ran out of hot water for showers. We would not stay there again.
Guilin Bravo Hotel the beds were the best, the breakfast was pretty good, the staff were polite and helpful. The rooms smelt damp from the humidity but was ok.
Xian Grand Noble had the best breakfast by far but the biggest drawback was the lack of wifi in the rooms. Have not found that anywhere else without this feature. Was annoying as our daughter had just returned home after 10 weeks in South Africa and we were wanting to keep in touch with her. The rooms also had the best bathroom. If they could fix wifi was the best!
Beijing Sunworld- was a great position, rooms pretty comfortable, very small bathroom though. The breakfast was ok but had very few selections. The wifi had a very weak signal which was annoying at times when it dropped out. Overall ok.
The least liked was lunch on the river boat in Guilin. The best lunch's was in Beijing all days. We did not like buffets for any of the meals. Where the guides asked what we liked they ordered perfectly for us. Jackie and Louise did that.
Last full day tomorrow. We have had a great time.
Cheers Cheryl