Comment on our service from
Judith Clare Warren, Australia
We really want to thank you for the lovely dinner we had with you and Tina in Guilin and I want to thank you for the beautiful tea sets. Overall, it has been quite an adventure for us and thank you for arranging the tour and for listening to our concerns.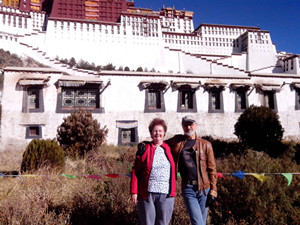 Hi Gina,
Well we arrived home today, safe and well.
We really want to thank you for the lovely dinner we had with you and Tina in Guilin and I want to thank you for the beautiful tea sets. I will put them to good use making the Chinese tea that I bought in Shanghai.
As promised, I am writing to let you know how our trip went.
The train ride to Lhasa was an adventure (although Tony was sick all the second day) and we really enjoyed Lhasa our guide was wonderful and very knowledgeable. Looked after Tony, took him to a doctor to make reassure him that everything would be OK. The lunches in Lhasa were also very good and Hot!
The hotel in Lhasa was in a very good situation and after the initial disappointment regarding the Tea and Coffee facilities in the room we found the staff to be very accommodating. It is just a small thing but to have a couple of sachets of coffee and a couple of tea bags to make a quick drink after 2 days on the train would have been nice. I still drank Chinese tea while I was there and I like it very much, but when I am really tired I just want to "dangle" a tea bag or tip a sachet of coffee into some boiling water for a quick drink.
We thoroughly enjoyed Guilin and Yangshuo. Tina really looked after us and the meals she arranged for us were really good (hot). Tina even arranged for a bamboo raft ride for us (never thought I would do that) and we both loved it. Also, Beijing we enjoyed with Sofia who also looked after us really well and ordered beautiful lunches for us. We tried the local Hot Pot which I enjoyed but Tony didn't (he doesn't like cooking, would rather someone else did it......ME!). So Sofia made a note of that and we had some other amazing dishes the next couple of days.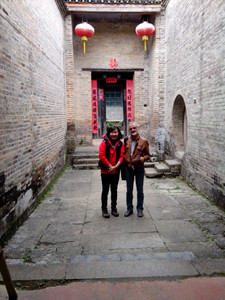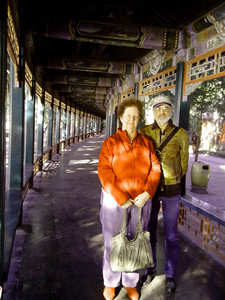 All of the hotels had great breakfasts! We found a big difference in the quality of our room in each hotel. The Guilin Bravo was the best and some of the larger hotels which you would think would have good rooms were a bit disappointing. For instance the room they gave us in the Sunworld in Beijing did not have a chain latch it looked like it had been pulled off and the interior was a bit shabby. The hotel itself was very, very nice so was a bit of a surprise with the room quality.
Tony liked the local beer so he would have that as his beverage for lunches. It was amazing how different that was. Some restaurants would give him a bottle and some would give him a tiny glass. So that was interesting.
I haven't had a chance to go through all my photos yet but have attached a couple from Lhasa, Yangshuo and Beijing. I will send some more photos once I have sorted through them.
Bye for now.
Kind regards
Judith