Comment on our service from
Mr. Peter James Wright, UK
We had a fantastic time in china and everything was great..!
Hi Gina,
Sorry for the delay ! We had a fantastic time in china and everything was great..! It was nice to meet you, thanks again for the gifts! We went on to Japan after and don't get back home until tomorrow... It's one very big trip, a trip of our life!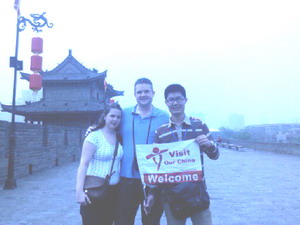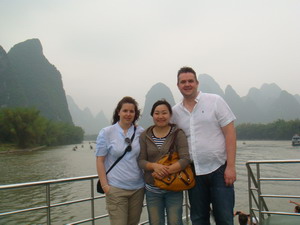 I will of course provide a good review as soon as I get home.
Thanks again,
Pete & Maria
*************************************************************************************
The client gave us the testimonial on TripAdvisor:
My girlfriend and I recently returned from a 3 week trip to China that was arranged by Gina at Visit Our china . Beijing - Xian - Guilin - Yangtze River Cruise - Shainghai.
I searched lots of tour companies, both at home and via the internet, and they came up with the best price!
Gina was VERY responsive and quick in her emails and gave us a very detailed quote (explaining every detail of the trip!), more detailed than any other company - this gave us great confidence.
At the time they did not have a tripadvisor account and I was a bit concerned about sending money to China without knowing the company... I paid with Paypal but would have no problem paying with bank transfer now I have experienced the service they provide.
We adapted our trip many times but gina was very helpful, and can tailor the quote to your requirements and budget. Our trips mainly had private guides who were all very good, and some were excellent (such as Jacki in Xian). We chose 4* hotels and found them to be the same quality as other western hotels (I travel a lot for business in 4* & 5* hotels)
Gina was wonderful and very friendly, and even came to meet us in Guilin! We also received a very nice email upon our return, which was a nice touch.
As you can tell, I strongly reccomend this company. They went beyond my expectations.
A personal thanks to Gina for all her help!
Pete & Maria.