Comment on our service from
Peter Sargent, Canada
In conclusion, Sandy I enjoyed the tour that you arranged and felt that it was good value for the price.
Dear Sandy, sorry for the delayed return, but here I go.
Arrival in Beijing and meeting laura, our guide at the airport was perfect...very important to me because I am a foreigner and quit illiterate in China. Bus and driver...good. Easy stroll through Birdsnest and Watercube was good, especially the way that the guide used her phone to direct the driver to pick us up...good for us. The Hotel was very nice in my opinion, although drinks in the bar were expensive, in my opinion. The trip to the Great wall was well done. The Ming tomb was interesting and the grounds around it were beautiful. I forget the name of the park, but it was a lovely morning walk as it allowed us to see regular people enjoying leisure time together. The center of the universe was a pleasant and enjoyable place. We had a little trouble at a restaurant were we had Peking Duck. The problem was with the wine that we had ordered. It was a Chinese wine, Great Wall or Dynasty, I forget which. We were all aware that the wine was somewhat weak when compared to French or other leading wines, as we had had it earlier at a different location. When the wine was poured, I could tell just from the colour that the wine was defective. In western culture we are first offered a "taste" of the bottle, to ensure that all is well. At this restaurant no taste was offered, instead it was just poured and those who drank it said that it tasted bad. Well the problem was that the restaurant manager wanted use to pay for the wine, even though we were all rejecting it and did not drink it. Sandy, don't get me wrong...this was not a big problem, just different from what we are used to at home. We all laughed about it and decided that even though this restaurant didn't get it today, they will tomorrow.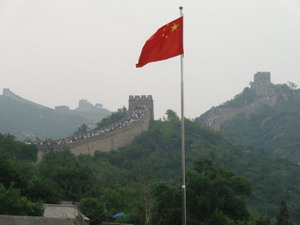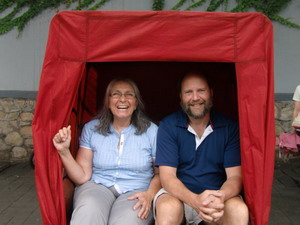 All in all I would say that all in our group enjoyed they're time in Beijing. The flight to Chongqing was well arranged and again our guide saw us through check in, very nice. We were well met at the airport and nicely driven to the riverboat...Victoria Jena. We were all pleased that a band played some music to welcome us aboard...nice touch. I completely enjoyed the cruise and the side trips, especially the the lesser canyons in the smaller boats. I could have done without the tour of the "ghost temple" with the chairlift. I found the paintings and sculptures to be amateurish. And for me it was all to superstitious. The tour of the Three Gorges Dam was hampered by fog...we couldn't see a thing. Also that morning was too rushed, as we all had flights to catch.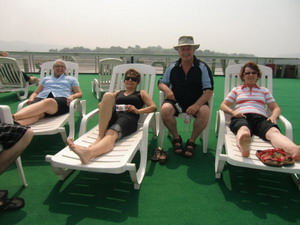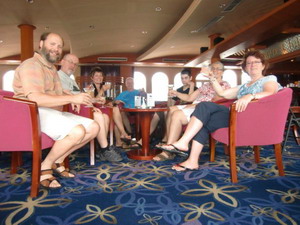 In conclusion Sandy I enjoyed the tour that you arranged and felt that it was good value for the price.

Sincerely,Peter Sargent