Wannian Temple / Long Life Temple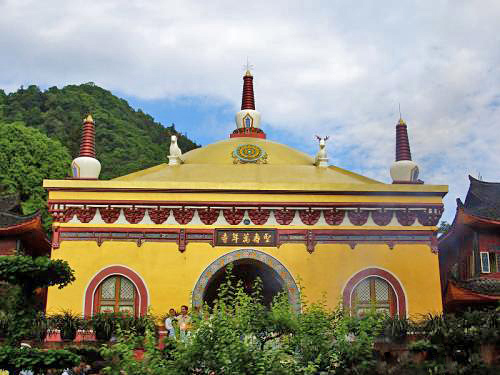 More Photos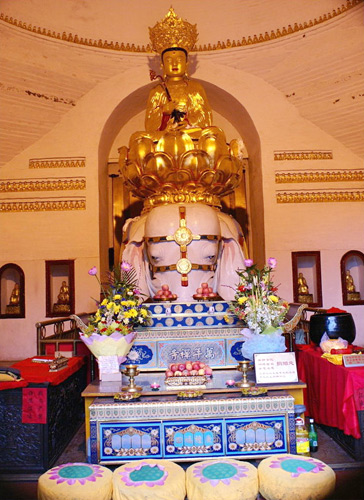 The Wannian Temple is one of main eight temples at Emei Mountain. Sitting 1020 meters above sea-level, this temple is so famous and nationally renowned because of the amazing statue of Buddha Samantabhadra and precious artifacts that are kept there. The temple has a rich Buddhist history and to this day continues to attract both Buddhist and tourists.
One of the highlights of the Ten Thousand Year Temple is the Amazing Buddha Samantabhadra Statue, weighing over 62 tons and standing almost 8 meters tall. This original Song Dynasty statue is as intimidating as it is grand as is now over 1,000 years old. In addition to that, the temple is also filled with several other smaller but equally impressive Buddhist statues. On the ceiling there is elegant paints of graceful flying Apsaras.
The temple was originally founded in the early Eastern Jin Dynasty, however during the Tang Dynasty is demolished and rebuilt. It only finally received its name as the Holy and Longevous Ten Thousand Year Temple as late as the Ming Dynasty, with Ten Thousand Year Temple for short. Many high-ranking Chinese officials and scholars in history have visited the temple to pay their respects as well as to enjoy the much famed Zhuyeqing tea produced by monks. The monks who inhabit this temple still produce this spirit to this day, with a 20 acre tea-field situated behind the temple.
The architecture of this temple is as impressive as its history, built using designs borrowed from Indian Buddhism. For more than 400 years, the temple has survived over 18 earthquakes unscathed, this has partially been attributed to the design of the temple itself and considered a miracle in ancient Chinese architectural history.
Getting there
Walking: it is possible to walk from Qing Yin Ge to the temple in under 2 kilometers.
Scenic Tram: a small bus loops past all the main tourists sites at Emei Mountain, departing from the Ten Thousand Year Temple Car park.
By ropeway: a ropeway tram is available starting from 6:40 till 18:00.
Food
There are several local restaurants surrounding the temple offering traditional Chinese food, food is also available in the temple. Breakfast is served between 7:00-7:30, lunch between 11:00-11:30 and dinner between 18:00-18:30. The food is reasonable priced but in the accordance with Buddhist principles it is important travelers understand that all food is to be consumed, waste is considered disrespectful.
Accommodation
Rural hostels and luxury rooms are both available there.
Quick Questions
Our team is waiting for your questions. Please feel free to ask us any questions you might have about our China package tours, Chinese culture, or the sites available. We will gladly help you with any special needs you might have and all questions, like our trip designing is completely free of charge.