VOC's Travel BLOG
Our Travel Blog is the place to share our real life, travel experiences in China with you. Besides, we will provide information related to Chinese culture and China travel guide. "A bosom friend afar brings a distant land near." Traveling makes us to be closer, let's discover China together!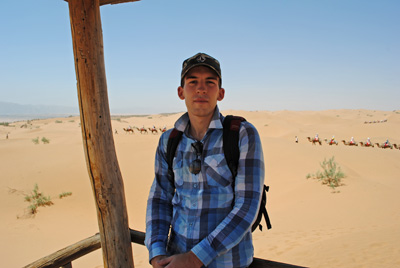 The scenic desert area of Sha Po Tou lies around ninety minutes south-west of the small Islamic city of Yinchuan, Ningxia Province. It is an area seldom visited by foreign tourists, but boasts some most amazing scenery and eerie desert landscapes. The desert of China always reminds me of the Silk Road in ancient China.
As I am living in Guilin for half a year now, I think I should get to know my cultural surrounding as well. So, last weekend I decided to go to Seven Star Park spontaneously. Compared to other prices, the entrance fee (35Yuan) is quite high. But already when I was walking along the flower bridge, I knew it was worth its money. I was faced with beautiful scenery: beautiful hills, the river and alleys. Everything was of a beautiful green. First I went to the old Qixia Temple, which originates from Tang Dynasty, and was overwhelmed by the Buddha statues and the silence everywhere. I found it a very peaceful place and took some time to have a rest. Unfortunately the only monks I saw were asleep. I would have loved to see them praying or practicing other things. The altars were emblazed and incense sticks were enlightened. All in all it was easy to forget the city outside and find some moments for myself. ...