Charlie's China Tour—Day One in Xi'an
2018-12-25China travel Guide
I 'slept in' this morning awaking at 7:45 AM. While enjoying another wonderful breakfast I met some women traveling together from Holland, the UK, and Malaysia. Breakfast for me while traveling when available consists of 3 glasses of orange juice, scrambled eggs, two pieces of bread with butter and jam, and whatever pastry there is. When I travel I'm not concerned about what I eat or the calories. I eat what I want to, a big difference from back home where my breakfast is much more spartan.
This morning we were met by Sunny at 9 AM. It's a bit overcast this morning in Xian. Our local guide Sunny loves all pets and animals, especially her dog 'Doh-Doh'.
The terra cotta warriors were created some 2000 years ago by China's first emperor Qin Shi Huang, then age 13. They are contained in three pits. The pits contain the terra cotta army and hold more than 8,000 soldiers, 130 chariots with 520 horses and 150 cavalry horses. The warriors were discovered by a local farmer near Xian in 1974. A museum complex has since been constructed over the area, with the largest pit enclosed within with a large structure. As we are driving towards 'the warriors' we are experiencing fairly heavy traffic. Suddenly we are a part of HEAVY TRAFFIC. It's now quite hazy. The drive through the city seems endless. I'm enjoying the ride very much. The driving style of those in Xian is much the same as the drivers in Hong Kong and Guilin. There are 43 universities in Xian. We just visited a factory where they make 'modern day' terra cotta warriors. While visiting the factory I met an 85 year old gentleman from Toronto, Canada. He heard me speaking English and began a conversation with me. His heritage is Indian, as in India. He said that he has 'wintered' in Goa, India for over 40 years. Today is his birthday so I shook his hand.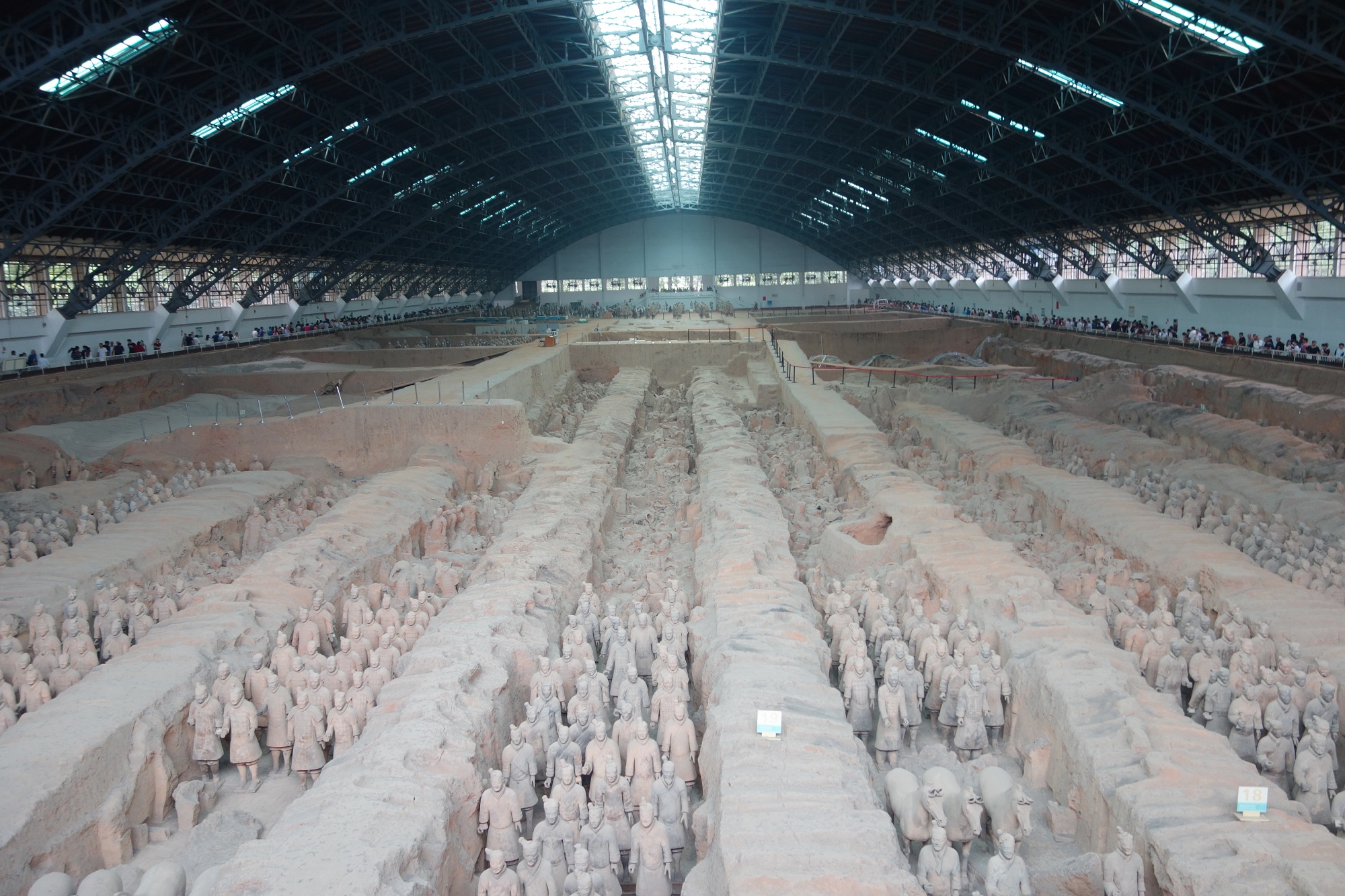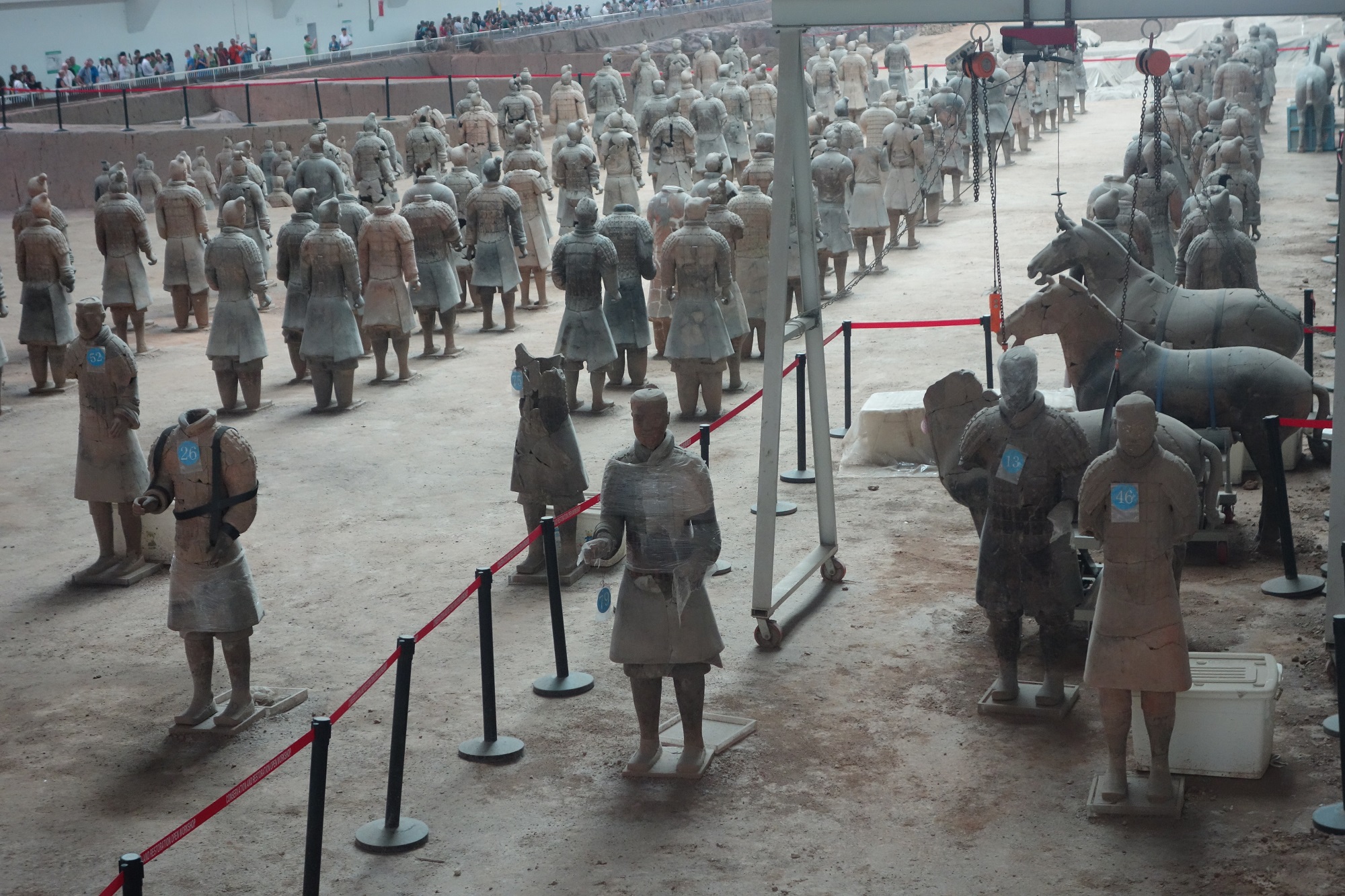 Terracotta Warriors in Xi'an
It is now 2 PM and we are again in our van heading back to Xian. Revisiting the terra cotta warriors was yet another amazing experience. These warriors were built under orders of Qin Shi Huang, the founder of the Qin dynasty who ruled a unified China as its first emperor from 221-207 B.C. Think about that! 200 years before the birth of Christ. I had previously visited this site in 1996, some 21 years ago. There have been so many changes to the area as best I can recall. In 1996 we arrived by bus and walked a very short distance to the site. Today we walked city blocks and city blocks and the changes in the area are quite substantial. Today there are shops and restaurants everywhere. The warriors, their horses and carriages are now found in 3 buildings. In 1996 photos of the warriors were not allowed. Today, everyone has a camera or a phone and is taking pictures. We had lunch at a restaurant on the grounds. There we again saw the women from our hotel who are traveling together. A Norwegian couple joined us. Since I am half Norwegian I engaged them in conversation about Norway, the fjords, and lutefisk. Thankfully we didn't have lutefisk for lunch today.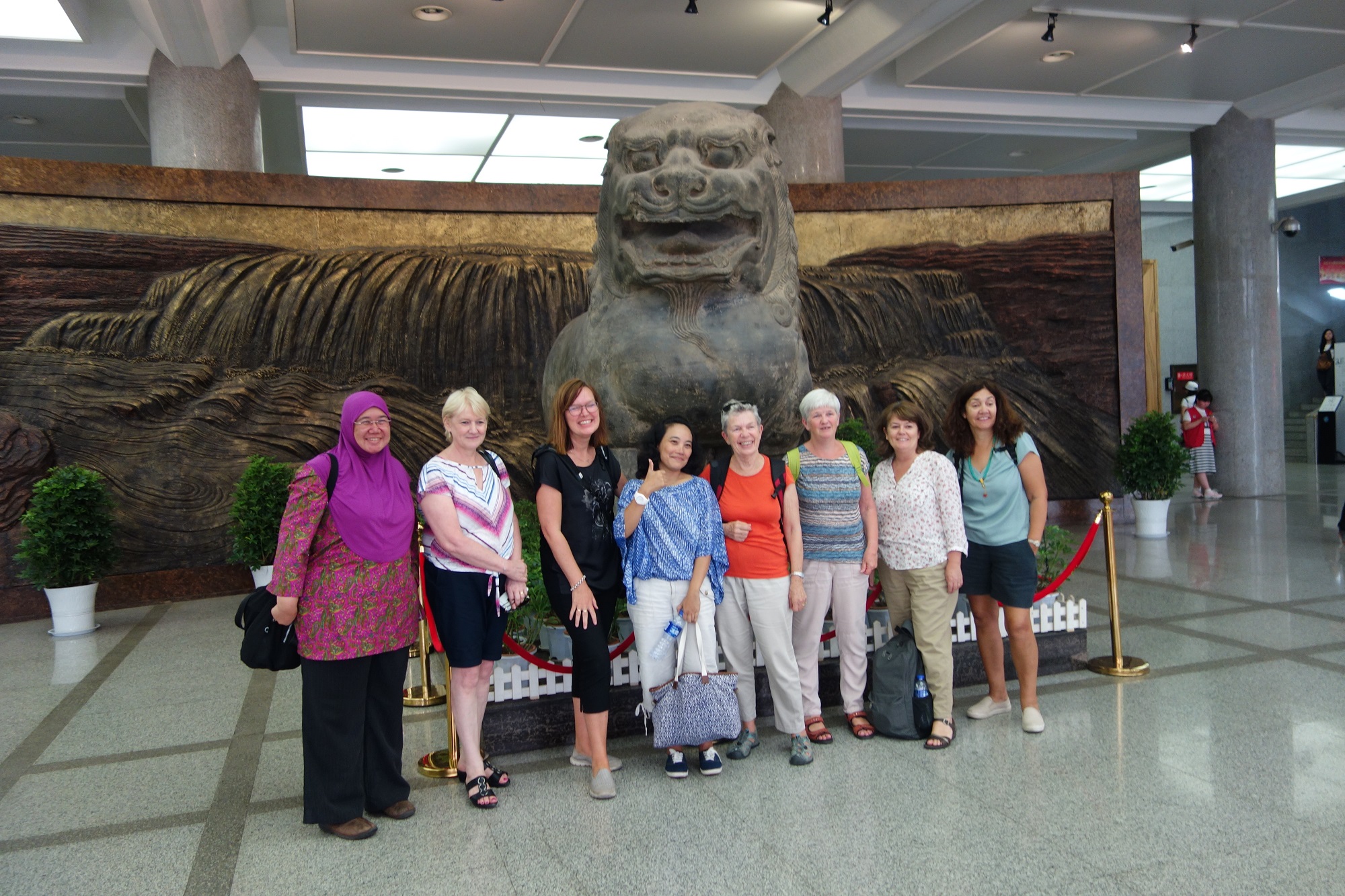 Women Travelers from Our Hotel
We are now heading back to Xian. We stopped at a gas station to refuel. The gas stations all seem to be full service, something else that I am not used to. More aggressive lane changing speeding drivers. I'm now quite used to it and am comfortable with this driving style. Putting things in perspective, I haven't seen any car accidents. The Chinese women prefer white or very light skin. It's that way in Viet Nam also. They can be seen shielding themselves with umbrellas on a sunny day. Also, many of the motor bikes can be fitted with an umbrella like shield that protects them from both the sun and the rain. We just visited the Shaanxi History Museum where we enjoyed a fascinating look at some of the artifacts from the many dynasties over the years. The museum possesses 113,000 historical and artifacts unearthed in Shaanxi. We are now passing the Xian city wall. The wall was constructed from 1368-1644 AD. We enjoyed a delicious buffet dinner and we were back at our hotel at 5:45 PM. I'm not going out tonight and will enjoy a quiet evening in our hotel room. As I previously mentioned, while in mainland China, I am unable to connect with any news sources, Google, or connect with Facebook. Someone earlier told Jay about an app that allows one to circumvent the blocking devices and Jay is now about to use the internet in the same manner that he does back home. How nice!! Useful!!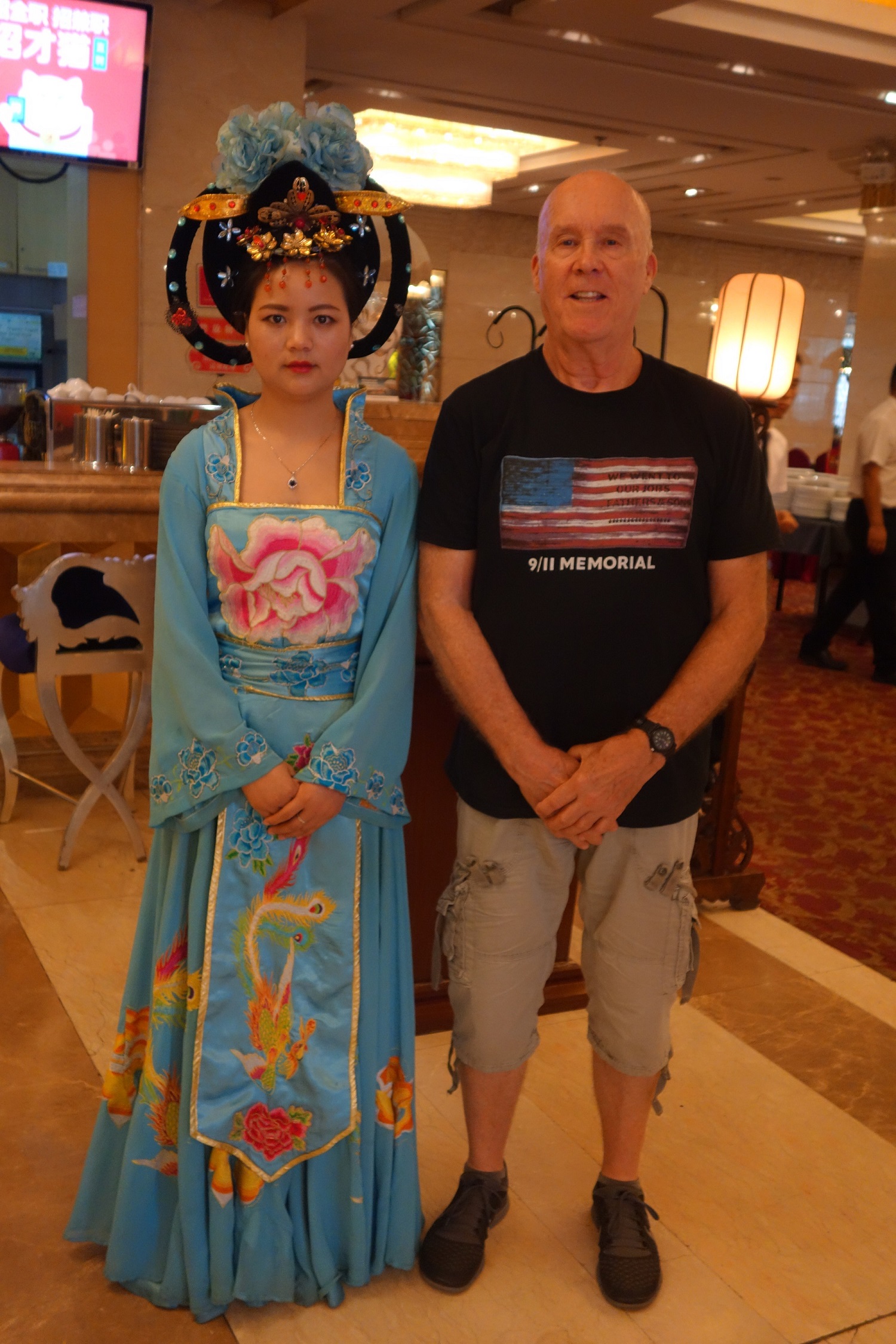 Royalty from the Qin Dynasty and myself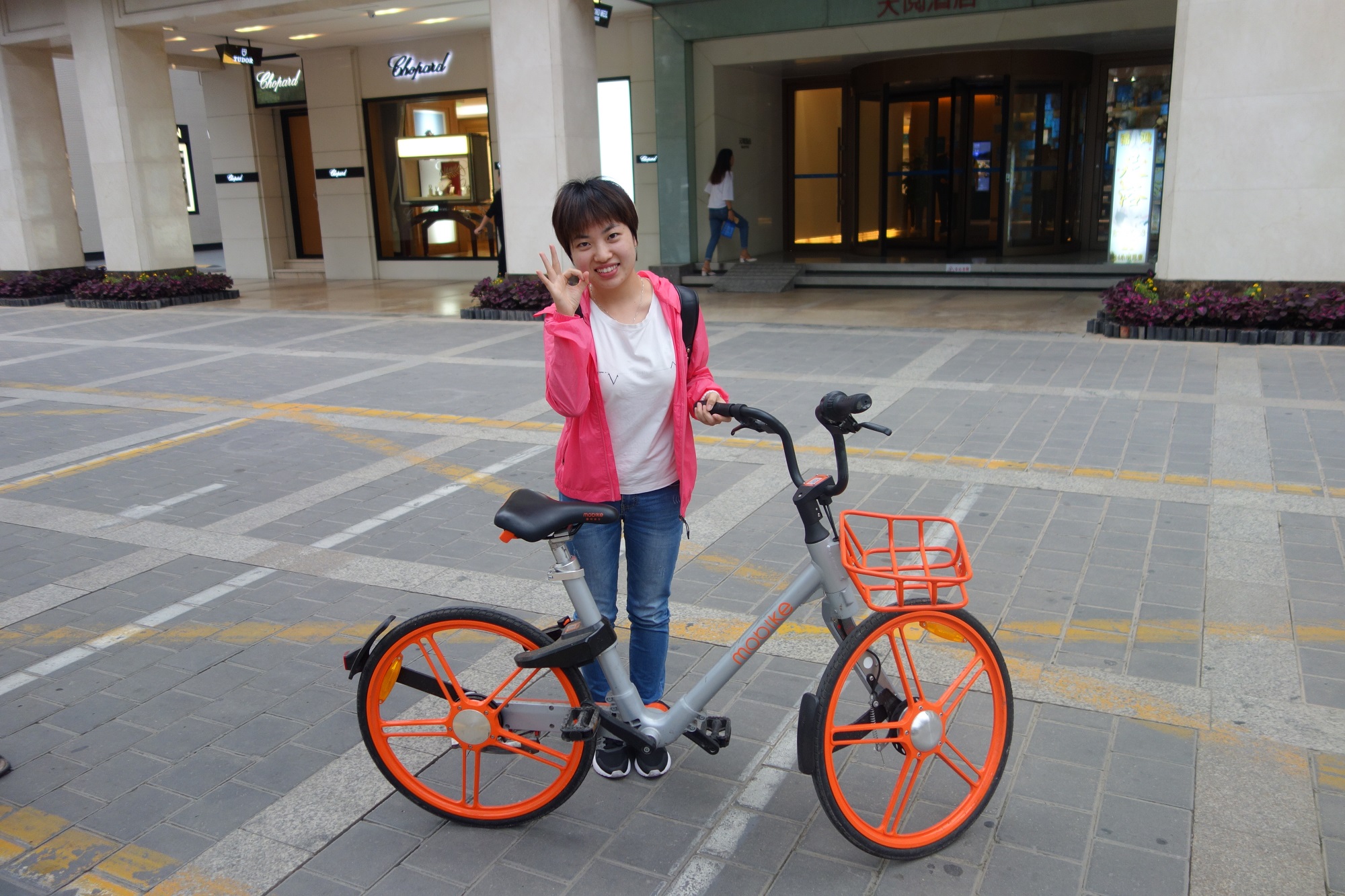 Sunny and one of the free bike rentals of Xian
To be continue...
--by Charlie Kath (customer of Visit Our China)
Comment