Close to the Heaven – travel in western Sichuan and Yunnan
2017-05-25China travel Guide
Last summer, I had a self-driving travel with my parents to western Sichuan and Yunnan provinces in China. We departed from Nanning, the capital city of Guangxi Province, and passed the places including Chongqing, Chengdu, Wenchuan, Daocheng, and then returned from Shangri-La, Dali, and Kunming. We drove some 5,400 kilometers in 15 days. That's really a trip of a lifetime!


The most special travel experience–self-driving
In
these 15 days, we drove by car during the whole travel. It was the first time
that we spent so long time to drive such a long distance. Though it was a
challenge to us, most of time we spent was on the China National Highway 318, one of the most beautiful national highways in China,
it was worth it. China
National Highway 318 (G318) runs from Shanghai to Zhangmu
(in Tibet) on the China-Nepal border. It is also the longest China
National Highway with a length of 5,476 kilometers (3,403 mi). The scenery
along G318 is so attractive, impressed me a lot.
Because
of the self-driving, we could stop wherever we wanted and take photos. We indulged
in the lakes, grasslands, snow mountains and all beautiful sceneries, and had
much fun on the way. If you want to travel in a different way, self-driving
travel is definitely a special experience you cannot miss.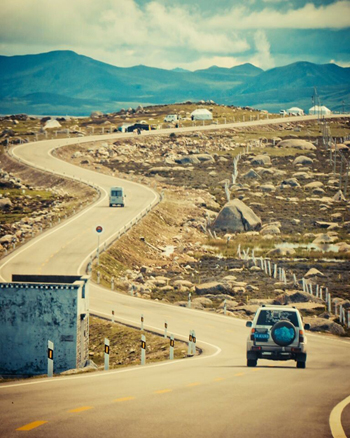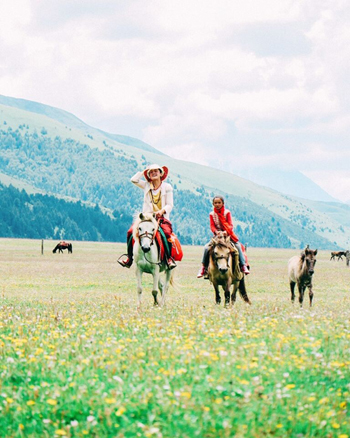 The most impressive place - Seda Wuming Buddhism Institute
In
this trip, the most impressive place that I've never seen was the Seda Wuming
Buddhism Institute.
Seda
Wuming Buddhism Institute, also called Seda Buddhism Institute, situated in
Larung valley, Seda county, Garze (Ganzi) Tibetan
Autonomous Prefecture, Sichuan, China, is the largest Buddhism
school in the world and is home to around 40,000 people. It is situated in a
great valley and at an elevation of 3,700m, about 20km away from the county
seat of Seda. It was founded in 1980 and every year attracts thousands of
students, who undertake six to thirteen years of training.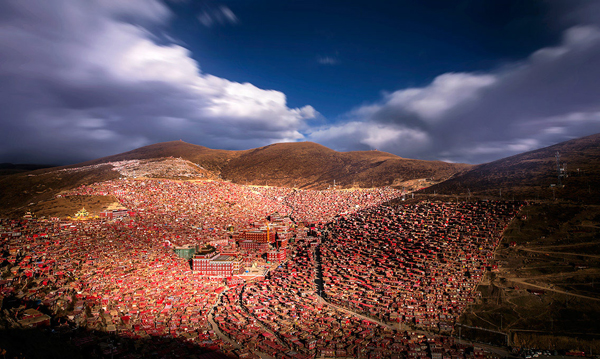 When
I arrived there, I was shocked by the surprising number of red log cabins. It is said that there are ten of
thousands monks and nuns live in these houses. We climbed the mountain and
waited until nightfall. When lights turned on, all of us took out our cameras
to take photos. However, photos can not show how amazing the view is, you must
get there by yourself and I am sure you will get the same feeling as me!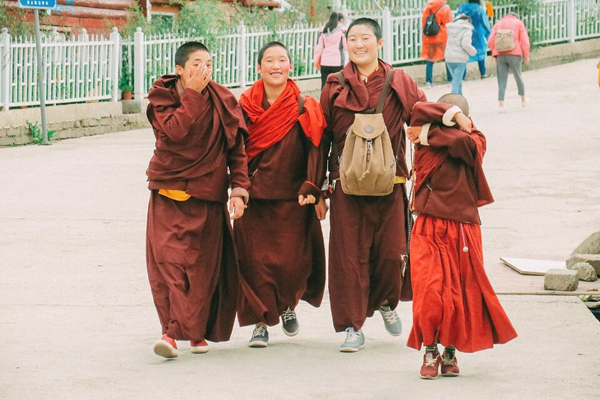 The most beautiful sites – Potatso National Park and Yading Scenic Area
When listening to the word "Shangri-La", travelers may have a Chinese and Tibetan mystical picture in mind, where paradise, harmony and happiness are the only words acceptable to use with. It is a perfect hiking place in northwestern Yunnan, for which an altitude preparation is required for beginners; Shangri-La is a marvel for tourists looking for some pure landscapes far away from the outside world. Compared to a "Garden of Eden", analogies and references of the name "Shangri-La" are often used when talking about life-long quests, perfect places, el dorados, and fountain of youth or other paradises. Potatso National Park is a place which you can not miss in Shangri-La.
Potatso National
Park is located in the centre of "Three Parallel Rivers" world natural heritage area, belong to
northwest of Yunnan Province,
China. It makes
up of the Wetlands of International Importance Bita
Lake Nature Reserve and the "Three Parallel Rivers" world
natural heritage Redhill Area's Shudu Lake. The
park is 22 kilometers away from the Shangri-La
County, with a total area
of approximately 300 Square kilometers. It is the first national park in China,
which set environmental protection, ecological and cultural tourism,
environmental education and community benefit functions as one, under the
premise of protecting the country and the world natural and cultural heritage,
sightseeing opportunities for domestic and foreign tourists.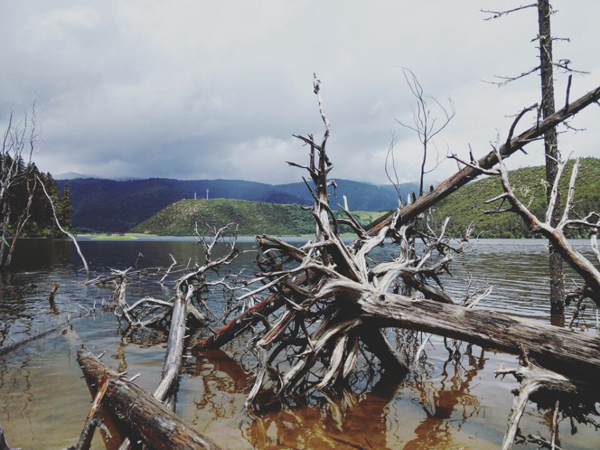 When you start your park tour, you will take the park's bus with local guide until the Shudu Lake, and then you can choose to walk or to take a boat to continue your tour. We chose to walk because it was closer to the nature. The weather of that day wasn't very good, it rained from time to time, but the air in the park was fresh. If you are lucky, you can see animals like squirrels, woodpeckers, even wild boars!
Yading Scenic Area
is a must-see spot
in Sichuan. It is located on the southern tip of Dao Cheng County in Sichuan Province
and is nationally renowned as a hub a new-wave eco-tourism, a provincial
ecological protectorate and one of the most important regions of Tibetan Buddhism
in South-western China. It is called "the last Shangri-La".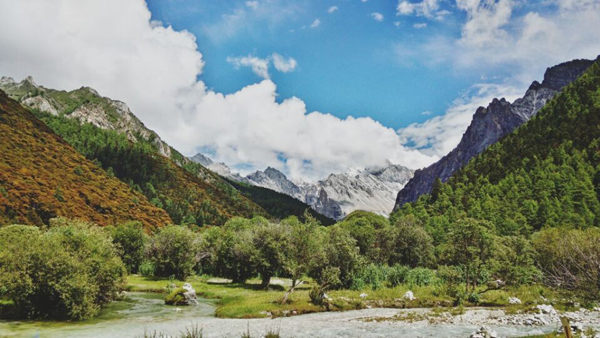 There
you can see lakes, grasslands and snow mountains. It was a great opportunity to
get close to three holy mountains, unfortunately, although we tried hard to
climb the mountain, we couldn't overcome the high altitude. But it doesn't
matter, it was enough to enjoy the view.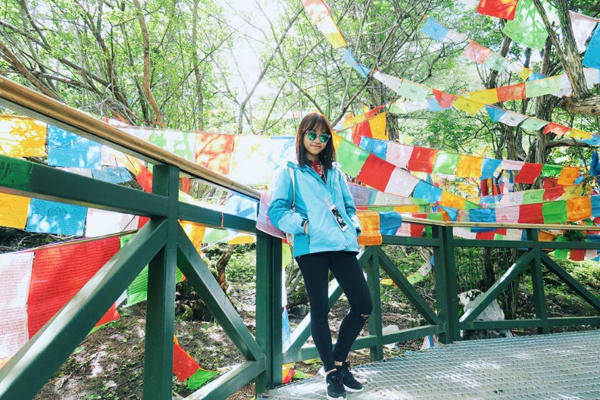 This self-driving tour was one of the best travel experiences in my life. Go traveling is not only discover the world, but also relieve stress and relax yourself. So what are you waiting for? Just get ready and start your trip!

--by Tina Zhou (VisitOurChina)
Quick Questions
Our team is waiting for you questions. Please feel free to ask us any questions you might have about our China package tours, Chinese culture, or the sites available. We will gladly help you with any special needs you might have and all questions, like our trip designing is completely free of charge.