The most terrifying bridge in the world will open soon
2016-07-14News
When we talk about Zhangjiajie, the first that comes to mind must be the beautiful scenery --the charming nature and the majestic mountains which towering into the sky. The forest park there has not only fresh air but extremely magnificent continuous and lapped limestone peaks. Now an attraction, Zhangjiajie Grand Canyon Glass Bridge, is going to be a new hottest topic of this wonderland.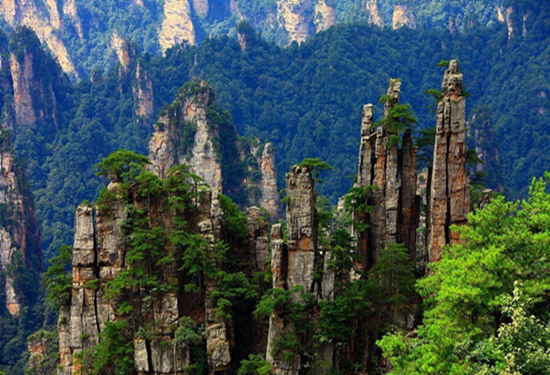 Time dated back to 2012, when an idea of a glass bridge across Zhangjiajie Grand Canyon was decided to be built, architect Haim Dotan was recommended to be the designer of the ambitious project. This Israeli man said "Nature herself is most beautiful, we should not disturb her. This is why we choose a glass bridge and adopt technologies of in-visibility as much as possible--we hope the bridge melted into nature and spontaneously disappeared in the clouds."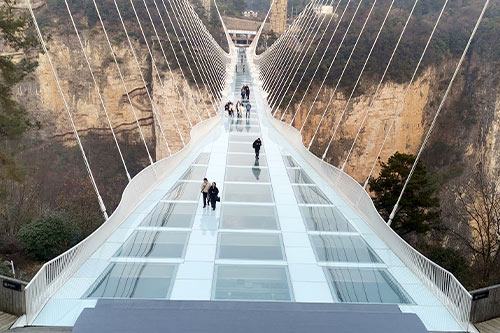 Until the December of 2015, the main construction of this bridge was almost finished. The management office then started a bridge name-wanted campaign worldwide and offered a reward of "one word values ten thousand Yuan", which attracted global attention about this project. Many carefully-selected bridge names compete for this reward. Finally the name of "Yun Tian Du", literally means "ferry crossing in clouds", became the best choice.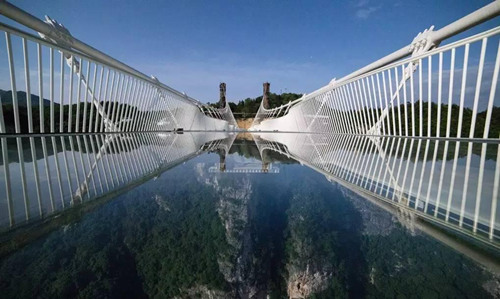 Zhangjiajie Grand Canyon Glass Bridge was constructed without any steel concrete pier, and it stretches about 1410.8 feet across a canyon at width of 19.7 feet, with a dizzying height of some 984 feet above the impressive Zhangjiajie scenery, this skywalk is set to smash records to be the world's longest and highest glass-bottomed bridge and easily dwarfs America's Grand Canyon Skywalk which sits 718 feet above the ground at a length of 68 feet or so.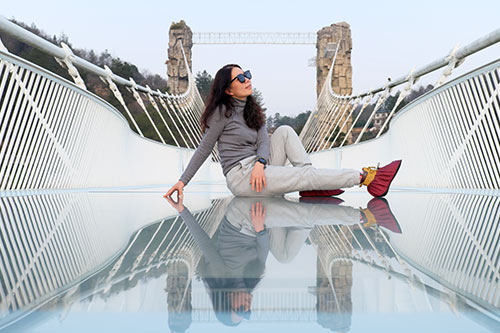 The glass-paved bottom of Zhangjiajie Grand Canyon Glass Bridge can hold 800 people standing at the same time. At the center of the bridge there is a highest platform for bungee in the world, moreover, this bridge has the functions of zip-line activities and fashion stage. Fashion shows held along this sky-high pathway, which has unbeatable view of the national park that was the inspiration from the planet Pandora in the movie Avatar, was also taken into consideration when the bridge was designed.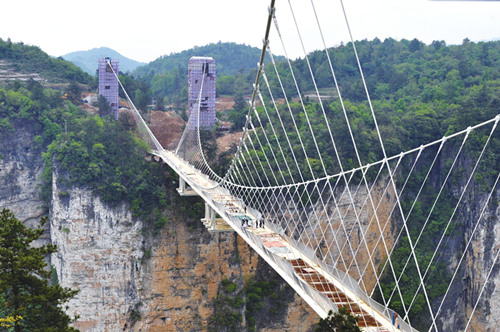 This first inclined-pulling glass bridge across canyon in the world is also the first one that adopts new composite materials which used in aerospace industry. It is said that the bridge will be opened to tourists in this July, and meanwhile it will be in line for a place in the Guinness Book of World Records. Visitors can experience "walking in the air" and enjoy the scenery of waterfall and rainbow in an unbelievable angle.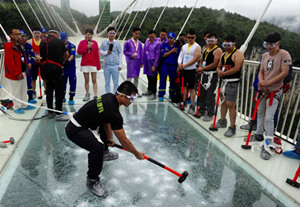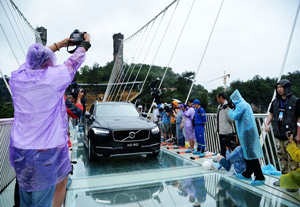 But if you worry about the safety on Zhangjiajie Grand Canyon Glass Bridge, that is completely unnecessary. Before the bridge being opened to public, it passed rigorous tests: a car weighing 2 tons rolled back and forth on the bridge; over 30 people hammered the bottom of it; more than ten strong men with weight of some 75km each freely jumped and stamped on it--the bridge did not show any sign of problem.
In case the bridge floor was destroyed, it is still safe. Like sandwich, there are three layers of glasses with glass cement in-between paved on the bridge floor, even three layers of glasses are broken, the whole floor will not fall down and people can still safely pass.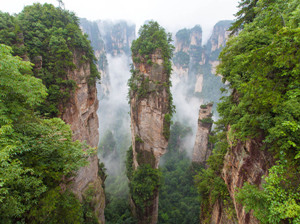 Listed by Cable News Network as one of the 11 most magnificent bridges in the world, Zhangjiajie Grand Canyon Glass Bridge will be another attraction there which well worth a visit like Zhangjiajie National Forest Park and Tianmen Mountain.
More about Zhangjiajie
Quick Questions
Our team is waiting for you questions. Please feel free to ask us any questions you might have about our China package tours, Chinese culture, or the sites available. We will gladly help you with any special needs you might have and all questions, like our trip designing is completely free of charge.