Gorgeous dressing, beauty of Miao women
2015-07-07Cultures
Miao is one of the 55 ethnic minorities in China, if as Zhuang or Uyghur those minorities who have their own writing characters, the long history of Miao people can be written as a resonant epic. Unfortunately, they haven't. So how they inherit their cultures? We can find the colorful cultures displayed in patterns, embroidered on clothes and hidden in silver accessories of Miao women. Diligent and smart as Miao people, they make great value of their cultures concealed in clothing.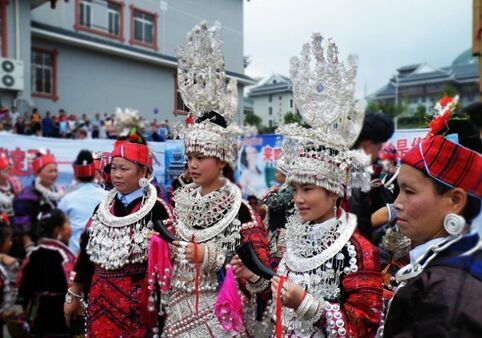 In southwest China, Miao people mainly live in Guizhou, Yunnan, and Sichuan provinces. Though the young get used to modern life and seldom dress up, some elder Miao people in remote areas still keep their customs such as wearing ethnic clothes, singing folk songs, and celebrating their festivals. In general, dressed up Miao are usually with tight sleeves and wide collars. The long pleated skirts are elegant while the short ones are graceful. If there were no festivals, Miao women prefer casual clothes which don't have so many decorations.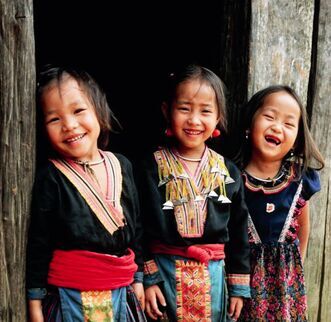 The patterns on Miao's clothing are like the writing characters of other ethnic minorities. An elder could tell the history of Miao from a pattern which is shown as an embroidery on women's dress. For the reason that Miao has many braches, multiple patterns are used. Colors, in some sense, are simple. Red, yellow, white, blue and black are the dominate ones. The elements, which often reveal the developments of Miao, mainly come from nature and the minority's myths, for instance, Yellow River of China and the Butterfly Mother from Miao's myth.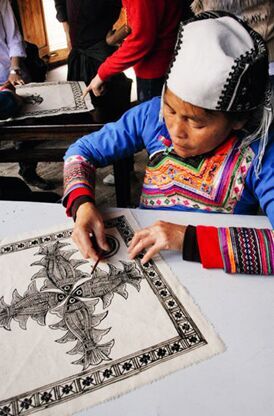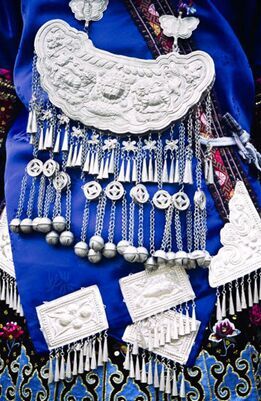 As a Miao saying goes "decorated with no silver or embroidery, not to be a female", Miao women would spend large percent of money on gorgeous clothes and various silver accessories. They put their passions and wishes into every needle of embroideries on their clothes.
Prefer wearing silver accessories, Miao women often have elegant silver crown which has two silver horns or variety layered silver decorations. If observing the crown closer, you would probably find the pattern of "two dragons playing with a pearl". Along the crown, there are many overlapped silver beads swung when Miao women nodding or shaking heads. Besides, silver fan-shaped hairpins, silver earrings, and silver necklaces are essential. The flower-shaped necklaces, often in a circle like the moon, are also shining and attractive. Because of the silver bells decorated on bracelets, anklets and cloaks, when Miao women are walking or dancing, we can hear clear and melodious tinkles. In Miao people's opinion, the heavier and larger of silver accessories decorated, the richer and prettier of a woman is; thus, a set of dress up is usually several kilograms.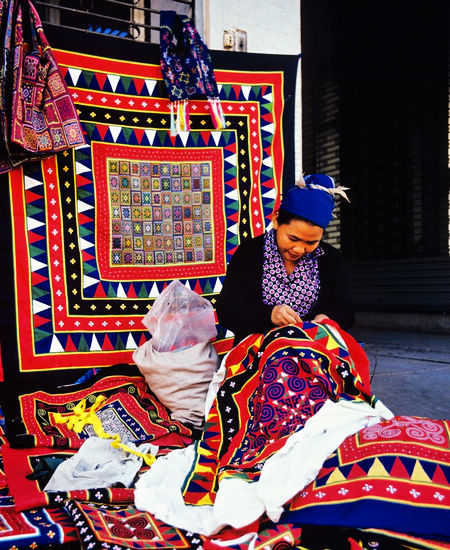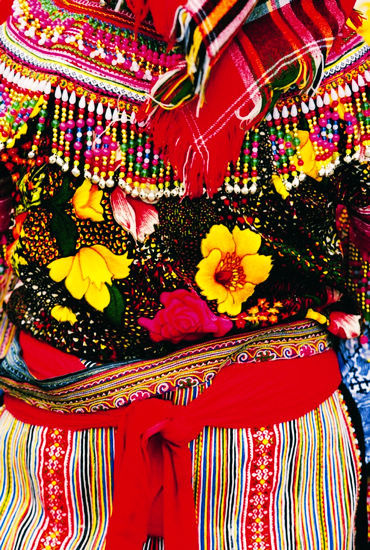 When the sun rises, Miao women sit in front of mud hut yards and embroider elegant patterns. Every stitch is a memory of them. Here, Miao women are making their significant clothes with each needle by themselves.
--By Kelsy (VisitOurChina)
Comment