VOC's Travel BLOG
Our Travel Blog is the place to share our real life, travel experiences in China with you. Besides, we will provide information related to Chinese culture and China travel guide. "A bosom friend afar brings a distant land near." Traveling makes us to be closer, let's discover China together!
Marvel at Wonders of Guinness World Records: Company Trip to Chuanshan Park
2012-10-25 | China travel Guide | Comments(0) Views(822)
Yesterday our company was invited to visit the Chuanshan Park which I've long heard of yet never been to. As a member of VisitOurChina, I had the opportunity to have an intimate contact with its intoxicating scenery and marvel at its natural and cultural wonders.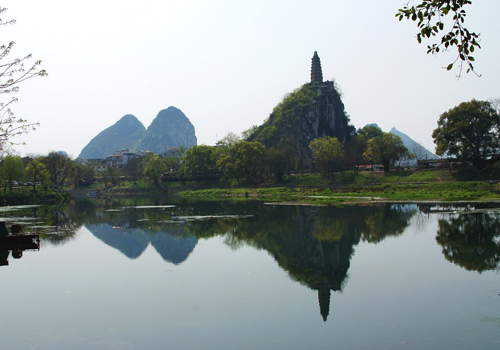 It is located on the southern suburbs of
Guilin
City, just a 10 minutes' drive from Guilin Railway Station and 20 minutes' walk from our company near the Guilin International Convention Centre. With mountains, osmanthus trees, flowing rivers, stone bridges, tasteful pavilions, a beautiful scene full of vitality was revealed to us. No doubted, it is a great place to relax! The first noted attraction I came across is the "Tashan Mountain with Clear Reflection", hailed as one of old eight famous sights of Guilin. Seen afar, the pagoda stands in a small peak and the clear Small Dongjiang River mirrors its elegant figure, presenting a beautiful scene. The towering pagoda of Ming Dynasty (1368–1644) is called "Longevity Buddhist Pagoda" with seven layers in hexagonal structure. The fact that such a small mountain bears such a high pagoda is a wonder itself. So the scene was included into the Guinness World Records. The Small Dongjiang River is emerald with waterweeds; but the water is absolutely clear since I saw small fishes swimming in it.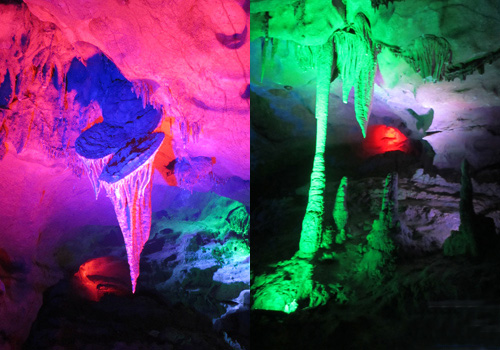 The Chuanshan (Pierced Mountain) is for sure the focus of the park. It faces the Tashan across the Small Dongjiang River. It was pierced by a cave that took shape some 34, 000 years ago and was discovered in 1979. We followed the tour guide's step and went into its heart. The cave is winding and colorful illuminated by lights. It features countless stalactites and stalagmites in different poses created by carbonate deposition, such as crystal stalactites, curled helictites, stone blossoms, haired stones, etc. Most of them have interesting names. Those rod-shaped stalactites are called "swanneck stalactites". Some of them measures over ten meters long. The most noted part of the cave is the "stone shield" which was formed 200,000 years ago and has been inscribed on Guinness World Records. Four stone shields are naturally grown into one on the same stalictite, fantastic! The cave impressed me with lots of wonders, such as a big "Banyan Tree", a stone "bamboo" traced back to 10,000 years ago. The cave is very big and took us about 40 minutes in it.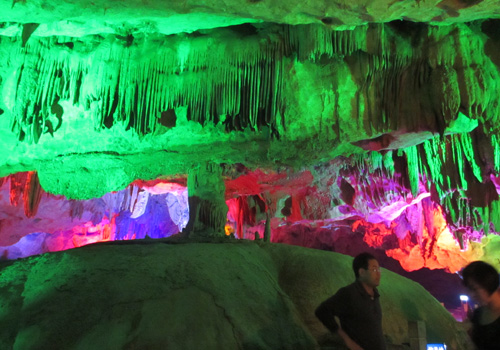 The scenic beauty of Pierced Mountain Park blends naturally with many famous historical and cultural sites. The South Peak, also known as Moon Cave, has a dozen of stone carvings of Song Dynasty (960-1279) on the cliffs. A famous verse was inscribed on the stone cliff to describe the beauty of the park, reading "the river is like a jade belt; the mountain is like a jasper hairpin". Many Dong girls were dancing to music at the wonderland. I saw numerous stone tablets of famous calligraphers in the park. It is said to be the largest calligraphic stone tablets in
China
.
The park also provides restaurants for visitors. We walked through two stone bridges and saw many houses with ambiance of ethnic minority providing meals. The person in charge banqueted us. The food was fine, too.

After the fabulous lunch we headed back to company because we had to work in the afternoon. The Chuanshan Park offers a lot to see actually. I will be back someday to explore it further.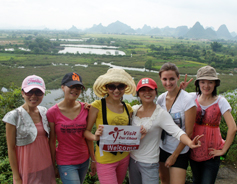 Calendar
Categories