Dreamlike Bamboo Rafting on Li River Organized by Guilin Tianyuan Company
2012-08-23China travel Guide
On learning the news that bamboo rafting on Li River is officially permitted, Guilin Tianyuan International Travel Service Co.,LTD organized a field trip to the essence of Li River, the section of which we were going to cruise begins from Yangdi Pier to Xingping Landscape Area in Yangshuo. Another purpose is to investigate some restaurants and hotels in Yangshuo. As a member of its English department - VisitOurChina, I had the great honor to carry out the site investigation with seven collegues of other departments. We jumped on a bus at 08:00 and started our journey to Yangdi. After some an hour and a half's drive from Guilin
International Convention and Exhibition Centre where our company is located, we finally arrived at the Yangdi Town, which is located in the north of Yangshuo County with dwellings scattered at the foot of misty mountains and a road winding through mountains to the Yangdi Pier. Because of a heavy night rain the day before, the Li River got rising waters but still was safe for a bamboo rafting. Once I reached the pier, I was instantly impressed by the amazing scenery before my eyes: several bamboo rafts berthing on the river, a line of egrets flapping their wings and soaring slowly along green mountains. Before boarding on the bus, I heard that there is no bamboo rafts departing from Yangdi Pier between 10:30am and 12:00 noon because the cruise ship will pass by the pier which is too small to allow too many ships at there. A bamboo raft only allows four passengers to sit.
The ticket prices are as following:
1. From Yangdi Pier to Xingping Pier is CNY216/p plus CNY35 for each vacant seat. Extra CNY10 will be charged for return fare. For example, if you are alone to take the bamboo raft on one-way trip, you need to pay CNY321= CNY216 + CNY35*3 (three vacant seats).
2. From Yangdi Pier to Nine Horses Fresco Hill: CNY118/p plus CNY25 for each vacant seat.
3. Round trip between Xingping Pier and Nine Horses Fresco Hill: CNY98/p.
4. From Xingping Pier to Yangdi Pier: CNY216/P plus CNY35 for each vacant seat.)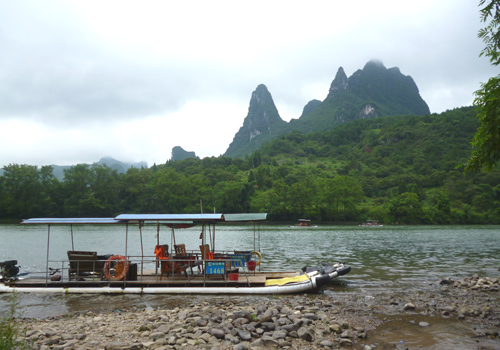 The trip took us 2 hours or so. It was more relaxing and interesting than on big cruise ship. As the raft began to slide on the river (at 10:10am), a gentle and refreshing breeze touched my face like a soft hand. Despite the heavy rain, as we commonly known which might cause muddy water, Li River remains clean. The reflections of mountains were visible in the water. Occasionally, I saw fish swimming in water, much more free than human being. Ships of coming and going added vitality to the picturesque scenery. Each bend of the river presents new and more stunning sights to see. The limestone peaks, far or near, big or small, are enough to feast for eyes. The mountains aren't too high but have a power that draws praise. Some of them stretch hand by hand; some of them sit alone; flickering from a distance and green before your eyes. Each has its own postures. They are just for your imagination. The kind-hearted boatman sat behind us and patiently told us: this is called a carp hanging on the wall; that is Boy Visiting the Avalokitesvara…. I was able to know most of the oddly-shaped mountains under the guidance of the boatmen. Half an hour late, we went ashore near the mountains of ''Best Scenery under Heaven''. There were stalls that selling artware and a simple washroom for the convenience of tourists. we goe to ''Nine Horse Fresco Hill'' at 11:30am. On a vertical cliff of the mountain, intricate veins were carved by the force of wind and water from which some say that nine horses can be seen. Again, due to my poor imagination, I could only saw two. The Reflection of Yellow Cloth also deserves recognition. A rocky and yellow cliff on a mountain casts its reflection on water, which looks just like a piece of yellow cloth. How magic it is! The attractions are too much to count; all that and more awaits you to marvel at!

The happy cruise was finished at 12:20 when our stomachs were screaming for foods. So, 35 minutes later, I found myself sitting at the table of Old Banyan Restaurant (
古榕山庄), which is located at the end of the Gongnong Bridge and along the Yulong River. Enjoying a good location, the restaurant has a relaxing atmosphere and good setting. Eaters can enjoy the meal and at the same time watch people ferrying passengers on bamboo rafts. A café can be found on the riverside. The food was very good, too. The owner told us that he was trying to make it the best restaurant of Yangshuo.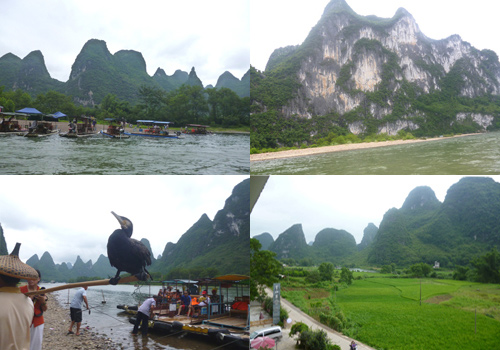 With the purpose of further exploration on some hotels of Yangshuo, we headed for Gold Riverside Hotel (
金水岸酒店) which is located one mile from Gongnong Bridge and surrounded by mountains and green rice paddies. The guest room provides a sort of warmth given by quietly elegant beddings and a refined balcony which offers green views of the outside. Moreover, there is fishing park, Chinese and western restaurants. The hotel also provides pick-up service from Yangshuo town to the hotel. Our next destination is Eastern Garden Hotel (
东方花园大酒店) and Green Lotus Hotel (
碧莲江景大酒店), both of which are five-star Hotels. Located on No.20 Shima Road, Eastern Garden Hotel is a new one with a luxuriously spacious lobby, tidy and spacious guest rooms, and especially trendy and super dining boxes on the second floor. The Green Lotus Hotel is located near the West Street with reputations reaching far and near. It offers luxurious and superior river-side rooms. Due to limited time, we then went to the Flowery Hotel (
鲜花满屋客栈, near the Green Lotus Hotel), which overflows with romantic atmosphere given by flowering balcony, wall, floor and beddings, being the first choice of the female. If you yearn for countryside scenery and relaxing environment, Gold Riverside Hotel is the place to be; for luxury and convenience, Green Lotus Hotel and Flowery Hotel, and for luxury, Green Lotus Hotel and Eastern Garden Hotel.
Comments
Comment