Guilin Tianyuan Company's Team Outing to Yi Jiang Yuan Scenic Spot
2012-07-11China travel Guide
Last Saturday, Guilin Tianyuan International Travel Service Co.,LTD, one of key travel agencies in
Guilin
, was invited to visit the
Yi Jiang Yuan Scenic Spot
(义江缘景区) which is dubbed as "the No.1 village with most appeals in Guilin" and themed by
ethnic culture of Miao, Dong, Yao and Zhuang people. Andy, Sissy and me, as members of its English Department, namely Visit Our China, was lucky to participate in the activity with other colleagues of Tianyuan Company. Idyllic landscape of Yijiang River and colorful ethnic culture are the two eye-catching parts of Yi Jiang Yuan Scenic Spot. We really had a great day there.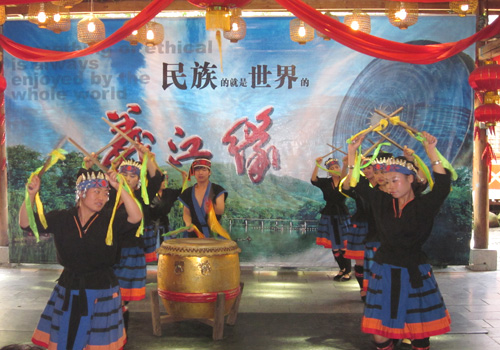 The Yi Jiang Yuan Scenic Spot is located on the way to
Dragon's Backbone Rice Terraces
(龙脊梯田) of Longsheng, 32 km from Guilin City, 30 km from Guilin Liangjiang International Airport, in Wutong Township of Lingui County. Leaving from the Guilin Hongkong Hotel at about 10:30 am, we finally arrived at the Yi Jiang Yuan Scenic Spot after a one-hour drive. On the way to Yi Jinang Yuan Scenic Spot, the sales manager and tour guide of Yi Jiang Yuan Scenic Spot gave brief introduction of the attraction to us and had some interactive activities with us, so everyone got very excited.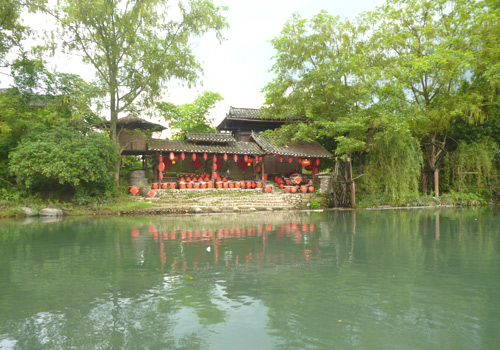 The first thing we do after entering the Yi Jiang Yuan Scenic Spot was having a hearty meal and at the same time enjoying the wonderful performances given by Miao, Yao, Dong and Zhuang people. It's really fantastic! We got the chance to have a close interaction with ethnic people and learn more about the culture of the four ethnic minorities. At the beginning, the audiences were warmly welcomed by Bai Ku Yao people with their unique bronze drum dance. Bai Ku Yao ethnic minority got its name as men are always dressed in white trousers. Bai Ku Yao is recognized as the living fossils of human civilization ethnic culture by UNESCO with the best preserved ethnic culture. Copper drum is the symbol and glory of Bai Ku Yao. Women of Bai Ku Yao are good at spinning and waving. Their blue pleated skirts exude the most dynamic glamour. Even today, Bai Ku Yao still remains the most primitive matrilineal society. Then it came to the interesting and joyful Bamboo Pole Dance (Zhu Gan Wu, 竹竿舞). Six men squatted and held long bamboo poles. They clamped and separated the bamboo sticks regularly so that dancers had to jump among them smartly. It is a vey funny and lively dance! Lots of audiences participated in it. Later, the performance of the Miao people showing affection and holding wedding ceremony brought the cate banquet into climax. If a Miao boy loves a girl, he will step on a shoe of the girl. The girl will choose to step on the boy's shoes if she has the same feeling. We also saw beautiful Miao girls wearing silver crown, bracelets and necklaces. Watching the dances and songs accompanied by the Lusheng, a reed-pipe wind instrument of Dong minority is also an unforgettable experience. Such a fantastic visual and audio feast it was that I nearly forgot to eat! Looking around, I found all of us were immensed in the sea of joy!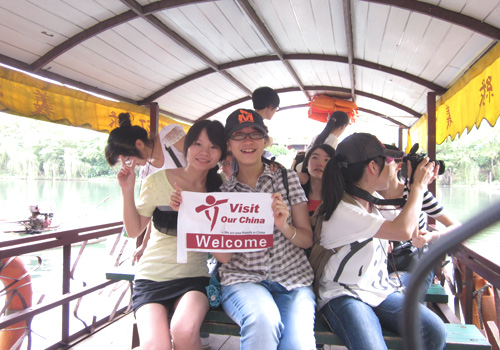 After enjoying the ethnic shows, it was the time to cruise the quiet Yijiang River. A handsome Bai Ku Yao man rowed it for us.
Yijiang River is a romantic river with limpid water and beautiful scenery. Moreover, it is featured by distinctive ethnic buildings along the river. Our attention was drawn to the rotating water wheels which are scattered here and there along the river and used to be irrigation tools. What impressed me most was the flower-decorated suspension bridge before us and the beautiful singing of Zhuang girls. As a matter of fact, singing to one another is a custom of Zhuang people. After disembarking, we took a climb along the Footpath on Hillside. The tour guide of Yi Jiang Yuan showed us around the museum of Bai ku Yao and the Yao Village and informed that in every Bai Ku Yao house stands an ox horn which is regarded as a house guard. Campfire basin, bird-cage, straw hat, iron stove, loom, dowry box of Yao people and so forth can be seen there. On the Drum Tower Square, we saw the wonderful long hair show given by two Hong Yao women. Hong Yao is a branch of Yao minority and got its name as people always wear upper outer garments. Hong Yao women cut their hair once in a lifetime on the day of the18th birthday. In the Yi Jiang Yuan Scenic Spot, two women showed us their long hair and how they make a sleek updo without using any hair accessories. When we went downhill, all of us were delighted by Bamboo Bang (a unique instrument of Yao people) Arrays and Copper Drums Arrays, because we beat them one by one for good fortune and for fun.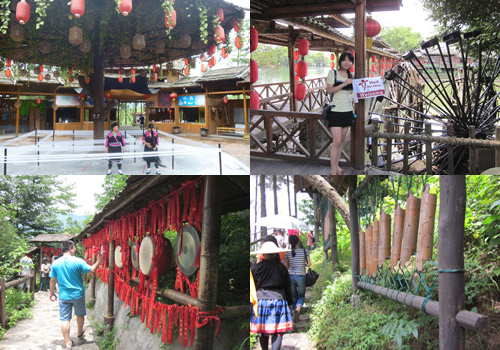 The Hall of King Pan (盘王殿) is majestic building displaying the mysterious beliefs and culture of Yao People. The King Pan is believed to be the first ancestor of Yao People. The Wind and Rain Bridge (风雨桥) brought us back in time! It is the symbol of Dong people and something like linked pavilions. How pleasant it is walking on the bridge and letting the gentle breeze touch the cheek! Rested above the Yijiang River, it enhances the beauty of Yi Jiang Yuan Scenic Spot. Walking along the Folk Artworks Street, I was dazzled by the exquisite handicrafts made by these minority people.
Though I had only two and a half hour there, I was deeply impressed by the unique culture of Miao, Yao, Dong and Zhuang people in Yi Jiang Yuan Scenic Spot. Their hospitality, wisdom and colorful culture add glories for China. If you want to have an intimate interaction with ethnic people and explore ethnic culture without missing water and mountain landscape of Guilin, Yi Jiang Yuan Scenic Spot never disappoints you, in my opinion.
Comment