Yi Jiang Yuan Scenic Spot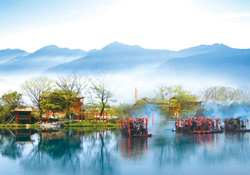 More Photos

Chinese name: 义江缘 (Yi Jiang Yuan)
Location: on the way to Dragon's Backbone Rice Terraces of Longsheng, 32 km from Guilin City, 30 km from Guilin Liangjiang International Airport, Wutong Township, Lingui County.
Price: CNY90
Opening hours: 08:30-18:00
Recommended time for a visit: about 2 hours
Introduction to Yi Jiang Yuan Scenic Spot
Hailed as "the No.1 village in Guilin with most appeals", the 4A Yi Jiang Yuan Scenic Spot of Guilin rests on the clear Yijiang River (义江) of Lingui and its riverside village that against the huge background of green hills, mountain waterfalls and refreshing valleys; More to the point, the great appeal of Yi Jiang Yuan lies in the colorful ethnic cultures of Miao, Yao, Dong and Zhuang people who remains their pristine habits and customs. Covering an area over 165 acres, the Yi Jiang Yuan is a unique showy interest of place combining peasant life style, rural sceneries with ethnic features, most characteristic folk handiworks and the grand yummy long street banquet of Dong people with dishes dedicated by over 100 households. Here, Yijiangyuan is also the place to sing folk songs with Zhuang people, to listen the sounds of nature-the notable Dong grand songs and experience the unique long-hair culture of Yao people.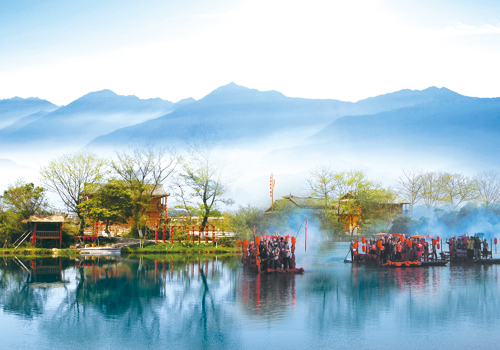 What to see in the scenic spot?
The attraction of Yi Jiang Yuan is visited firstly by water and then by land route. Along the water travel route is to enjoy the passionate minority dances, to be warmly welcomed by Baiku Yao people with drum performance and then to sing songs with hospitable Zhuang people. According to the customs, guests should sing songs antiphonally with ethnic people before going ashore. Along the land travel route of the scenic spot of Yijiangyuan is the local life style of each minority and kinds of interactions with them in their dances, gong and drum playing, wedding celebrations, handicrafts making and grand banquet.
Usually, there are 7 sightseeing sections in Yi Jiang Yuan Scenic Spot.
- Cruise sightseeing (船游风情景观水道)
To enjoy featured ethnic performances and architectural landscapes of wooden houses, wing-rain bridge (or shelter bridge), waterwheels, ethnic granaries, suspension bridge, Liusuo (a kind of way to cross river in the air with steel rope) and ancient docks.
- Baiku Yao Themed Cultural Area (白裤瑶主题文化区) & Drum Tower Square (鼓楼广场)
An exhibition hall in the area can provide a profound knowledge about the group in their habits and customs, their beliefs and costumes. With Diaojiaolou (吊脚楼, wooden hanging houses supported by pillars) and their special granary group, it is also a preferable site to enjoy the scenic beauty of Yijiang River. On the Drum Tower Square, visitors can participate in bronze-drum dances and peg-top performance.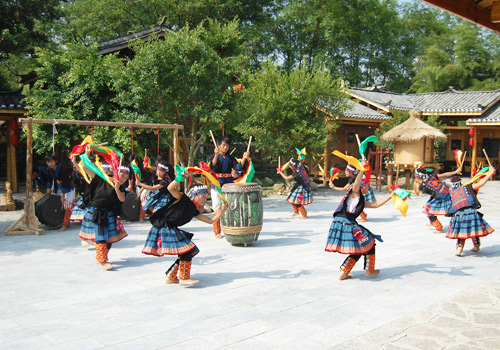 - Footpath on Hillside (山景步道主题区)
Along this downhill footpath are the colorful Yao activities of forest climbing, Liusuo and Bamboo Bang (竹梆, a unique instrument of Yao people) performance.
- The Hall of King Pan (盘王殿)
King Pan is believed to be the first ancestor of Yao people according to the legend. In the hall are the exhibits of mystery beliefs and culture of the group.
- Folk Artworks Street (民艺街)
A distinctive corridor of Yijiangyuan covered with booths of all kinds of handicrafts made by Yao, Zhuang, Dong and Miao people, and most of the vendors are just making their products on spot. These exquisite products include embroidery, bamboo articles, straw plaited articles, silverware, ethnic combs, ethnic clothes, ethnic musical instruments (e.g. Lusheng of Dong people), miniature ethnic architectures, batik pieces, Sanpi paintings (a featured painting created by Lingui people), and so on. In the street, delicate folk snacks and food are also for sale, e.g. the manual ginger sugar.
- Long Street Banquet (民族美食长街宴)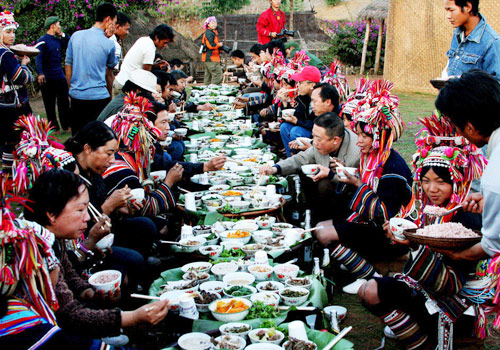 Among most ethnic groups in northwest Guangxi, the cate banquet is quite popular during celebrations and festivals. Each family will deliver their best dishes and serve them on tables in a long row, and then share together. Visitors can join in the banquet in Yi Jiang Yuan and during which, there are a rich mixture of performances and recreational activities.
A brief introduction to ethnic groups in Yijiangyuan
- Baiku Yao (白裤瑶, White Pants Yao)- the most mystery minority
As a branch of Yao Minority, Baiku Yao got its name as males always wear white pants. It is known as the most mystery ethnic group in China and regarded as the "living fossil of human civilization" by UNESCO owing to its remaining cultures from matriarchal society to patriarchal clan society for over 2000 years.
- Hong Yao (红瑶, Red Yao)- a group with most beautiful long hairs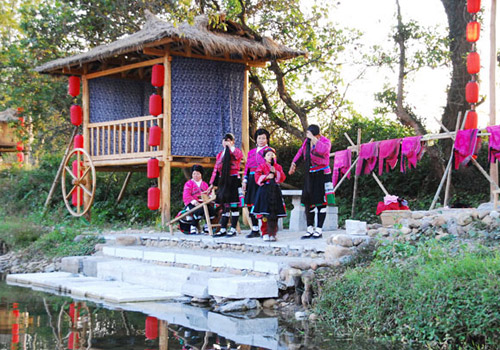 It is also a branch of Yao Minority, and got its name as their always wear red upper outer garments. Female Hong Yao people do not cut their hairs after 13, and wrap hairs overhead with a cloth to protect them. Wash with water that clean out rice mixed with their secret herbs, their long hairs are invariably black and healthy.
- Miao Minority (苗族)- a group with the most beautiful costumes
Miao costumes is featured by bright colors and heavy silver ornaments. As a singing and dancing group, during celebrations and festivals, or every gala day of wedding, harvest, serving guests, and the like, Miao people will celebrate with their drums and dances in splendid wear.
- Dong Minority (侗族)- a hospitable and happy group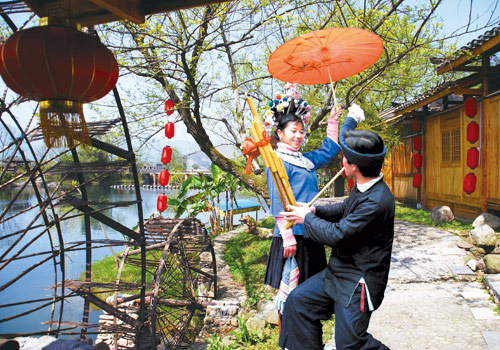 Dong group is a hospitable one and always welcome their guests with songs and dances accompany by their particular instrument- the Lusheng, a reed-pipe wind instrument. It is also a group high on bullfight, which is their grand congregated recreational activity. The grand song of Dong people, Lusheng performances and long street banquet are the highlights in Yijiangyuan.
- Zhuang Minority (壮族)- a group expressing affections with songs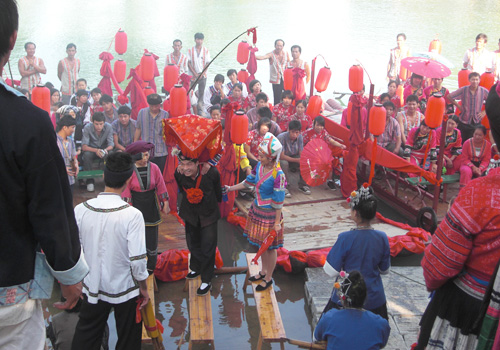 Zhuang area is hailed as an ocean of folk songs and the famous Sanjie Liu is respected as their Immortal of Folk Songs. In different occasions, Zhuang people sing different songs, they have inviting songs, welcome songs, love songs, farewell songs, wine-drinking songs, polite songs, and so on. The Singing Festival on March 3 of the lunar calendar is a celebrated festival as well as an important date for Zhuang people to pray for a harvest year by songs.
Quick Questions
Our team is waiting for your questions. Please feel free to ask us any questions you might have about our China package tours, Chinese culture, or the sites available. We will gladly help you with any special needs you might have and all questions, like our trip designing is completely free of charge.