Customers Thanks Meeting at Ancient Zhuang Village Scenic Area of Longji Rice Terraces, Longsheng
2011-11-17China travel Guide
As one of the key travel agencies in the region,
Guilin Tianyuan International Travel Service Co. LTD
was invited by the Ancient Zhuang Village Scenic Area (龙脊古壮寨梯田观景区), one of the main scenic areas of
Dragon's Backbone Rice Terraces
of
Longsheng
, to this year's Customers Thanks Meeting on November 15. With great honor, Carrie, one of my colleague also in English Department, and I had the pleasure to represent the company to participate the meeting with over 150 friends from other travel agencies and had a sightseeing of this new developed scenic spot which was opened just in June this year.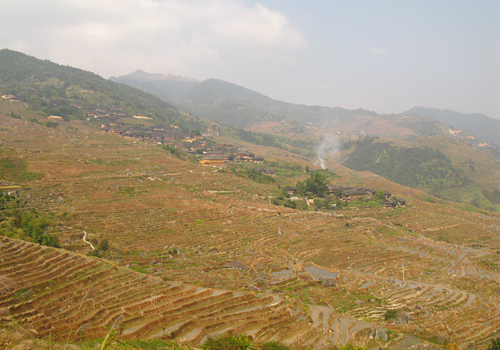 Set out from the Railway Station of
Guilin
at 8:30 in the morning, we finally arrived at the site after two hours drive- the last half an hour drive were right on constant twisting mountain roads, which made me exciting but may agonizing for those carsick people. When got off the coach, the amazing view of rice terraces just came in sight. Though in the middle of November, the rice terraces did not let us down with waters just as that in spring and early summer, which is one of the highlights of this scenic area compare to other Longji Rice Terraces which are bare after the harvest in October. One of the leaders of this meeting, a manager in the scenic area, told us that the scenic area will maintain the present view with waters till the seedtime next year, a fortunate news for off-season travelers in winter; what is more, the manager also said, the other side of the village are all planted with rape flowers and in February and early March, the area would be more beautiful and romantic with blooming golden rape flowers.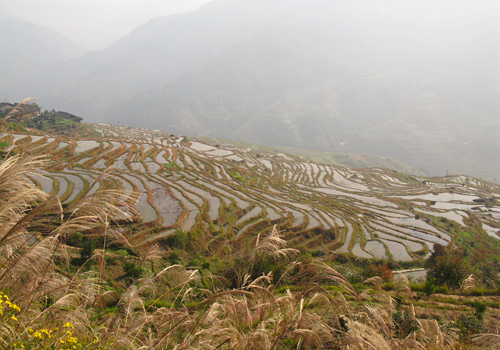 With the beautiful sceneries that peacefully seated in the hillside in the front, we could just take out cameras but complain about our limited photographic techniques. After a breather at the first observation terrace aside the parking area of the entrance, we departed to the Ancient Zhuang Village, which is said being the birthplace of Northern
Zhuang Minority
of Guangxi and retaining the most pristine Zhuang culture with ancient wooden houses, ancient wells, stone gates, stone bridges and a Zhuang Cultural Ecomuseum.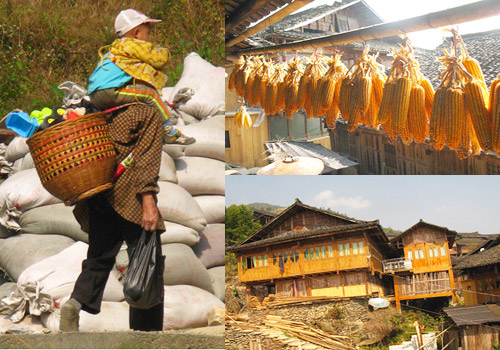 Along the upward hiking to the village on the bluestone-covered path, there are the changeable views of rice terraces from different angles, beautiful autumn reed on the wayside, and occasions to meet friendly villagers and native chickens. After bout 20 minutes leisurely walking, the ancient village came into the eyes clearly. In the village, we had visits to some ancient sites, a well with a stone dragon head above (which is frequently seen in countries in China) served the villagers for centuries, an ancient stone vat built in Qing Dynasty (1636-1911) served as a fire-fighting equipment but built with exquisite carving ornaments and propitious meanings; also, we visited two ancient houses of Zhuang people, one is still the dwelling place of a Zhuang household, and the other has been opened up as a ecomuseum keeping the original structure of the house and arranging of the furniture but neatly displaying all kinds of jars, barrels, pots, and tools that still closely to the living of today's Zhuang Minority.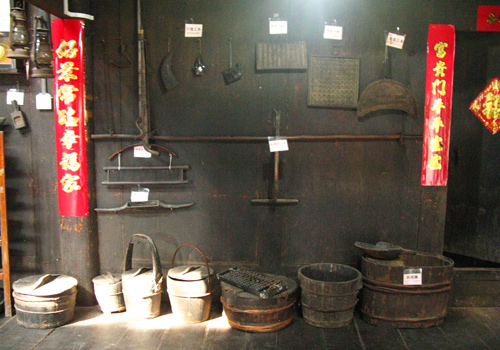 It is marvelous that those Zhuang people had lived on such a high elevation over 1000 meters on the hillside for over 1000 years since Song Dynasty (960-1297). All their houses were built with woods but without even a nail. This kind of building is called as Diaojiaolou (吊脚楼)- a wooden house supported by pillars with three storeys, the first of which reserved for animals and firewood, the second for people and the third for mice, just a kidding from our guide, it is the storage for food. We just regarded Zhuang people with veneration that such a wooden house they built with no nail and supported by several pillars has survived for over a century with no damage. It is also intelligent of them that though built village on hillside, the mountain waters are wisely oriented down via natural creeks or artificial bamboo pipes that flow through each household for daily use. Walking in the village, it is easy to get lost as all paths are similarly covered by bluestones and all Diaojiaolou were built not in neat rows though well-proportioned; however, it is no need to worry about because every villager we met were just friendly, they pointed us the right directions and hospitably invited us to have a seat at home to taste a cup of Longji Tea (龙脊茶) or some rice watery wine (龙脊水酒), both are palatable and worth a try.
Finished the hiking in the village around 12:30, we then forwarded to Shuiyunjian Hotel (水云间)- the only hotel in the scenic area (some private houses also provide beds to visitors at inexpensive prices but may simple) and a big meal were waiting for us. It is a pork feast with all kinds of pork dishes and some featured locals pickles, and of course, the Longsheng rice watery wine was the stable drink. A delicious feast of native pork certainly satisfied us and the manager told us also that they could provide native chickens and fresh vegetables, or Islamic dishes if required. After lunch, we took a quick visit at the hotel. The hotel is also a wooden style one, with the dinning hall at first floor and about 30 rooms at the second and third floors, half of the rooms are facing the beauty of rice terraces by the window.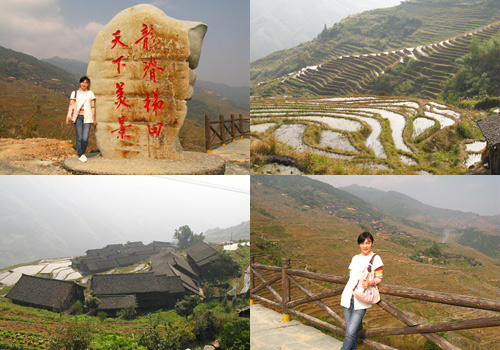 Came out from the hotel, we took another short hiking on footpaths along the rice terraces before leaving. Comfortable it was that we just walked and had a fresh breath, nothing need to worry about and let the mind wondering, I indeed believe that it must be a big enjoyment to have a couple of days here, walking on paths, talking to villagers or just sitting down and enjoy nature beauties peacefully, a great retreat from the noisy outside world.
Times was fleeting and we had to back to Guilin at 15:00; with some local products, dried peppers and dried bamboo shoots, we took off but I had my heart left in this pure and quiet Ancient Zhuang Village, because I known that I would back again just in the near future.
Comment